Don't Expect Self-Driving Cars To Arrive By 2020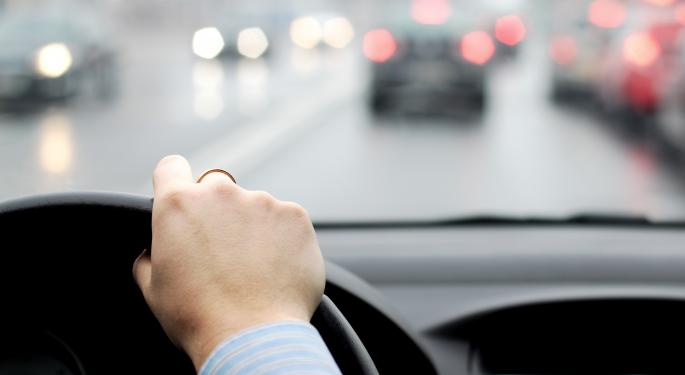 KPMG and the Center for Automotive Research are among those who expect self-driving cars to go on sale by 2019.
Nissan hopes to introduce the first self-driving automobile by 2020.
That's a lofty goal, but consumers shouldn't expect any automaker to deliver a fully autonomous car within six years.
Rather, they should expect the autonomous features (such as park assist) to become more advanced and more intuitive.
"I don't think we should think about the progression to self-driving cars as a [staircase] function," Evan Wilson, Senior Research Analyst of Internet and Games at Pacific Crest Securities, told Benzinga earlier this week. "I think we need to think about it as an advancement in the existing cruise control systems on cars. Already in cars we do have self-driving functionality with the gas pedal and predictive cruise control."
For example, some vehicles can automatically adjust their speed if they move too close to other drivers on the road.
"When you think about self-driving cars, don't think about it as purely autonomous from your house to the destination," said Wilson. "Instead, think about it as an extension of that existing cruise control system that will go just from the gas pedal also to the steering wheel in certain situations. And we'll move from one or two situations -- now we have parking and the freeway -- and that will extend to more and more situations over time."
Related: The Future Of Self-Driving Cars
Sci-Fi Becomes Reality
Wilson may not expect to see fully autonomous cars on the road in six years, but he does think that automakers will make significant progress by 2020.
"I think, absolutely by 2019, 2020, there will be situations where your hands aren't on the steering wheel anymore," he said.
Wilson also expects to see more augmented reality enhancements.
"Heads up displays have been around for quite a while," he added. "I think it's probably one of the most used augmented reality systems already. Unfortunately, it's been fairly limited to just alerts and to speed, so basically displaying miles per hour.
"Augmented reality in the car is going to be pretty cool. It's kind of on a separate track, though, in that a lot of that information is going to become unnecessary when the car is acting on that information on [its own] instead of relying on you to do so."
Disclosure: At the time of this writing, Louis Bedigian had no position in the equities mentioned in this report.
View Comments and Join the Discussion!
Posted-In: Center For Automotive Research comments Evan Wilson KPMG NissanAnalyst Color Analyst Ratings Tech Best of Benzinga