Astec Analytics' Tim Smith Says Lending In Herbalife Shares Is 'Hot But Not White Hot' (HLF)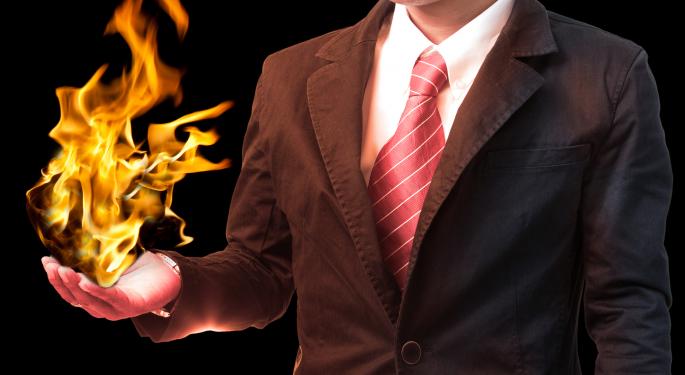 The battle over Herbalife (NYSE: HLF) has raged for months now, with hedge fund titans battling it out over the future of this stock.
Notably, Carl Icahn of Icahn Enterprises (NYSE: IEP) has bought over 16 percent of the stock while Bill Ackman of Pershing Square Capital has taken a large short position.
Stock Lending On the Rise
Speaking to Benzinga on a recent up-tick in securities lending in shares of the nutritional supplement company, Tim Smith, Executive Vice President of SunGard's Astec Analytics, noted that the number shares lent by major investment banks to be shorted by traders has ticked higher sharply in recent days. Further, he noted that this data tends to be extremely correlated to overall short interest, the difference being largely the positions made proprietarily by the investment banks themselves.
Smith noted that the number of shares lent has increased sharply from July 25, from 17 million shares to 22.5 million shares Tuesday. Further, he noted that the interest rate that investors are paying to borrow these shares has been spiking, from between two and three percent on July 25 to 10 percent today, data which is reflected in the chart below.
Related: Herbalife Shares Rise Despite Reported Ackman SEC Complaint, Bob Chapman Is Astounded.
"What we've seen with Herbalife and all of the positioning with all of the players in the market place, the securities lending volume has changed and it has been very interesting to follow," said Smith. "If the short sellers are so confident that they are correct, then the price that they are willing to pay to maintain their positions would further increase. At a 10 percent rate, there is still quite a bit of possible growth in fees."
Hot But Not White Hot
Smith described the up-tick in lending rates and number of securities lent as "hot, but not white hot" as he noted that the volume of shares lent out is not yet near the May high, which was near 50 million shares lent. However, he noted that the number of shares to be lent may not got higher because "there is not an awful lot of supply there."
He attributes part of the limited supply of shares lent to the insiders who have been buying the stock. Investors such as Icahn but also Dan Loeb of Third Point Partners and Bob Chapman of Chapman Capital LLC have gone long Herbalife. "Institutions like Soros won't lend the stock," said Smith, "which could be a factor in there being limited supply."
History As A Guide?
Smith said that the number of shares lent out peaked around 50 million back on May 10, before Herbalife's stock went on a massive run up, gaining nearly 53 percent since that time. The interest rate paid on the stock was also much higher at the last peak than it is now, as lending has become easier as shorts have been squeezed out due to the run up in the stock.
Nevertheless, the data could lead to a short squeeze, especially if it begins to turn around. As Smith said, if the interest rate keeps going up, it implies that shorts are willing to keep paying more money to stay in their positions. Therefore, if it starts to level out or fall and the number of shares available for lending continues to contract, it could mean that more shorts are being squeezed, which could be a signal of a new short squeeze.
Also, Smith mentioned that recalls could be a catalyst for further upside. Recalls occur normally as those who were long and had lent the stock sell positions to book gains. In this case, those short would have to cover positions to return the stock, potentially at a loss, which could thus be a catalyst for a short squeeze itself.
Shares Lower
Herbalife shares were lower in Tuesday trade after making a new 52-week high of $68 Tuesday morning. Shares traded down 1.35 percent at $65.77.
Stock chart:
View Comments and Join the Discussion!
Posted-In: Astec Analytics Bill Ackman Bob ChapmanAnalyst Color News Insider Trades Analyst Ratings Interview Best of Benzinga