Amazon Gets President's Attention with its Massive Employment Campaign (AMZN)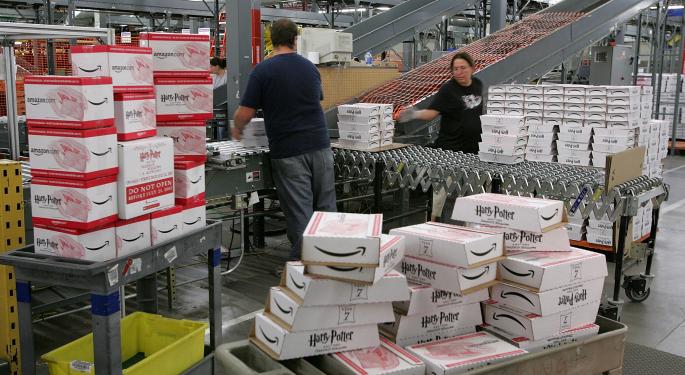 Amazon.com (NASDAQ: AMZN)'s growth spurt continues, and with it, jobs, jobs, jobs.
According to The Wall Street Journal, the company currently has openings for 5,000 full-time positions at 17 facilities.
In addition, according to USA Today, Amazon plans to add another 2,000 customer service jobs, some of which will be full-time, some part-time and the rest seasonal.
The total number of jobs added could go up as Amazon adds more facilities. The company said the fulfillment center jobs would pay 30 percent more than traditional retail jobs.
In the face of growing sales volume and attempts to add new services such as grocery delivery, Amazon has been building warehouses at a fast clip. In addition, Amazon warehouse space is increasingly taken up with goods sold by third parties and stocked by the company. This requires more warehouse space – and the building and jobs boom continues.
There is a downside to all this warehouse expansion. The Wall Street Journal reported that for Q2 the company posted a $7 million loss. A year earlier, Amazon experienced a 22 percent jump in revenue to $15.7 billion. Unfortunately, the company spent $15.63 billion to get it.
For a long time, Amazon avoided expanding into some states due to the fact that it might trigger online sales taxes, a competitive advantage over brick-and-mortar stores the company didn't want to give up. However, as the inevitability of Congressional action allowing states to collect sales tax from online retailers grows, the issue is fast becoming moot.
Related: Senate Passes Online Sales Tax – House in Doubt
At any rate, this Amazon "jobs" talk has caught the eyes and ears of the White House. According to USA Today, President Obama is scheduled to be at Amazon's Chattanooga, Tennessee facility Tuesday as part of a regional series of speeches on, what else? Jobs and the economy.
The bulk of Amazon's new jobs involve picking, packing and shipping merchandise. In addition to higher pay, the company said it would be offering stock grants to many full-time employees.
The company also said it would pay up to 95 percent of tuition for educational advancement for eligible employees – even if the training was not relevant to a career at Amazon.
All this expansion coupled with apparent altruism is done with a purpose, according to Bloomberg, which quoted Amazon Chief Financial Officer, Thomas Szkutak, who said on a conference call July 25, "As we get closer and closer to customers with fulfillment, we have seen growth."
Amazon Prime members are driving that growth, Bloomberg said. They pay $79 a year for, among other things, unlimited two-day shipping. In order to provide that service to paying customers who, according to Colin Sebastian, an analyst at Robert Baird & Co., spend three to four times more than non-Prime members, the company has had to place fulfillment centers closer to its customer base.
At the time of this writing, Jim Probasco had no position in Amazon.
Posted-In: Amazon Prime Amazon.com Inc. Barack Obama BloombergPolitics Economics Media General Best of Benzinga
View Comments and Join the Discussion!