McDonald's Fights to Regain Customers and to Counter Worker Wage Criticism (MCD)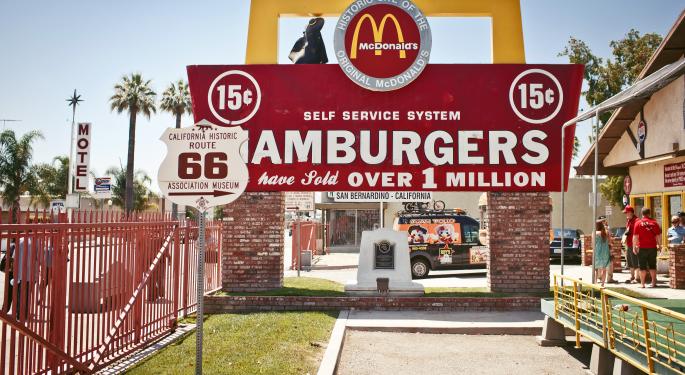 Poor McDonald's Corp. (NYSE: MCD)!
In addition to missing Wall Street's earnings expectations Monday, and along with the anticipation of lower sales the rest of the year as customers count their fast food pennies, the fast food giant faces more competition than ever, according to Chicago Business.
As McDonald's CEO Don Thompson said in a statement, "Based on recent sales trends, our results for the remainder of the year are expected to remain challenged."
The challenge comes from smaller rivals such as The Wendy's Co. (NASDAQ: WEN) and Burger King Worldwide (NYSE: BKW) as well as fast casual restaurants like Panera Bread (NASDAQ: PNRA) and Chipotle Mexican Grill (NYSE: CMG).
Related: Analysts Weigh In: McDonald's Weak Earnings Report, Challenging Remainder of 2013
According to Business Insider, McDonald's has undertaken a three-step plan to regain market share. Expanding the popular breakfast menu is step one. McDonald's recently added an Egg White Delight to it's morning menu and has started offering Egg McMuffins and hash browns at night. There has also been discussion of an all-day breakfast menu.
Step two involves offering new premium menu items like the recently rolled out McWrap and Blueberry Pomegranate smoothie.
Step three, the company says involves remodeling about half of its restaurants, which will get a more contemporary look featuring muted colors and modern exteriors.
Meanwhile, even as the company tries to increase revenue and attract customers, it finds itself under fire from unions and activists, eager to raise the minimum wage, in part by complaining that companies like McDonald's with its low wages and lack of benefits have many employees on Medicaid and other forms of government welfare.
In an exclusive interview on Bloomberg TV, CEO Thompson pointed out that 40 percent of McDonald's executives started out as hourly employees. Thompson said, "There is no other institution I know of that can boast of those opportunities and success stories,"
Thompson also said that McDonald's entry-level workers always make more than minimum wage in answer to criticism about wages and benefits for McDonald's workers.
McDonald's was criticized early in July for a guide the company published to help employees manage their financial resources. Called, "Practical Money Skills Budget Journal,"the guide was mocked by the Huffington Post as being "full of ingenious ideas" such as "Get a second job!" and "Don't squander money on trifles like heat and health care!"
Shares of McDonald's stock ended the day Wednesday down $0.10 at $96.66 but regained $0.09 of that in after-hours trading.
At the time of this writing, Jim Probasco had no position in any mentioned securities.
Posted-In: Analyst Color Earnings News Guidance Retail Sales Restaurants Events Analyst Ratings Best of Benzinga
View Comments and Join the Discussion!