Time Warner Brings Out New Weapon In Dispute With CBS (TWC, CBS)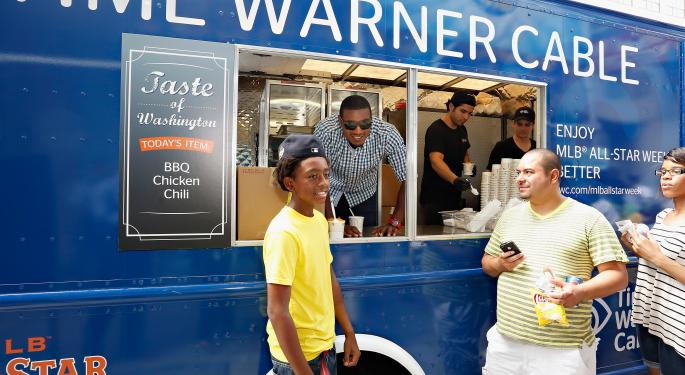 In another all-too-common television programming contract dispute – this time between CBS (NYSE: CBS) and Time Warner Cable(NYSE: TWC) – a new player has emerged, according to The New York Times.
It's Aereo, the upstart startup that figured out a way to bypass the retransmission fees companies like Time Warner have to pay to content providers like CBS.
The argument between CBS and Time Warner is typical. CBS wants Time Warner to pay more – as much as 600 percent more, according to Time Warner – for the right to transmit its programming. In most of these disputes, the strength lays with the content owner – in this case, CBS. This time, however, Time Warner is using Aereo as part of its weaponry, threatening to recommend that its customers in New York switch to Aereo to receive CBS signals, a move that would deny the network any retransmission income whatsoever.
Aereo uses tiny antennas to pick up "over the air" signals and stream them to subscribers; a process the company says frees it of an obligation to pay retransmission fees to the network. Obviously, CBS disagrees but, so far, the Court of Appeals for the Second Circuit in New York has sided with Aereo.
Related: What is Aereo and Why are Network Executives Up in Arms About It?
In addition to sending new customers to Aereo, some analysts, The New York Times said, believe Time Warner and other distributors could develop their own "Aereo-like" technology to thwart networks all together. So far, there have been no signs that is happening, but as retransmission fees climb higher and higher, the possibility remains.
What is clear in this particular instance is that Time Warner is ready to deploy Aereo as a weapon in its battle with CBS. Time Warner representative, Maureen Huff, told The New York Times Sunday that the company will recommend Aereo to its New York subscribers if talks with CBS break down.
The Verge, which said Aereo could come out a big winner in this dispute, noted that the company currently has a presence in New York, Boston, and Atlanta with plans to expand to Salt Lake City next, followed by Chicago soon after. Aereo has said it hopes to be in more than 20 markets by the end of this year.
Even then, Aereo by itself does not represent a significant threat to CBS and other over-the-air broadcasters. More than anything, it's the technology and the idea behind companies like Aereo that makes broadcasters nervous.
In May, Time Warner CEO, Glenn Britt told The Washington Post that Time Warner might consider picking up television signals over-the-air and transmitting them to customers via the Internet. In an interview, Britt told the newspaper that if Aereo was found to be legal, Time Warner could conceivably use similar technology.
At the time of this writing, Jim Probasco had no position in any mentioned securities.
View Comments and Join the Discussion!
Posted-In: Analyst Color News Topics Events Startups Analyst Ratings Media General Best of Benzinga