New York Stock Exchange Short Interest Spikes In Late June (NYX)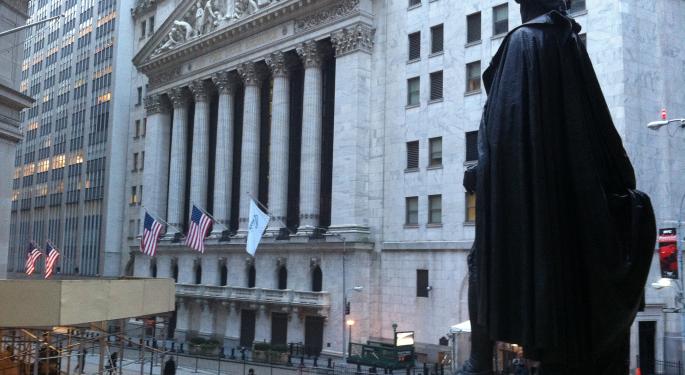 Short interest on stocks traded on the New York Stock Exchange (NYSE: NYX) rose the fastest in over 19 months in the two weeks ended June 28 as fears over central bank tightening sent shares lower.
Although the data is slightly backward looking, it shows that the market could be ripe for a short squeeze which may even be taking place now.
Large Short Interest
Short interest, or the number of shares borrowed and sold short, a risky but very negative bet, increased in the two weeks ended June 28 for stocks traded on the Big Board in a sign that investors became more bearish on stocks in the period following a hawkish FOMC interest rate forecast and ensuing press conference from Chairman Ben Bernanke. The number of shares sold short increased at the fastest rate in over 19 months in the period on these fears.
The number of shares sold short increased 6.49 percent to 428,372,606 shares in the two week period. On an absolute basis, the number of shares sold short was the highest total amount since mid-December.
Related: Markets Get Bearded As Bernanke Reiterates Easy-Money Policy Is Here to Stay.
NASDAQ Short Interest Flat
Meanwhile, short interest on the NASDAQ (NASDAQ: NDAQ) were slightly lower in the two-week period by 0.03 percent compared to the two week's prior. However, the change is minute compared to the larger swing on the NYSE.
However, the broad news release from the NYSE, including volumes revised higher, prompted Credit Suisse to boost its price target on the stock and revise earnings estimates higher. CS reiterated its neutral stance but raised its price target to $42 from $35.
Broadly, activity levels for NYSE Euronext picked up during the June quarter and came in ahead of our expectations and driving higher earnings expectations (our 2Q estimate goes to $0.59 from $0.54); partially tempering that strength in activity were softer than anticipated revenue capture trends. Factoring in somewhat improved activity levels and today's positive estimate revision, we raise our full year 2013 EPS estimate to $2.23 (old: $2.13) and our full year 2014 -2015 EPS estimates to $2.45/$2.60. We raise our target price to $42 (old: $35) based on IntercontinentalExchange's (NYSE: ICE) current offer."
"With respect to the stock, we see multiple channels of value creation and significant cash generation derived from a pro-forma ICE/NYSE Euronext combination for several years to come."
Shares Lower
Despite the positive news, shares of the New York Stock Exchange fell in a broadly up market Thursday. NYSE shares declined 0.24 percent to $41.49, a decline of $0.10. Meanwhile, shares of ICE fell 0.57 percent to $178.25 while shares of the NASDAQ OMX Group rose 1.71 percent to $33.84.
View Comments and Join the Discussion!
Posted-In: Analyst Color News Guidance Price Target Federal Reserve Intraday Update Markets Analyst Ratings Best of Benzinga