China's Economy In Free Fall As Manufacturing Contracts Again, SHIBOR Climbs Higher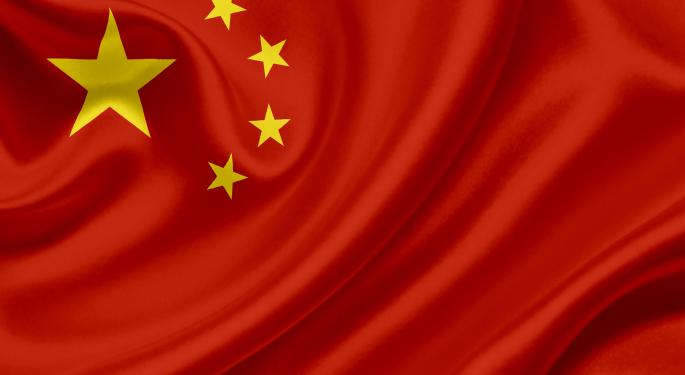 China's economy looks set to continue to slow to growth rates not seen in decades this year as the manufacturing sector continues to contract and the government refuses to help the struggling financial sector.
Overnight, lending rates rose above 10 percent Thursday in a sign that the entire Chinese financial system is seizing due to a lack of liquidity, not unlike the global system did in 2008.
Manufacturing Weakness
The Flash reading of the HSBC China Manufacturing PMI for June, the initial estimate for the first half of June, dropped to 48.3 in June compared to the May reading of 49.2, the lowest level in nine months. Economists were expecting a reading of 49.4 which would have been an improvement over May but still would have shown contraction. The index has now shown contraction for two straight months.
Looking at the internals of the report, the decline in the headline index only tells part of the story in that the internals were also very weak, including many leading indicators. New orders contracted at a faster rate as did new export orders while employment and purchases also contracted faster. The only sub-index to increase in the month was that of inventories, which is also a bearish sign.
Dong Tao, chief China economist at Credit Suisse, said, "The economy is still struggling with a lack of investment momentum from the private sector, but tentative signs are emerging, suggesting that perhaps the worst part of deceleration is now behind us. Some large infrastructure projects are under way. If this trend is confirmed, the economy would grow at 7.0% SAAR in 3Q13, versus the 6.6% for 1Q13 and an estimated 6.6% for 2Q13."
"Inventory destocking should be coming to an end in a few sectors as well. However, apart from infrastructure projects, the economy has not shown much sign of life. Sentiment in private investment is very weak as order flows decelerated sharply and account receivables surged."
SHIBOR Rises Again... Whatever That Is
Overnight lending rates continued to rise in China Thursday in a sign that the financial sector is feeling the effects of the broad economic slowdown. The SHIBOR overnight rate, the equivalent of Libor in Shanghai, rose to 12.5 percent from 7.87 percent yesterday while the seven-day repo rate rose to 10.96 percent from 8.26 percent yesterday.
Fears over China's financial system increased so much that Chinese banks have even began to issue statements defending their capital position and reiterating that they are not on the verge of default. Bank of China issued a statement that said that has not defaulted on short-term financing and that it has never had a default, denying market speculation.
"On top of seasonality, the People's Bank of China's (PBoC) refusal to actively inject liquidity has resulted in rate spikes, as the central bank attempted to 'teach the aggressive lenders a lesson,'" continued Tao. "Some small and medium-sized banks deployed their own capital to high yield/high risk wealth management products (WMPs), counting on the central bank to bail them out in the event of a liquidity crunch, but the PBoC refused to do so. We think the peak in SHIBOR is behind us for now but is likely to stay elevated, pressuring bank margins and WMPs."
Economy In Limbo?
Fears over a China slowdown are growing and the Bank of America Merrill Lynch Fund Managers survey earlier this week confirmed that China is now the biggest fear of managers, above the Fed tapering or Japanese concerns. Economists around the world have been slashing growth forecasts for China
"A strong rebound in growth is unlikely without progress on structural reforms, in our view," said Tao. "The core issue in China is that the manufacturing sector has become unprofitable and China needs to open up its service sector to private investment, cut corporate tax and break the banking monopoly in order to re-engage private investment. But that would undermine vested interest groups."
"We think reforms will eventually occur, but do not place high hopes on the new leaders making significant progress with reform roadmaps and timetables at the third plenary session of the party congress in the autumn. We expect the economy to grow 7.4% YoY in 2013E and 7.6% YoY in 2014E against our previous 8.0% YoY and 8.2% YoY, respectively."
Outlook Mixed
If the overnight lending rates do not stabilize and begin to fall and the economy does not begin to form a base, China could really be in for a drastic slowdown. A slowdown in China would absolutely weigh on global growth, slowing trade between China and the U.S., and definitely lead to downside risks to economic forecasts.
The only positive from this is that the Fed would be unlikely to taper in the face of a slowing world economy if our second-largest trading partner, behind the EU, were to continue to slow and face a financial crisis.
Posted-In: Analyst Color News Downgrades Global Econ #s Economics Pre-Market Outlook Markets Best of Benzinga
View Comments and Join the Discussion!