World Markets are Panicking after Bernanke's Comments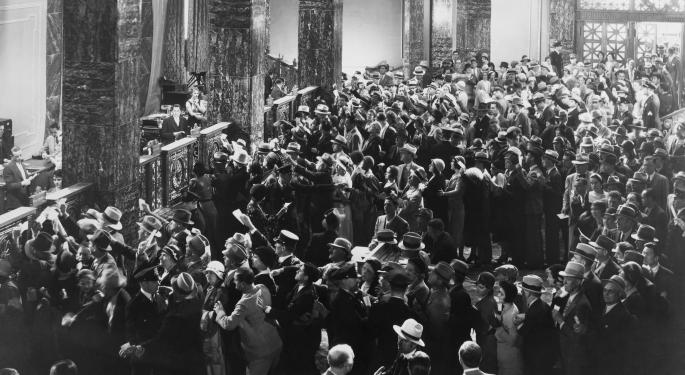 Markets around the world are getting crushed. That includes equity, commodity and currency - but most notably, gold.
First: equities. The U.K. FTSE 100 is currently at session lows-down two percent, the German DAX, also close to session lows, down 2.4 percent, and the French CAC down 2.2 percent—all on heavy volume.
In Asia, the Nikkei was down 230 points or 1.74 percent, the Shanghai fell 2.77 percent, the KOSPI was down two percent, and the Hang Seng, down 2.88 percent. Disappointing China PMI numbers contributed to the sell off.
The most notable fall in commodities is gold—currently down $70 or 5.12 percent. Sliver is down 1.38 or 6.4 percent, copper is down 2.09 percent, and oil is down 2 percent. Everything from wheat to sugar to cotton are all down sharply.
Finally, currencies. In the currency markets, fractional moves in either direction are considered large but the recent volatility in these markets is unprecedented. The dollar is up 1.65 percent against the yen. This would equate to double-digit percentage move in equity markets.
The yen's weakness might explain why the Nikkei had a slightly more muted response to the global sell off. The Aussie dollar is weaker by more than one percent and the euro is 0.68 percent weaker.
Global investors are taking a "sell now, digest later" approach to Wednesday's Bernanke press conference where he hinted that the Fed's bond buying program may begin to slow in coming months.
Richard Jerram, chief economist at Bank of CNBC told CNBC Thursday morning, "I think everyone is looking at everyone else in the market and trying to figure out if there is going to be panic. And if you want to panic you want to do it early, which is why we've seen volatility."
Why do markets around the world care about U.S. QE? Along with the obvious reasons of all markets being interconnected, the liquidity that was created by QE allowed investors to deploy cheap money in world markets—particularly emerging markets. As the program winds down, markets fear that global interest will fade.
Playbook for Today
U.S. markets may have flushed out a majority of the panic sellers following the fed announcement Wednesday. The major U.S. equity indices are currently lower by about three-quarters of a percent but, gold continues to weaken and the U.S. 10 year Treasury and the dollar strengthen. Don't be a hero on panic days. Let others battle it out while you look for your buy levels.
The Fed won't be raising interest rates any time soon and when investors come to their senses, they'll remember that Bernanke's tapering comments on Wednesday were nothing new.
Posted-In: Analyst Color CNBC News Bonds Rumors Futures Commodities Forex Best of Benzinga
View Comments and Join the Discussion!