SolarCity Continues Rocket Ride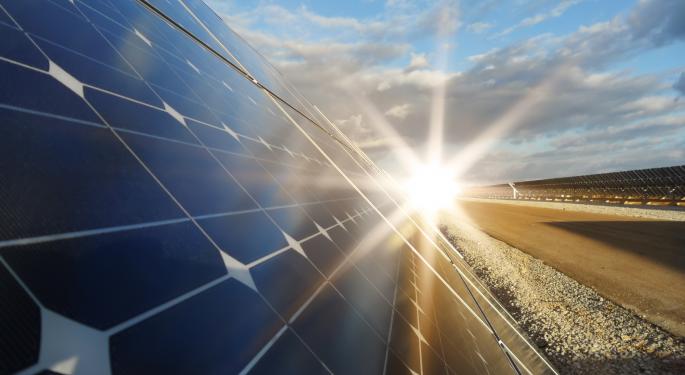 According to Elon Musk's Wikipedia page, he first conceived of the idea for SolarCity (NASDAQ: SCTY), a company founded by his cousins Lyndon and Peter Rive, at the annual Burning Man festival in the Nevada desert.
Like many of Musk's various inspirations, today SolarCity is a thriving company sporting a market-cap of around $2.65 billion. Investors who bought in at the IPO price in December 2012 have already realized gains well in excess of 300 percent.
SolarCity is run by Lyndon Rive and Musk remains the company's chairman of the board. Musk's other better-known ventures include Tesla Motors (NASDAQ: TSLA), which has been on quite the hot streak of late, and Space X, an ambitious rocket technology company with a goal of one day helping colonize Mars.
In recent months, as the share price of both Tesla and Solar City have soared, so has Musk's net worth. Today, he is worth an estimated $4.3 billion after basically going completely cash broke as recently as 2010. Although Musk provided the financing and inspiration for SolarCity, the story of the company is not really about him.
SolarCity describes itself as a national leader in clean energy services. "We make clean energy available to homeowners, businesses, schools, non-profits, and government organizations at a lower cost than they pay for energy generated by burning fossil fuels like coal, oil and natural gas." The company, based in San Mateo, California, currently employs around 2,500 people and has only been profitable for one year out of the last five.
Nevertheless, SolarCity saw a big jump in its revenue for fiscal 2012 and investors seem to believe in the business model. Although analysts are not projecting that SolarCity will become profitable in either fiscal 2013 or 2014, revenue is expected to grow a little less than 32 percent this year followed by a 52 percent jump next year.
The stock had run up into its most recent earnings report, which was released on Monday, May 13, but pulled back following the quarterly results. For its first-quarter, the company posted a net -loss of $31.0 million or $0.41 per share, compared to a profit of $656,000 or $0.04 in the year ago period.
Revenue was $30 million versus $24.8 million in last year's first-quarter. This compared to Wall Street estimates calling for a loss of $0.26 per share on revenue of $29.08 million.
The losses in the share price, however, have been short lived as the stock has rallied sharply on Thursday in the wake of the announcement of a financing deal with Goldman Sachs. Late in the session, shares were up around 10 percent, giving SolarCity a gain of almost 200 percent already in 2013. The deal with Goldman will finance $500 million worth of solar projects, making it the largest agreement of its kind.
According to analysts, the big run-up in the name, and the large move on Friday in the wake of the Goldman announcement, has been driven in part by short-sellers. In recent days, around 15 percent of SolarCity's float had been sold short and it is clear that short-covering has assisted in the stock's rally.
The presence of bearish traders in the stock's of Musk-related companies has become somewhat of a theme -- perhaps because of the audaciousness of the entrepreneur's ideas. For example, short-sellers have recently also been pummeled in Tesla shares.
The South-African born Musk, who made his first massive fortune as a PayPal co-founder, has repeatedly taken far-flung, highly speculative business models and turned them into successful companies.
It is clear that some investors are betting on the entrepreneur's pedigree as much as on SolarCity's future prospects, and, frankly, that might not be a bad trade. It has certainly worked in Tesla, which came very close to bankruptcy in its early years.
Raymond James analyst Pavel Molchanov commented on the Goldman agreement, saying "This will not change any estimates, but the headline -- Goldman supporting Solar City -- is a bullish one." He added, "for a stock that is heavily shorted, it is understandable why a headline along these lines would have this disproportionate effect."
Going forward, SolarCity remains a very interesting stock given its ambitious, green-business model and its association with Musk. At the very least, this is not a name to bet against as many now-burned investors can attest.
Posted-In: Analyst Color Long Ideas Short Ideas Entrepreneurship Technicals Movers & Shakers Intraday Update Markets Best of Benzinga
View Comments and Join the Discussion!