Apple at Loggerheads with China Mobile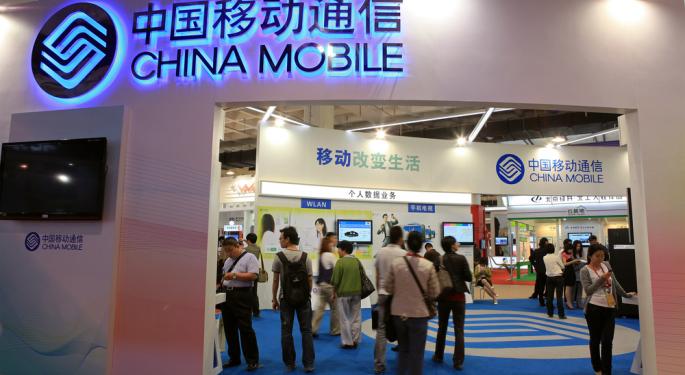 There are a number of reasons for Apple's (Nasdaq: AAPL) precipitous decline on Wednesday. Benzinga discussed the rumor that a securities clearinghouse was going to raise its margin requirements for Apple shares here.
Other analysts cited Wednesday's news that Apple rival Nokia (NYSE: NOK) had signed a deal with China Mobile (NYSE: CHL), the world's largest mobile telecommunications carrier with more than 700 million subscribers, to sell its flagship Windows 8 smartphone, the Lumia 920T, to China Mobile's 79.3 million smartphone users by year-end.
Apple does sell its iPhones in China but only to two smaller carriers, China Unicom (NYSE: CHU) and China Telecom (NYSE: CHA). Even so, Bloomberg noted, "China contributed revenue of $23.8 billion in Apple's fiscal year ended in September, accounting for 15 percent of the total and up 78 percent from the previous year, Chief Executive Officer Tim Cook said last month on a conference call."
But the big prize, China Mobile, still eludes Apple. "Besides the technical issues, the business model and benefit sharing still need further discussion," China Mobile Chief Executive Officer Li Yue told a developer conference in Guangzhou yesterday.
"'Li's comment suggests that China Mobile has no intention of simply gifting Apple access to its huge subscriber base without extracting a pound of flesh from Apple,' said Teck- Zhung Wong, a Singapore-based analyst with market researcher IDC," cited by Bloomberg.
"China Mobile is state-owned, and recent reports have suggests that bureaucrats involved with the company do not want to pay the subsidies Apple demands of all of its other partners," the Mac Observer wrote.
However, Piper Jaffrey analyst Gene Munster, who has a Buy rating on Apple and a price target of $900, thinks that China Mobile will eventually open up to Apple's iPhones. CNN Money cited Munster's note, "We believe some investors have speculated that China Mobile will carry the Lumia instead of the iPhone," Munster wrote. "We do not believe this is true and note that China Mobile already carries multiple smartphones from multiple vendors. We continue to expect China Mobile to add the iPhone in the back half of 2013."
Jefferies analyst Peter Misek, who also has a "BUY" rating on Apple with a price target of $900, disagrees on the timing of any iPhone sales to China Mobile. As Barron's noted, Qualcomm (Nasdaq: QCOM) said at its analyst day event on Tuesday that China Mobile is not likely to be running any iPhones in 2013.
"The roadmap suggests no iPhone 5 at China Mobile in H1:13," Misek wrote. "QCOM noted that they are unlikely to gain much TD-SCDMA (China Mobile's 3G technology) penetration until the ramp of TD-LTE, which is not expected to start wider trials until H2:13 with a full ramp later). We do not believe the lack of the iPhone 5 in China is due to any business or technical issue but rather is a political decision. We had hoped China Mobile would represent potential upside in 2013, but due to the uncertain timing, we did not include any units in our iPhone estimates and leave our model unchanged."
Apple management will have to think very carefully about what thy would be willing to give up in order to gain access to China Mobile's customer base.
"Apple has been very open about how much profit it is taking from China, and that was bound to get somebody here thinking 'Hey, we want some of that: after all, without us, they're dead,'" David Wolf, CEO of Wolf Group Asia, a Beijing-based marketing consulting firm told Bloomberg. "The company could find itself forced to choose between its margins and its access to the Chinese market. Apple now needs to play a deft game."
Posted-In: Li Yue Tim CookAnalyst Color News Global Analyst Ratings Movers Tech Best of Benzinga
View Comments and Join the Discussion!