Stocks First Lady Michelle Obama Would Pick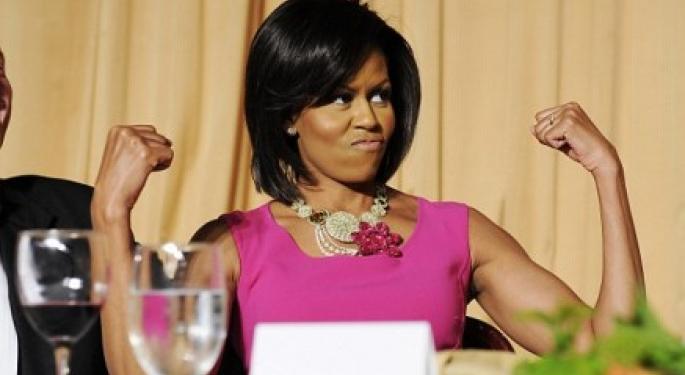 Editor's note: This is the first in a series of articles that will be appearing on Benzinga.com over the next few months.
Through her political prowess, First Lady Michelle Obama has amassed immense popularity through her community programs concerning child obesity, arts and humanities after-school programs and most importantly, "Joining Forces", a program collaborated with Dr. Jill Biden dedicated to "connecting our servicemen and women, veterans and military spouses with the resources they need to find jobs at home." As of August 24, 2,000 private sector companies have hired or trained 125,000 veterans and military spouses since 2011.
Top picks for companies contributing to the "Joining Forces" program that would be right at home in First Lady Obama's portfolio would be the following:
Utility Services
Exelon Corporation (NYSE: EXC), which is currently trading up 0.92 percent from Wednesday's closing price plans to employ 10 percent of hires over the next two years with military personnel. This is not the only program Exelon has committed to, as the company is also involved with the Transition Assistance Program (TAP) and advertises open positions in military specific publications in order to help support our veterans and warriors. Regarding the company's year to date 16.69 percent dip in share prices, the company has outlined a specific debt financing plan for investors and will likely provide more color on the repayment in the upcoming Power and Gas Leaders Conference in late September in New York City hosted by Bank of America. In March 2012, the company merged with Constellation Energy Group (NYSE: CEG) in a stock for stock exchange and has completed its solar power asset expansion (a $50 million project) with the main objective of creating green jobs in the Emmitsburg, Maryland area under a partnership with the state of Maryland and the University of Maryland under the Generating Clean Horizons initiative. Michelle Obama's father worked for the City of Chicago water plant, and thus public utilities helped put food on her table while she was growing up.
Banking
Bank of America (NYSE: BAC) currently employs 5,000 service members and veterans and continues to actively recruit veterans and their spouses. For 2012, the company has set to double the number of veterans hired compared to 2011 and have donated bank owned homes to wounded service members returning from duty. As of Thursday, shares are up 4.55 percent and year to date the stock is up 49.55 percent. JP Morgan believes the company has extremely attractive valuation and continues to improve its capital level and currently holds a price target of $11.50.
Managed Care
Michelle Obama previously served as Executive Director and Vice President of Community and External Affairs for University of Chicago Hospitals, even up to and during part of President Barack Obama's 2008 presidential campaign. In regards to her relevant experience, Health Net (NYSE: HNT) has a tenured history of employing veterans and military spouses, showing support of its Department of Defense and Department of Veterans Affairs programs. Although year-to-date shares are down 23.08 percent, as of this writing on Thursday shares traded up 0.43 percent. Despite the decrease in share value, the company has numerous opportunities for 2013 to double earnings as the company expects. There is a possible sale of the company on the books since the second-quarter earnings shortfall, and weakness in shares could present a buying opportunity come 2013, as the company's current nine percent market share would certainly prove accretive to WellPoint's (NYSE: WLP) 23 percent, privately-held Kaiser Permanente's 40 percent or Blue Cross Blue Shield's 14 percent.
Food and Drug Retail
Michelle Obama used to sit on the Board of Director's for TreeHouse Foods (NYSE: THS) until her husband came out with criticisms against the company's main dealer, Wal-Mart (NYSE: WMT). Since then, she has rescinded all ties with the company, and likely looking else where to such "Joining Forces" participants as Safeway (NYSE: SWY). Safeway committed to hiring over 900 military service members in 2012 and launched a Leadership Development Program in 2010 to assist transitioning military members for leadership positions in the retail sector. Safeway has over 1,700 locations in the United States and offering relocating programs and opportunities to develop skills and promising futures for veterans and spouses. Year-to-date shares are down 21.77 percent, presenting a buying opportunity in share weakness at the beginning of the company's just for U digital marketing/personalized coupon program and also ahead of the company's plans to pursue an IPO for its gift-card business Blackhawk (BH).
Entertainment
Long funded by Bank of America, The Walt Disney Company (NYSE: DIS) has launched a company-wide initiative to train, hire and support returning veterans under its Heroes Work here program. This initiative will provide around 1,000 jobs and opportunities for veterans and spouses through 2015. Michelle Obama has also worked directly with Disney, which resulted in the company dropping advertisers that did not meet its nutrition guidelines, a move she was quoted calling a "game changer," and naturally as the parent company of ABC News, positive results will trickle down. Shares of Disney are currently sitting up 1.69 percent on Thursday and year-to-date up 4.41 percent. Michelle Obama's direct involvement and vast changes regarding Disney prove that her continued presence in the White House will remain positive for shares.
Fashion
Sitting up 102.86 percent year to date, Michael Kors (NYSE: KORS) has been a favorite in apparel for the First Lady, having donned a black Kors evening gown the evening the president presented Iraeli President Shimon Peres with the Presidential Medal of Freedom in June and previously to a National Medal of Arts and National Humanities Medal ceremony at the White House in March 2011. Clearly, she has preference (appropriately dubbed the "Michelle O." style) when it comes to fashion and many Americans are following suit. Michael Kors is working to expand its wristwatch brand and currently holds the "best-in-class" growth story for 2012, according to Morgan Stanley. As the company grows, it will continue to hire people, integrate new systems and increase its distribution capacity. Expect shares to continue ramping up ahead of the 2012 holiday season and continue through President Obama's second term in the White House.
Michelle Obama's personal preferences, history and community programs (especially Joining Forces) help to create a diverse selection of companies.
Posted-In: Barack ObamaAnalyst Color Politics Economics Analyst Ratings Media Trading Ideas General Best of Benzinga
View Comments and Join the Discussion!