IBM Grows Business with Spending Spree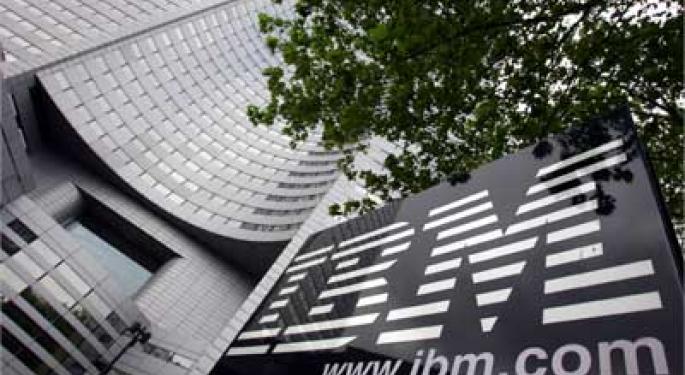 It's good to be International Business Machines (NYSE: IBM) this week, as the company not only announced that it will likely be making a large acquisition in the near future, but it will also introduce a new line of mainframe computers on Tuesday that will ensure customers are using up-to-date and relevant technology.
According to The New York Times, IBM's mainframe has evolved over recent years and is now able to master programs like Java and operating systems such as Linux. The company spent time further developing one of the most flexible technology platforms in computing, despite the fact that Apple's iPad (NASDAQ: AAPL) or Dell's (NASDAQ: DELL) laptops have posed incredibly intense competition for the software developer.
While the PC and tablet whirlwinds have swept the nation, IBM has had a difficult time staying afloat. Once the leader in technological advances, the millennium has attached a certain stigma to the company that has lingered for years.
However, all of that may change with the new and improved mainframe, even if it only accounts for about 4 percent of IBM's revenue standing alone.
"[The] mainframe is a vital asset to I.B.M. because of all the business that flows from it. When all the mainframe-related software, services and storage are included, mainframe technology delivers about 25 percent of I.B.M.'s revenue and more than 40 percent of its profits, [according to Bernstein analyst A.M Sacconaghi]," The New York Times reported.
Along with the mainframe makeover, IBM has also announced that it will acquire software-as-a-service provider Kenexa (NYSE: KNXA), a company that has experienced approximately 15.9 percent revenue growth over a five-year period. While the acquisition will certainly cost a pretty penny at the price of $1.3 billion, Kenexa is set to introduce clientele to Cloud-computing and social networking – a 21st century stride most are not used to seeing from the likes of IBM.
The proposed deal, announced on Monday, has increased analyst and investor confidence in IBM, as it has become more and more apparent that the company is focusing on growth initiatives and business analytics.
"We like the overall size of the deal and the software and services assets that it brings to IBM," J.P. Morgan noted in a research report on Monday. "While we expect IBM to remain active on the acquisition front, we think that there is low risk of IBM pursuing a potentially big, expensive, and disruptive acquisition in the near to mid term."
IBM is likely to continue shelling out hundreds of millions of dollars on merger purchases over the next few quarters, as the company previously noted that it would like to spend about $20 billion on the acquisition of new companies. Simultaneously, IBM will continue to spend over $1 million on each mainframe it develops, proving that no expenditure will get in the way of this driven information technology giant.
IBM closed Monday at $195.69, up over 6.4 percent year-to-date.
Posted-In: A.M. SacconaghiAnalyst Color News Topics M&A Analyst Ratings Tech General Best of Benzinga
View Comments and Join the Discussion!