John Paulson Sees 50% Chance of Eurozone Breakup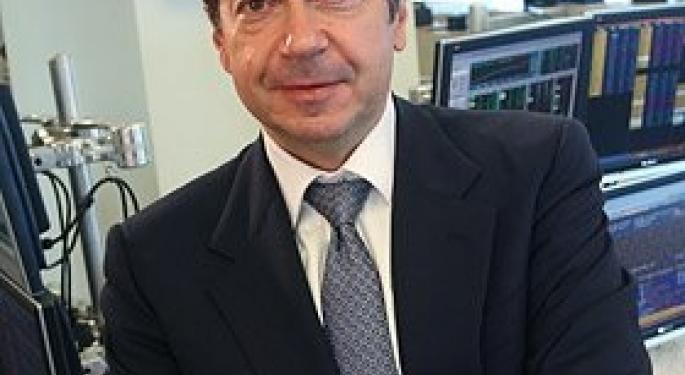 John Paulson, founder and President of Paulson and Co. today stated that he believes there is a 50 percent chance of a Eurozone breakup. Paulson, famous for his bets on the housing market before it collapsed and then predicting the rebound in financials, runs one of the largest hedge fund firms in the world.
The chances of a Eurozone breakup have been increasing as the European Debt Crisis engulfs the continent. Greece has missed some of its bailout targets and talk of a Greek exit flared around the recent elections. However, those fears have since quelled as investors focus on Spain's woes.
Intrade has the odds of a nation dropping the euro at 35 percent by the end of 2012. By the end of 2013 those odds rise to Paulson's 50 percent, so he may actually be correct.
Talk of a Eurozone breakup has emerged as a result of the disparate financial situations and growth prospects of core and peripheral nations. Many investors fear that Greece will be forced out of the Eurozone for failing to meet its bailout agreement restrictions. However, some economists and investors are speculating that it will not be the weaker nations that cause a breakup, but actually the stronger ones.
Talks of fiscally strong Finland leaving the Eurozone has swirled recently, with the likes of Nouriel Roubini hinting that the risks of a so-called "Fixit" are increasing. Investors have also postulated that Germany could leave should the ECB be forced to launch further expansionary policy. Should policy responses cause too much inflation, it could cause Germany to leave the euro, as they have long-standing fears of inflation since the German experience with hyperinflation.
It is important for investors to note that talk of a Eurozone breakup does not necessarily mean the weak nations leaving. If the strong nations were to leave, it would create a euro that is made up of weaker nations and would probably depreciate against other currencies. Any breakup scenario is bearish for the euro, but if there was an orderly plan to do so, it might actually be a short-term positive for equity markets. In the long run, a euro made of core nations such as Germany, France, Finland and Austria could be a stronger euro than the one that currently exists.
Posted-In: Analyst Color News Bonds Previews Forex Global Econ #s Economics Best of Benzinga
View Comments and Join the Discussion!