Under Armour Loses Some Shine Amid Spieth's Epic Collapse At The Masters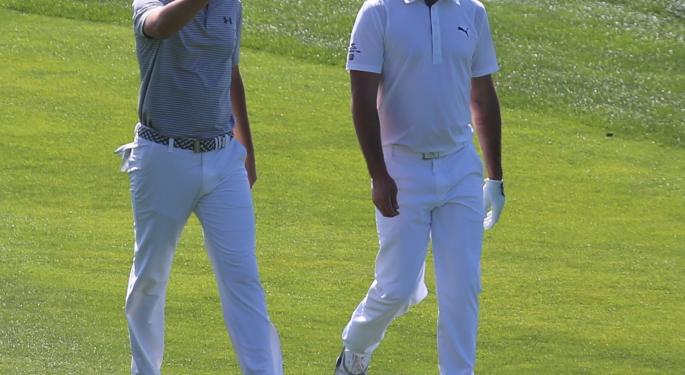 Under Armour Inc (NYSE: UA) shares were trading lower by $2 (4.8 percent) at $41.55 in Monday's session. One catalyst for the decline? Jordan Spieth's collapse on the back nine of the 2016 Masters.
The Collapse
After taking a seemingly insurmountable five-stroke lead into the back nine, Spieth saw his five-stroke lead disintegrate into a three-shot deficit over the next three holes. He recovered, but was unable to overtake Danny Willet, who was sitting comfortably in the clubhouse at 5 under par not long after Spieth's 12th-hole meltdown.
Another contributing factor to the decline were the advances the issue made last Wednesday through Friday; Spieth was considered the Masters favorite going into the weekend. Throw in a 2-for-1 stock split from Friday, which on many occasions exerts some downward selling pressure on an issue, and the reason for today's decline is more apparent.
Related Link: No, Under Armour Shares Didn't Fall 50% On Friday
PreMarket Prep host Dennis Dick said, "Statistically speaking stocks tend to run up prior the split (which may help explain some of the trading action from Tuesday through Thursday) but show short-term weakness after they split," which is contrary to the trading action in Friday's session when the issue added $0.55.
Dick noticed relative weakness in the issue during pre-market trading, despite the strong tape with a modest buy imbalance. He was alerted to potential weakness in the issue due to Spieth's collapse. As a result, he was executed a short at the opening print and was able to cover a substantial profit within minutes of his execution.
Under Armour ended last Tuesday's session at $41.77, added $1.15 on Wednesday, paused on Thursday and added another $0.55 on Friday as Spieth was poised to be the first back-to-back Masters champion since Tiger Woods in 2001 and 2002.
What Happened Last Year?
Perhaps investors were looking to replicate the profits reaped when the same strategy was employed in 2015. Over the same time period, preceding and during the early rounds of the 2015 Masters (Tuesday-Friday), Under Armour rallied from $80.84 to $83.75. On top of those gains, the issue traded as high as $85.94 the Monday following Spieth's victory and fell back to close at $85.11.
Related Link: Under Armour Has Only Missed Earnings Once In A Decade As Public Company
Investors calculating their exit point for Monday's session would have benefited from a strong early tape off the open that may have added to the buying momentum in the issue.
Interestingly, if one of these aforementioned investors had exited near the open (as some did), they still would have been able to exit the trade at a profit depending on the their entry.
Today's Action
Despite a buy imbalance of 33,000 shares, Under Armour opened $0.18 lower into a strong market and could only manage a $0.11 bounce, stalling at $43.47. As the market continued higher off the open, Under Armour was besieged with sellers. In the first 25 minutes of the session, there was never more than a quarter bounce until it finally bottomed over $2 lower at $41.34.
As it turns out, that puts all the buyers after Tuesday's close in the red. Since making the low, it rebounded into the mid $42 handle, but is struggling to remain there, with much of the action taking place in the area of last Tuesday's close ($41.77).
Of course, other market dynamics may account for trading action in shares. However, when taking into account Monday's trading action in the issue during as well as after last year's Masters, investors should be altered to potential impact of a sponsored star athletes performance in high-profile events can have on the sponsoring company.
"[Spieth] still earned the Under Armour brand significant exposure throughout The Masters," industry expert Darren Heitner told Benzinga. "Under Armour should praise Spieth for the way he responded to extremely difficult circumstances"
Image credit: Erik Charlton, Flickr
Posted-In: Dennis DickTechnicals Sports Opinion Intraday Update Movers Trading Ideas General Best of Benzinga
View Comments and Join the Discussion!