Dow Jones Returns To Late October Levels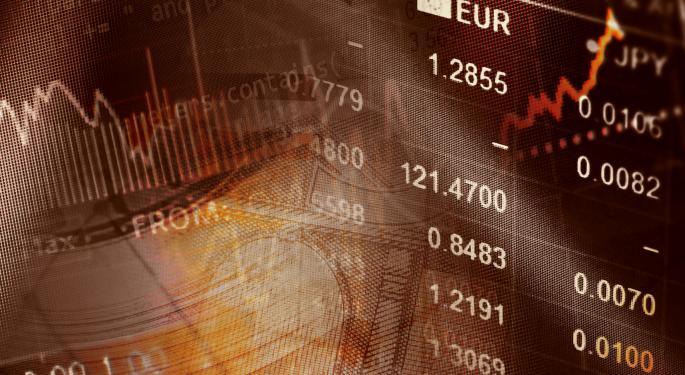 After breaching Friday's low early in Monday's trading, the Dow Jones Industrials has tumbled another 260 points, being down 340 at the lows for the session.
The decline is broad based with consumer staple company 3M (NYSE: MMM) shares leading the way down over three percent trading at $124.12.
Credit card company American Express (NYSE: AXP) is the second biggest loser, down 2.3 percent at $83.00. Shares of Visa (NYSE: V) are lower by nearly one-half of a percent at $214.30. This is the lowest level for the issue since it bottomed at $210 in December 18.
After a reduction in the price of data plans, AT&T (NYSE: T) shares round out the top three losers by losing over four percent to $31.95. This level coincides with its lows from last week when the issue declined following its disappointing earnings announcement. Verizon (NYSE: VZ) shares are under pressure after breaching the major support at $47.28. The issue reached $46.22 earlier in the session, which its lowest level since October 15, when it bottomed at $46.27.
Oil giants, Exxon Mobil (NYSE: XOM) and Chevron Corporation (NYSE: CVX) are lower as well. XOM. trading at $90.21 is approaching the 90 level for the first time since November 4 when it bottomed at $90. CVX is faring a bit better, trading around unchanged for the session at $11.43. Earlier in the session, CVX traded down to $110.54, which is the lowest level for the issue since it bottomed at $109.10 one year ago.
Financial stocks, which were supposed to be the market leaders in 2014 are under selling pressure. Goldman Sachs (NYSE: GS) shares are lower by nearly $4.00 at 160.35. This despite a Guggenheim Securities upgrade from Hold to Buy Monday morning. Also, JP Morgan (NYSE: JPM) is is lower by one dollar at $54.40. Earlier in the session, the issue reached $54.24. which coincides with its November 15 low (54.19).
The lone winner in the index is Pfizer (NYSE: PFE) trading higher by $0.31 at $30.71 . The company was the benefit of positive top-line results regarding a drug created to combat advanced breast cancer in women. Earlier in the session, the issue was higher by another $1.00 at $31.69, before it became of a victim of profit-taking and the overall decline in the market.
As the index is poised to close in its lows of the day, investors may have to consider the power of the January Effect when it goes into reverse. If the decline continues this week, there may not be any major support in the index until multiple lows at 15,200 from mid-October.
View Comments and Join the Discussion!
Posted-In: Technicals Intraday Update Trading Ideas Best of Benzinga