The Markets Were Getting Crushed This Morning -- What Do the Charts Say?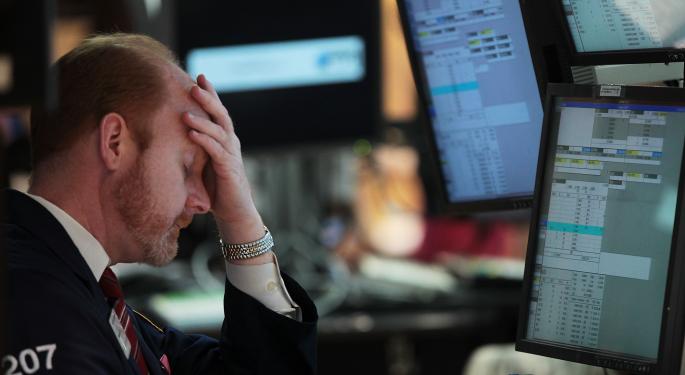 The markets were beat up Thursday and if Friday morning's pre-market numbers hold through the trading day, it's going to be another day of selling in the major U.S. indices.
The S&P 500 lost 0.9 percent to close at 1,828.46 Thursday. The Dow lost more than one percent or 175 points to close at 16,197.35 and the Nasdaq finished at 4,218.87—a loss of 0.6 percent. But one day doesn't mean much of anything unless we put it in the context of a larger chart.
Thursday's down day did no technical damage. The S&P closed well off of its intraday low after bouncing off the 1,820 low set back on January 13. Volume was high meaning that the selling came with conviction but looking at just Thursday's price action, there was little to be concerned about.
Related: #PreMarket Primer: Friday, January 24: Growth Fears Drag Down Emerging Markets
Overall, 2014 has seen volatility but the overall market can be characterized as sideways. The year started around 1,850, dipped to the 1,830 range, regained the 1,850 level and is now back to the 1,830 area. The markets are in a range with the occasional dip below only to quickly rebound as investors buy on the dips.
This morning, the markets are set for another big drop. Dow futures are indicated more than 80 points lower and S&P futures are down about 12 points.
Key levels to watch in the S&P today are the January 13 intra-day low of 1,815.52 and the 50-day moving average at 1,812.15. The January 13 level wouldn't indicate a catastrophic technical breakdown but closing below the 50 day would be cause for concern. The S&P hasn't dipped below its 50 day since October and any breakdown would likely trigger larger selling pressure.
A breakdown of the 50 day could set the S&P up for a challenge of 1,780—it's close from mid December.
But to be fair, investors are still in buy on the dip mode. Just looking at this year, they've clearly sat on the sidelines waiting for a buy point. When they find it, in the form of dips like one we're currently experiencing, they swoop in and buy en masse.
Before investors get alarmed, they'll have to see a period of sustained selling. That's something this market has seen in a long time.
Disclosure: At the time of this writing, Tim Parker was net long U.S. equities.
Posted-In: Dow Jones NASDAQ S&P 500Technicals Markets Trading Ideas Best of Benzinga
View Comments and Join the Discussion!