Johnson & Johnson: Off To A Good Start In 2014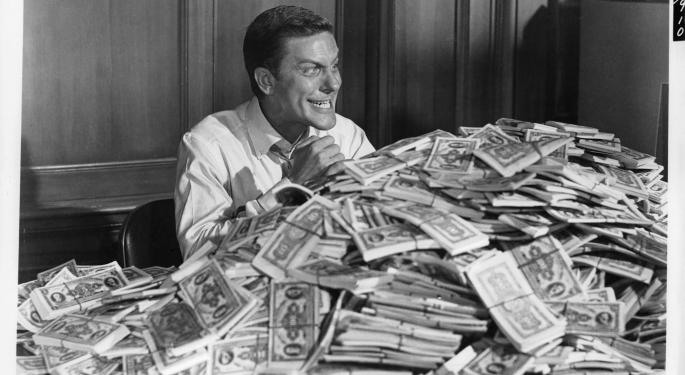 While the S&P 500 Index is slightly in the red for 2014, Johnson & Johnson (NYSE: JNJ) shares have gained nearly three percent (94.20).
Johnson & Johnson, which broke out of a three-year slumber, posted a 31 percent gain in 2013, besting the index gain of 29 percent. This took place with the issue retreating four points during the month of December from its all time high of 95.99.
With no identifiable reason for December swoon, the decline may be attributed to profit-taking as investors re-positioned their portfolios for 2014. Along these lines, other high-yielding issues such as Procter & Gamble and AT&T posted similar losses as investors shifted out of this sector in response to the threat of tapering by the Fed.
When the taper issue was sidestepped at the last Fed meeting, the price direction of some interest rate-sensitive issues reversed course. As investors returned to high-yielding issues with the threat of interest rates hikes out of the way for at least another month.
After finding support at the 91 level during the first few days trading, Johnson & Johnson exploded to the upside. Racing through the 92, 93 and 94 handles in the next three trading sessions.
Finally, Johnson & Johnson has found some resistance at the 94.50, peaking Monday at 94.62 and so far at 94.59 in Tuesday's session. Interestingly, this area coincides the series of highs back in early December before Johnson & Johnson tanked to 89.77 on December 18.
Wall Street analysts have been on the sidelines in Johnson & Johnson for the past month. The only notable action coming from RBC Capital Markets Brandon Henry, who upgraded the issue from Sector Perform to Outperform and raised the price target from 88 to 104.
Henry cited continued outperformance in the pharma division as a catalyst that will enable the company to deliver upside to consensus EPS. The new price target combined with a three percent dividend yield implies over over 15 percent upside from current levels.
In order to continue its impressive run this year, Johnson & Johnson needs to clear the resistance forming at the 94.50 level. Keep in mind, during its run in 2013, it encountered huge institutional selling the entire way up to its all time high. Perhaps investors that missed out on exiting the issue the first time do not plan on missing another opportunity.
If the rally loses momentum there may be only minor support levels to cushion a decline until January 2 (91.01) low. Also, it may be worthwhile to pay attention at the next Fed meeting, as high-yielding stocks, such as Johnson & Johnson, will be the first ones abandoned if and when the dreaded taper comes to fruition.
This story written by Joel Elconin.
Tags: Brandon Henry RBC Capital Markets
Posted in: Technicals Intraday Update Trading Ideas Best of Benzinga