Can 2013's Market Laggards Become 2014's Leaders?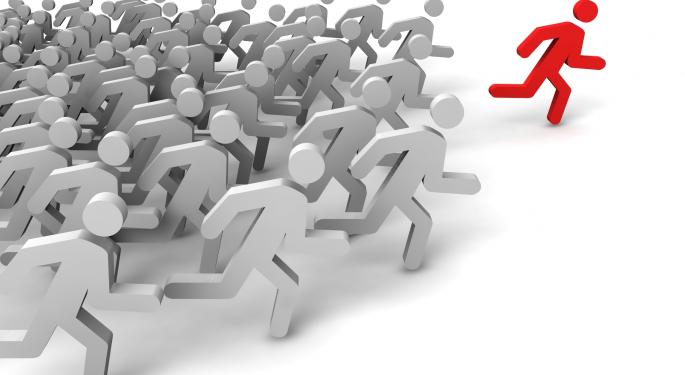 By: Joel Elconin
As trading comes to a close for 2013, many of the best performers for the year, were some of the worst performers in 2012.
For example, Hewlett-Packard (NYSE: HPQ) and Best Buy (NYSE: BBY) appeared to be on the way to zero on December 31, 2012.
In fact, BBY ended 2012 just above its 11 year low (11.23) at 11.85 and HPQ was just one point off its multi-year low (12.94) at 14.25. Both issues posted significant gains during the week of January and never looked back.
During the course of the year, HPQ nearly doubled in price at its December high. Meanwhile, BBY rallied nearly 300% when it peaked in November. At this time, HPQ is still hovering near its highs and BBY has retreated 10%.
Two candidates in very different sectors may be worth keeping an eye on 2014. Staying with the retail theme, JC Penney (NYSE: JCP) shares may be poised for a rebound. The issue, which is trying to recover from a two-year decline that emanated from the 42.00 level, is showing some technical strength after bottoming at 6.24 in October.
See also: The Herd Continues To Flock Out of Icahn Enterprises
The failure of former Apple executive Ron Johnson to revive the company, coupled with Bill Ackman's well publicized flogging in the issue applied significant selling pressure for most of the year. Multiple downgrades by Wall Street analysts and constant worries of credit being withdrawn by merchandisers weighed heavily on this issue.
Fears have been eased somewhat by an October 2013 announcement of a long-term extension of its private label dual credit card extension between GE Capital Retail and JCP. The companies intend to build on their 14 year relationship through 2020. If GE Capital Retail is willing to speculate it will survive another six years, perhaps investors will as well.
The second candidate, Molycorp (NYSE: MCP) will be ending the year off by nearly 50% and over 90% from its all time high (79.16). The issue, that was a beneficiary of the rampant speculation in rare earth stocks in 2011 has been consolidating at the 5.00 level over the last few months, after bottoming at 4.51 in both November and December.
Recently, Molycorp CEO reported that the company will reach profitability in 2014 with near-term rare-earth prices increasing. Reports of the increases in Baotou Steel prices may further add to the bottom line for MCP in 2014.
With its 45 million share offering complete at the 5.00 level, the cap on the stock at that level may have been eliminated. Perhaps any improvements in cash flow in the first quarter, will be the impetus to drive the share price higher.
One issue in the midst of a multi-year decline, but up some 17% this year is Alcoa (NYSE: AA). The issue, which peaked at 48.77 in July of 2007, swooned to 4.97 during the financial crisis, but is now pressing up against the upper end of the two year trading range (8.50-10.92).
Weak aluminum prices, which have begun to stabilize, coupled with increased industrial uses, such as for the body for Tesla Motors vehicles, may help alleviate some of the company's inventory. Also, Alcoa signed a long-term deal with Airbus in December for value-add titanium and aluminum aerospace forgings This increased demand and a drawdown in inventories may bode well for the company in the upcoming year.
Well-respected Wall Street firm Goldman Sachs upgraded Alcoa from Neutral to Buy on November 25, citing that solid downstream growth will more than offset any further weakness in the aluminum market. At this time, the issue has almost reached the firm's price target of 11. At the time of the upgrade, the shares had been trading at 9.24, but there may be still room to run.
It would appear that some big institutions are placing some bets on Alcoa as well. Throughout the November and December months, several large block trades occurred in the options markets At first, in the December 10 calls, which expired in the money. These were followed by several large trades in the June 11 calls, which are now close to being in the money.
Identifying potential winners in 2014 may prove more difficult after the markets impressive run in 2013. However, investors may want to pay close attention to the price action of JCP, AA and MCP early in the New Year, to determine if these laggards might become next year's leaders.
Posted in: Technicals Intraday Update Trading Ideas Best of Benzinga