10 Stocks Below Their 50-Day Moving Average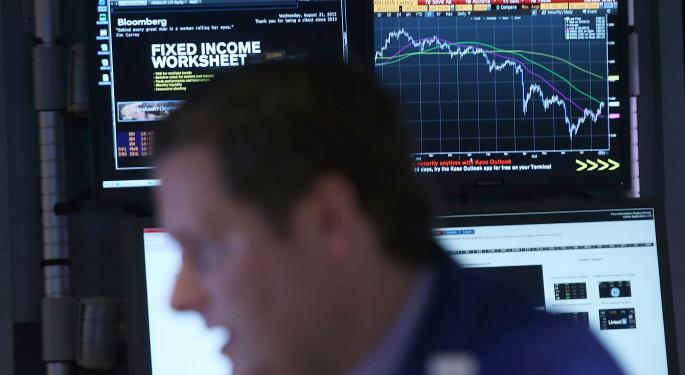 Despite a market that continues to melt up, some stocks are struggling to move above their 50-day moving average. They might be priced at a bargain or they may be names to avoid.
The weekend is about here and if you're looking for some names to research, we put together a list of stocks with a market cap above $2 billion that are priced below their 50-day. We'll leave it to you to decide if they're a buy.
Barrick Gold (NYSE: ABX) 
Gold stocks still can't get a leg up. Barrick is only slightly below its 50-day but has traded in a range since August.
Advanced Micro Devices (NYSE: AMD) 
The stock has failed to give Intel (NASDAQ: INTC) any meaningful competition and as a result, investors have put money to work in other tech names. After a selloff the stock looks poised to break above its 50 day.
Caterpillar (NYSE: CAT) 
Every time this name posts a strong move higher, something knocks it down. It's currently in a basing pattern just below its 50-day. It could stage a break out.
eBay (NASDAQ: EBAY) 
Everybody thought eBay was heading for the technology graveyard but it reinvented itself. It's had a volatile year but now looks to challenge its 50-day. Be careful in this name. A $52 stock posting seven-dollar swings is some serious volatility.
Ford (NYSE: F) 
Kind of like Macy's (NYSE: M), this is an American business everybody wants to see prosper. Ford has staged an impressive higher this year. After reaching a top, profit taking took over but the stock recovered and is now challenging its 50-day. According to the charts, this could be a buy level.
Green Mountain Coffee Roasters (NASDAQ: GMCR) 
There hasn't been much to talk about since the hedge fund battles in the name subsided but "don't catch a falling knife" looks fitting for this name. It's well below its 50-day and in a steep downtrend.
Related: Tesla Assembly Plant Accident Caused By Hot Metal
Herbalife (NYSE: HLF)
Speaking of hedge fund battles, Herbalife saw a strong move to the upside that started in April. After a reaching a high in September it sold off. The stock staged a recovery and is now poised to break above its 50-day.
Lululemon Anthletica (NASDAQ: LULU)
This was supposed to be the next Nike (NYSE: NKE) but it hasn't had the best of years despite an up market. The stock is currently in a downtrend and shows no signs of recovery.
Symantec (NASDAQ: SYMC)
After a rough earnings report, the stock plummeted but has since recovered nicely. It looks poised to challenge its 50-day.
Tesla Motors (NASDAQ: TSLA)
It's about time. After a move so large that even the CEO says it's overvalued, it's finally in sell-off mode. This isn't a bad company but more selling in the name would be a healthy correction.
Disclosure: At the time of this writing, Tim Parker had no position in any of the mentioned companies.
View Comments and Join the Discussion!
Posted-In: barrick gold Ford Herbalife Macy's Green Mountain Coffee Roasters SymantecTechnicals Tech Trading Ideas Best of Benzinga