50 Percent Retracement Level -- A Significant Hurdle For Some Issues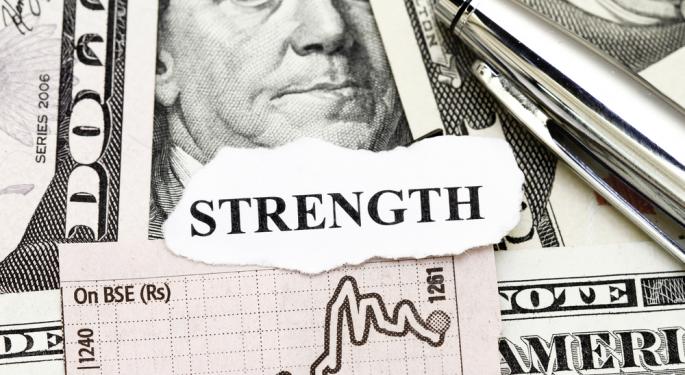 by Joel Elconin, PreMarketInfo.com
After bottoming at $17.55 on September 4th, Facebook (NASDAQ: FB) has rallied over ten points to close at $28.00 on Friday. Will this move continue, or is this just a bear market rally in the stock? One fairly reliable technical indicator to test the validity of such moves is the only Fibonacci number that I pay attention to, the 50% retracement.

In all my years of studying technical analysis, the 50% retracement during a move counter to the trend has allowed me to develop targets as well as generate entry points for new trades. It is a key reference level that many technical traders use, and can often result in a reversal of the counter-trend move. The 50% retracement level has further significance if the level coincides with previous highs or lows in the issue.

Before Facebook's major decline in late July, it put in a classic quadruple top with four of five highs between $29.45-$29.50 (July 19th-July 25th). More importantly, the 50% retracement from the all time high of $42 down to $17.55 can be found just above that level at $29.78. With yesterday's high of $28.88 and the subsequent reversal, could traders be banking that the stock does not breach its 50% retracement level?

Before today, FB was on a run of 8 consecutive higher or matching highs, 8 consecutive higher lows and 8 of 9 higher closes, which is an unsustainable technical pattern. That pattern was broken today. The stock might gather strength and make another run at the 50% retracement level, but so far the key Fibonacci number continues to hold. But FB isn't the only issue falling short of its 50% retracement.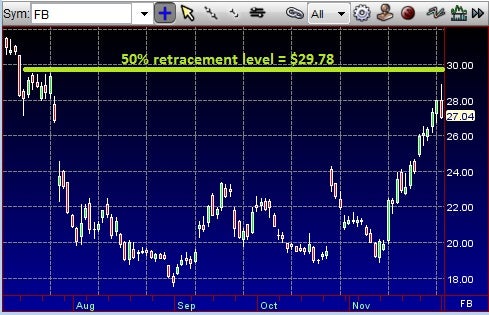 On its way to 1000, Apple (Nasdaq: AAPL) found major resistance just above $700 and made an all time high of $705.07 before tumbling nearly 200 points down to $505.75. After putting in place a "V" bottom (insert link), AAPL has recovered almost half of the recent break (current high $594.59 versus the 50% retracement of $605.41). That coupled with strong psychological resistance at $600 has put a crimp into the recent rally. AAPL is not destined for new highs until it can clear $605.41, and the longer it takes to clear that level, the greater chance that the stock starts to give some of the recent rally back.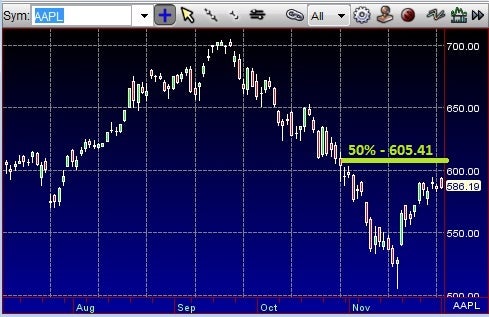 Google (Nasdaq: GOOG) is another issue struggling with the 50% retracement. Take a look at the recent decline from $774.38-$636. The 50% retracement level is $705.19. Compare that with yesterday's high of $705.89. It is it pure coincidence or not?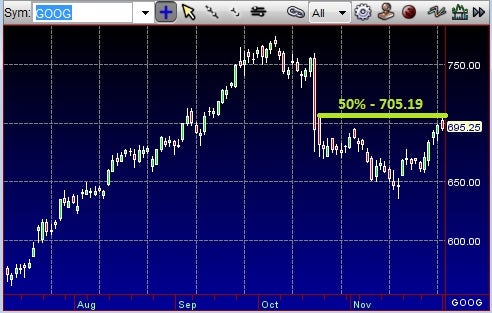 If you do not care about Facebook, Apple, or Google, how about the world's leading indicator, the e-mini S&P 500 Index futures? Since making a five year high at 1468 and retreating to 1340, low and behold the index is hovering above 1405-1410, just above the all important 50% retracement level of 1404. If the index can maintain this level over the next few days, maybe the old Santa Claus rally can kick in and propel the index back to the highs. If the 1404 level does not hold, the index could be destined to test the lows from earlier this month.

I've never been a huge fan of Fibonacci numbers but it's hard to argue with the recent price action, as many issues are currently struggling with their 50% retracement levels.
Tags: Fibonacci retracement
Posted in: Technicals Trading Ideas Best of Benzinga