July 18th Technical Analysis Perspective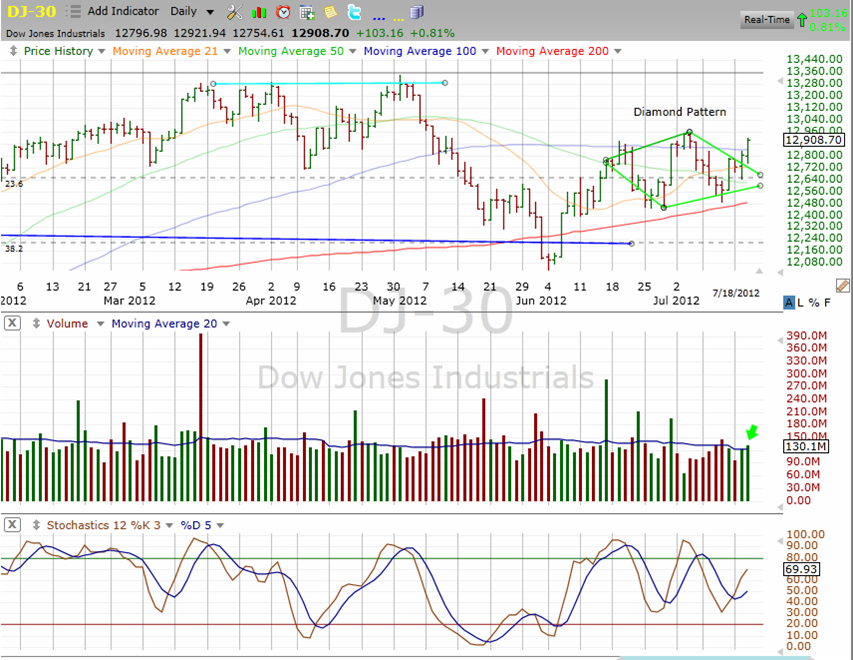 A diamond pattern has formed in the Dow Jones Industrials. The question of the day is whether it is a consolidation pattern or a topping pattern? Its natural habitat is near tops. However, the volume the past two trading days has been slightly above average. Wednesday's price action did pierce thru the 100 day moving average, its final moving average to conquer to the upside. To the technicians eye, this appears to be a breakout from a "consolidation" diamond pattern. However, I recommend a few confirmation days to be certain this price action stays moving higher, not lower like a typical diamond top pattern produces.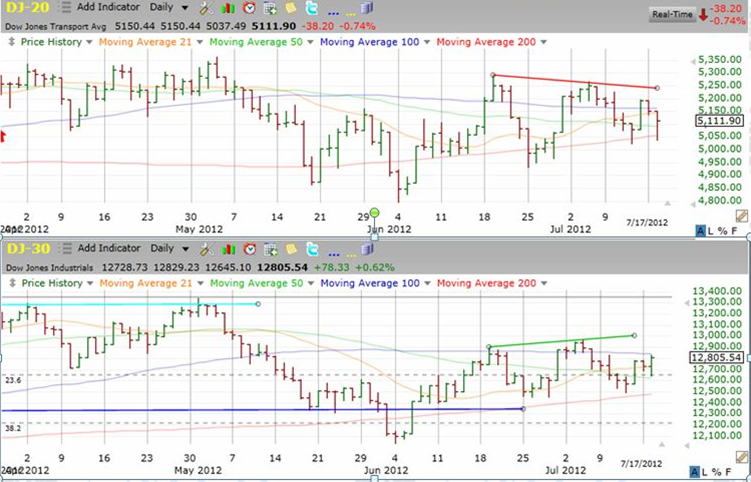 Allow me to throw a wrench in the spokes of the bull's bicycle!! The above chart is a Dow Theory non-confirmation signal. What this means is as the Dow Industrials (bottom chart) made a higher high in early July, the Dow Transports (top chart) did not!! The refusal of one Average to confirm the other can never produce a positive signal of any sort. It has only negative connotations. Those are the words of the inventor, Mr. Charles Dow, not mine. Divergences, like this one, most often occur at reversals in the Major Trend. Couple this signal with the possible Diamond Top in the Industrials and you can quickly pick up that I am not so bullish on the equity markets right now. I follow the charts, not my heart!!!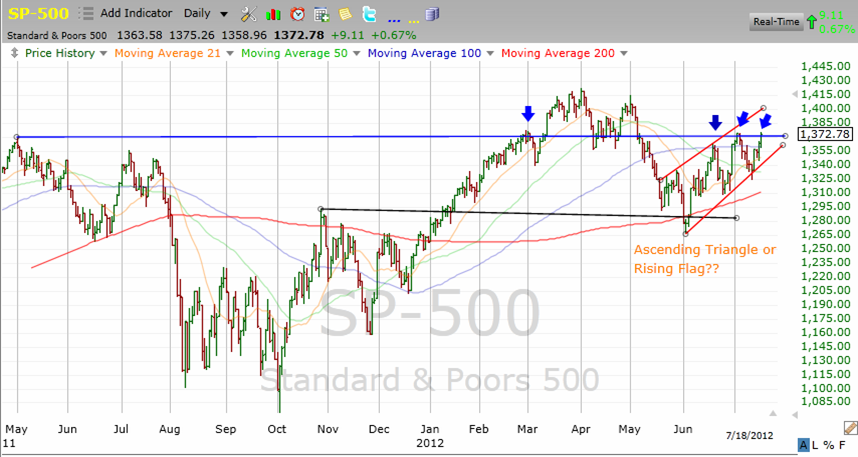 A longer term look at the S&P 500 shows major resistance being challenged currently. 1370.58 was the high made back on May 1st 2011and is acting as an area where sellers emerge. We closed at 1372 today. Let's see if those prices can hold. This will be the 4th time challenging this supply line at 1370. There are 3 important characteristics to look for in trendlines. 1) The more times a trendline is touched without penetration, the greater its significance (strength). 2) The longer a trendline holds without penetration, the greater the significance. 3) The flatter a trendline is, the more important it is technically. For those of you who have followed my work this year, you now know why I have marked my top end of the S&P's trading range at 1370. Everyone I have talked to has overlooked this trendline and nobody has said anything about it on the major business networks. My secret has just been unveiled! That high produced back in 2011(1370) now has major significance if it's 1) broken to the upside on elevated volume OR 2) prices stop at this level and retreat. It is a major turning point for the S&P 500. Today produced a reading of 1372. One day doesn't make a trend, so I would caution anyone in jumping in on the long side of the market Thursday without waiting for at least 2 confirmation days to validate this potential breakout.
Now take your attention off the blue trendline and focus in on the 2 angled red trendlines. This formation is called a Flag. In this instance, it's a rising flag. These usually mark a continuation of the preceding trend, in this case, down. It's a pattern that signifies investors digesting the strong move down from the top, 1422. If we hit our head on the 1370 mark and retrace lower, watch for the bottom red trendline to hold and act as near term support. That number is 1340-1350. If this trendline is broken to the downside, the flag has been completed and further price depreciation should be expected. The chart would appear to find buyers near the 1310 level, its June low and the 200 day moving average.
One final pattern here! Use the top blue horizontal line and couple it with the upward sloping, bottom red line used in your rising flag construction. This pattern is called an ascending triangle and has bullish tendencies. Wait for a break above 1370 on high volume to complete the pattern. A price target produced from this pattern yields the S&P at 1472 in the future.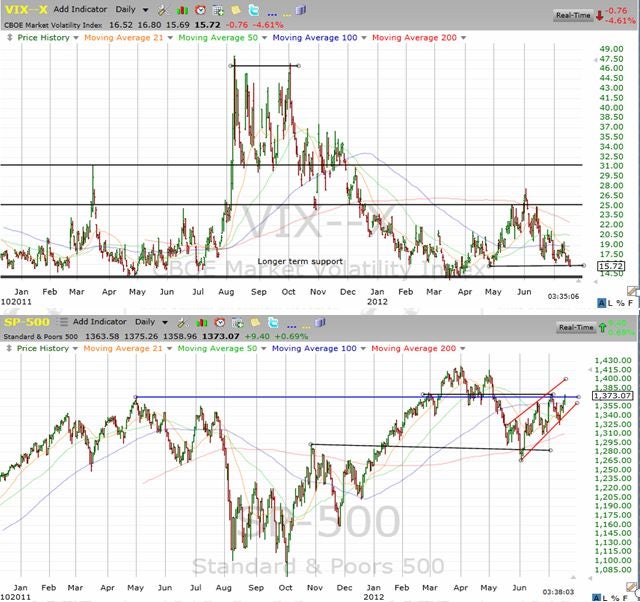 Another reason I am not bullish on these equity markets right now. The top chart is the VIX and is approaching support near the $14.50 - $15 level. When the VIX finds support, equity markets typically struggle. Since the VIX is at major long term support and the S&P at major long term resistance, I believe the VIX will win this arm wrestling contest.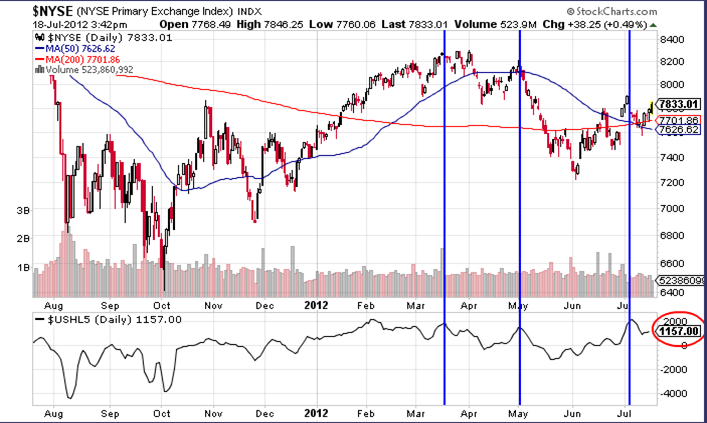 An updated look at the weekly number of new highs for the NYSE. The bottom line marks the number of weekly new highs. As you can see as we approach the 2000 level, markets typically stall and retreat. Today's reading stands at 1359 and increasing.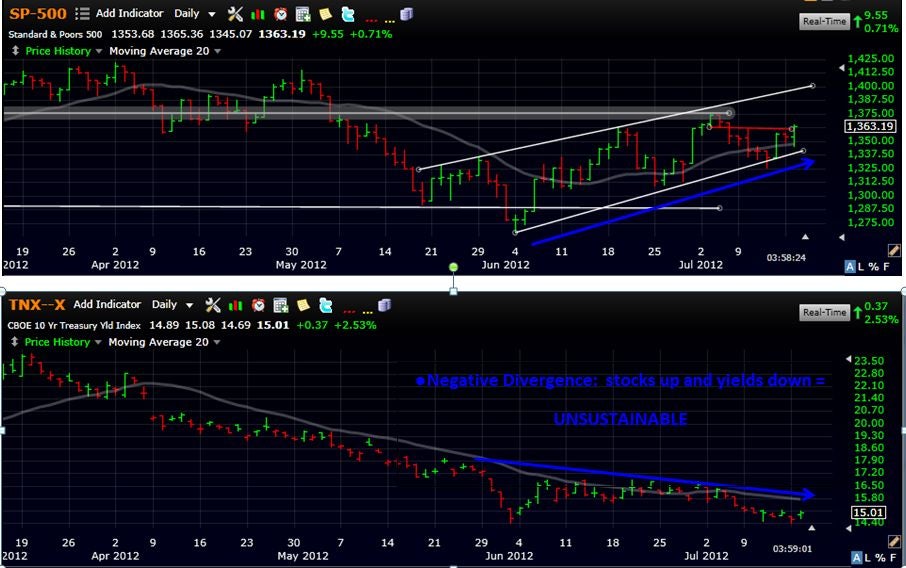 I posted this critical chart on Twitter last night. One more very important reason why I think the equity markets will eventually have to move lower soon. The bottom chart is the 10 yr. yield. It keeps going down, meaning bond prices are going up, while the equity markets keep moving UP as well! This is called a negative divergence in technical analysis. This is unsustainable if our markets are perceived "healthy". Why are bond prices AND the stock market going up in tandem? I think the bond vigilantes don't believe the economy is in as good as shape as the equity markets think it is. Time will tell.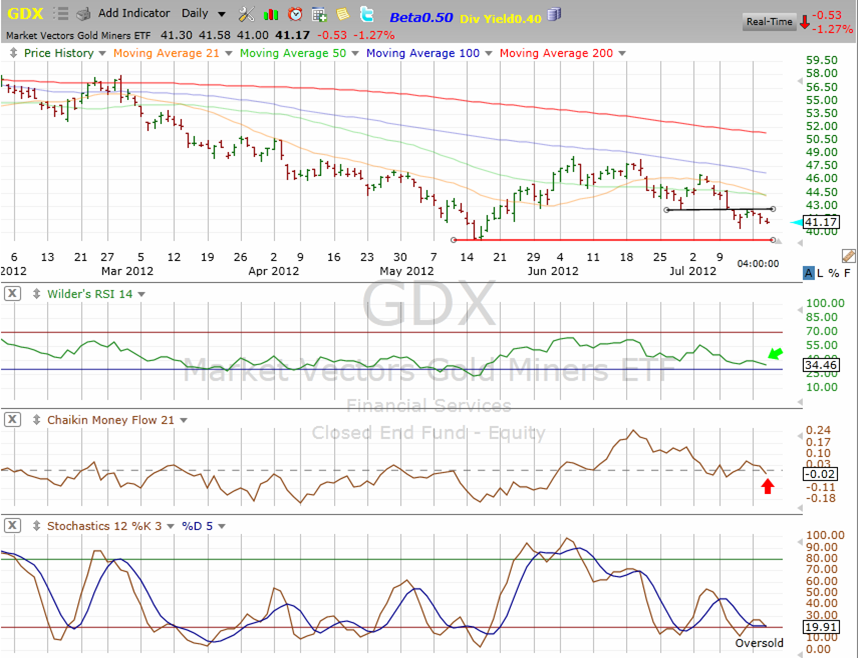 GDX broke down under minor support last week. Prices seem to have followed through and appear to want to move lower. RSI is in bear territory, money flow has just turned negative, but the stochastic is oversold. The stochastic can stay oversold for an extended period of time while prices continue to move lower. Look at the time frame from March 5th to April 23rd. A move below $39 is bearish for this issue. GDXJ, the Junior Miners, has a similar chart.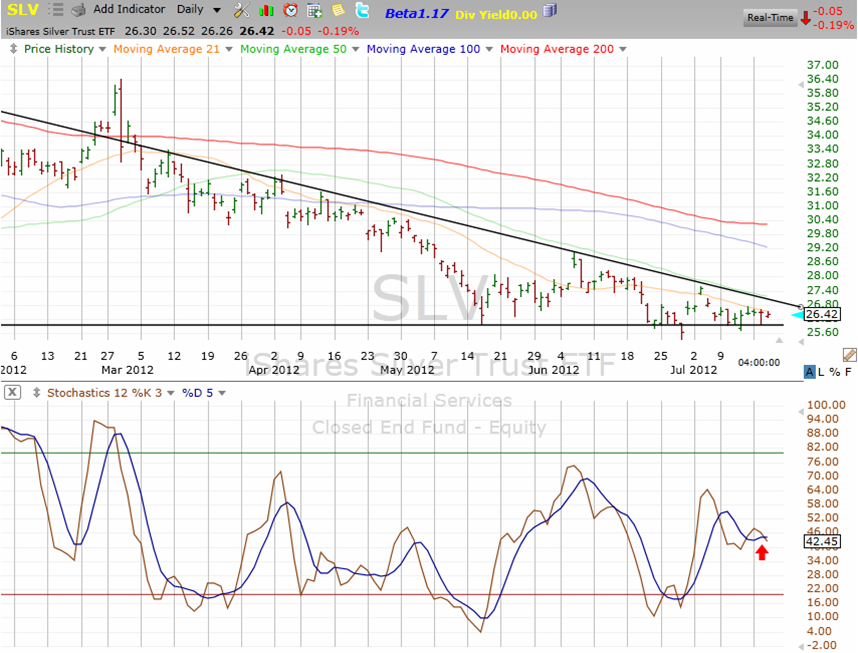 Silver appears to be in more of dire straits than its counterpart gold. What is interesting about this chart is as SLV bumps down along support of $26, its overbought/oversold indicator has a neutral reading. Typically when an investment is on its support level, the overbought/oversold indicator is almost always on an oversold reading. This is not the case and could bring significantly lower prices if SLV breaks down below $26. If SLV breaks down, GLD will more than likely follow soon after.
Technical Strategy going forward: Earnings report have been just ok thus far, my opinion. A bigger portion of the companies reporting have beat already lowered numbers, a fact. The pattern for this earnings season seems to be companies beating on the bottom line (earnings per share), but missing on the top line (revenue). This blinks sales slowdown paired with cost cutting to achieve earnings prowess.
Markets keep powering higher however, lead by the Utilities and Healthcare. Technology had a good day, but has been lagging recently. Apple was down today in a good tape. Bond prices across the curve continued their ascent higher! XLU broke to a new annual high. The Dow Theory still has a non-confirmation reading and the Industrials have a Diamond formation lingering. Bond prices continue to go up. None of the bull market sectors are showing signs of life. All these items still make me take a cautious, non trusting, stance with this market. Price action, option activity, and technical indicators give me the feeling that this is just a short covering rally, not one powered by quality earnings, increased investor demand for risk, and a healthy economy. I feel we are entering bull trap territory where 2nd quarter earnings, Capital Hill testimony, and QE3 "hopes" overshadow the true supply and demand picture of these markets. If these earnings keep rolling in mediocre to good, there will be no QE3 announcement on August 1st, no matter if the unemployment rate rises or falls in the interim, my opinion. There, I am out on a limb!
Watch and see if this 1370 level holds for the S&P the next few days. 800 is your bogey for the Russell 2000, and 12,838 for the Dow Jones. As always, if you need charts marked up or a clarification on something, please reach out and ask.
By: Mike Dalman, CMT
Mike Dalman Investment Research
Posted-In: 10 Yr. Yields Gold industrialsTechnicals Intraday Update Markets Trading Ideas General
View Comments and Join the Discussion!