3 Micro-Cap Tech Stocks To Watch In 2018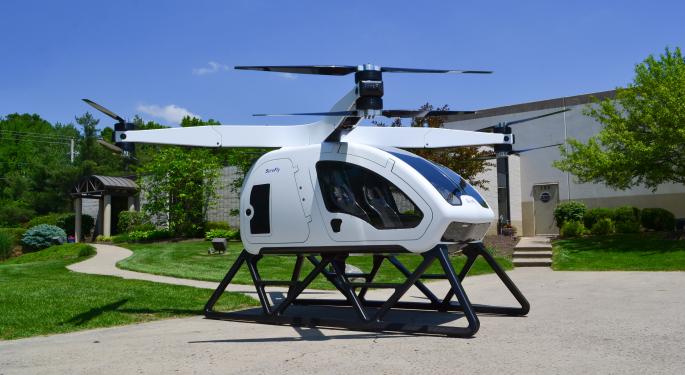 Monday's LD Micro Virtual: CES Wrap Up saw a group of micro-cap tech firms showcase their latest innovations and outline plans for 2018. Three that particularly stood out were Vuzix Corp (NASDAQ: VUZI), Workhorse Group Inc. (NASDAQ: WKHS) and My Size Inc (NASDAQ: MYSZ).
Vuzix
CEO Paul Travers highlighted several features of Vuzix's smart glasses product line that he said will make the company competitive in the market for augmented reality glasses — which could grow to as much as $120 billion by 2020.
One of Vuzix's signature products, the M300 model smart glasses, feature Intel Corporation (NASDAQ: INTC) technology, a physically versatile design and are compatible with Android 6.0, Travers said. They have been utilized in the medical, industrial, retail and other sectors and companies such as Deere & Company (NYSE: DE) and Deutsche Post AG (OTC: DPSTF), the CEO said.
The highly anticipated Vuzix Blade smart glasses, which Travers described as "what Google glasses should have been," incorporate Amazon.com, Inc (NASDAQ: AMZN)'s Alexa system and feature a high resolution screen with an 8-megapixel camera and 1080p video capabilities.
Workhorse
Workhorse, an Ohio-based manufacturer of electric-powered delivery vehicles, showcased three of their vehicle designs. COO and President Duane Hughes spoke on behalf of the company.
The W-15 pickup features a range of 80 miles on all-electric power, special safety features and a utilitarian design. Workhorse has sold over 2.5 million units to date, with 500,000 of those being sold in the commercial transportation sector. The demand for electric pickups is high among large commercial fleets, Hughes said. Since USPS announced a fleet restock, Workhorse has been competing to be USPS's next primary delivery vehicle, he said.
Hughes also discussed Workhorse's N-GEN electric van design and Surefly helicopter. The N-GEN features high maneuverability and is compatible with drone technology, making for optimal delivery capabilities. The Surefly helicopter can be autonomously operated and is being eyed for commercial, military and personal use, he said.
While Hughes said he not able to comment on the full extent of Workhorse's long-term contracts, he mentioned several high-profile customers including United Parcel Service, Inc. (NYSE: UPS), Alpha Baking Company, Ryder System, Inc. (NYSE: R) and FedEx Corporation (NYSE: FDX).
MySize
Ronen Luzon, founder of Israeli company MySize, discussed the company's mobile app and business model.
The MySize app is a mobile measurement tool that allows users to take their physical measurements, which can then be used to shop for apparel. It is designed to improve customer experiences while shopping online and limit returns, Luzon said.
MySize can also be used as a ruler to take measurements of things like window and package size and is accurate within 2 centimeters, the CEO said.
The company will utilize both a pay-per-click and revenue-sharing model. MySize will receive 3 to 9 cents each time a customer clicks on a specific item and will share in the revenue gained from a successful transaction, Luzon said.
Related Links:
MySize Soars Following CES Update
Finding Shareholder Rewards In A Small-Cap ETF
The Workhorse SureFly helicopter. Courtesy photo.
Posted-In: CES LD Micro micro-capSmall Cap Analysis Top Stories Tech Trading Ideas Best of Benzinga
View Comments and Join the Discussion!