Investing in Breakfast Stocks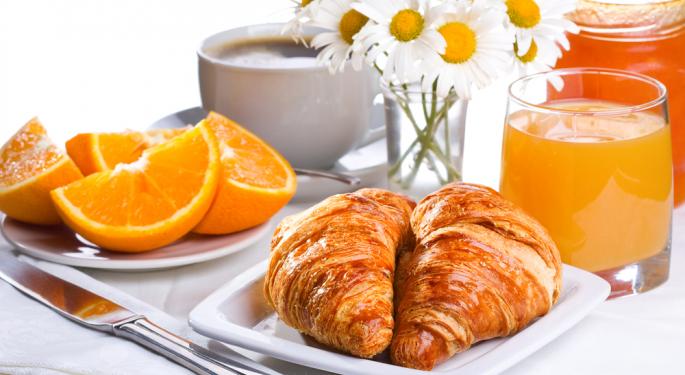 Shares of Krispy Kreme (NYSE: KKD) were up 10.5 percent on Friday, closing at $11.15 — a level not seen since 2007. The stock traded more than four million shares — four times higher than average.
Investors went on a buying frenzy after Longbow research initiated coverage of the stock with a "Buy" rating and a $15 price target. The company had a strong 2012 — up more than 56 percent.
Although Krispy Kreme had a strong year, some investors remember when the company got ahead of itself by expanding too fast. What was once a $48 stock in 2003 now hovers around $10 after reaching lows of $1 per share. The company has a stated goal to open 200 stores within the next four years, which could negatively weigh on the company's balance sheet.
However, how about other breakfast stocks? What does the future hold for others in the space?
Dunkin Doughnuts (NASDAQ: DNKN) was once known for its "time to make the doughnuts" catchphrase and the "munchkins"—those delicious doughnut holes, but has Dunkin Brands added as much fat to your wallet as it could to your waistline?
Since its July 2011 IPO, Dunkin is up about 21 percent and with a solid uptrend in the charts since September; there is much reason for optimism.
What's not so sweet is Dunkin's short interest of 13 percent — much higher than Krispy Kreme's 3.7 percent. Dunkin will present at an upcoming investors conference on January 16. This could be a volatile day for the stock with the legion of shorts waiting for a hint of bad news or overly positive news that would cause then to cover and run.
Panera Bread (NASDAQ: PNRA) saw a 17 percent rally in 2012. Although not as much of a niche breakfast stock as Dunkin or Krispy Kreme, Panera is a favorite among the breakfast crowd for its bagels, pastries, and coffees. It also has the distinction of being a bistro for all meals — something the other two do not enjoy.
Panera has year-over-year sales growth of 16.8 percent — better than Dunkin's five percent and Krispy Kreme's 8.5 percent.
What might be concerning to investors is Panera's 7.8 percent profit margin, compared to Dunkin's 12.8 percent and Krispy Kreme's 38 percent.
Short interest stands at 7.8 percent and the chart shows a descending channel pattern since October 2012. Other technicians may argue that there is a larger ascending channel going back to July. Analysts like the stock having placed 12 "Strong Buy" or "Buy" ratings on it.
It is important to note that comparing Panera to Dunkin or Krispy Kreme isn't an apples-to-apples comparison, but investors should ask whether committing capital to companies that are firmly rooted in the breakfast space has advantages over investing in a company like Panera that captures market share in meals throughout the day.
Posted-In: Small Cap Analysis Movers Trading Ideas Best of Benzinga
View Comments and Join the Discussion!