3 Biotech Stocks See Growing Short Interest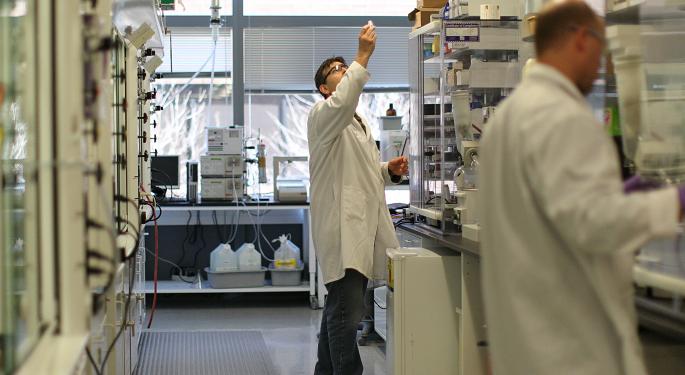 While short interest in most of the leading biotechs and emerging pharmaceuticals shrank between the April 15 and April 30 settlement dates, three stocks bucked that trend.
Biogen Inc (NASDAQ: BIIB), Illumina, Inc. (NASDAQ: ILMN) and Juno Therapeutics Inc (NASDAQ: JUNO) saw the number of their shares jump by more than 14 percent in the final two weeks of the month.
Here we take a quick look at how these three stocks have fared recently and what analysts expect from them. That is followed by a glance at short interest moves in other leading biotech stocks.
See also: Credit Suisse Analysts Assume Coverage On 10 Biotech Stocks
Biogen
This S&P 500 component saw short interest rise more than 14 percent during the period to around 2.98 million shares. That was more than 1 percent of the total float. It would take a little over a day to cover all short positions. Short interest was above 3 million shares for most of the first quarter
The company develops and markets therapies for the treatment of neurodegenerative diseases, hemophilia and autoimmune disorders, but it offered disappointing first-quarter results. The market capitalization is about $93 billion, and the long-term earnings per share (EPS) growth forecast is almost 17 percent.
The consensus recommendation of the 22 analysts polled by Thomson/First Call is to buy shares. Their mean price target, or where they expect the share price to go, suggests there is more than 18 percent upside potential. Note that the consensus target would be a new multiyear high.
Short sellers watched the stock drop more than 10 percent late in month, only to recover almost 4 percent afterward. It is still up more than 16 percent year to date. Over the past six months, Biogen's stock has outperformed not only the broader markets, but larger competitor Pfizer as well.
Illumina
Short interest in this San Diego-based company grew around 18 percent late in the month to around 3.24 million shares, or more than 2 percent of the float. That was the greatest number of shares sold short since last September. The days to cover dropped from three to less than two.
Illumina makes life science tools and integrated systems for genetic analysis. Analysts are looking for this more than $28 billion market cap company to post double-digit percentage revenue growth this year and the next. But note that its price-to-earnings (P/E) ratio is much greater than the industry average.
Of the 25 analysts polled, nine rate the stock at Strong Buy, and eight more also recommend buying Illumina shares. They see some room for shares to run, as their mean price target is more than 14 percent higher than the current share price. That consensus target would be a new multiyear high too.
During the short interest period, shares ended up down less than 1 percent. They have risen around 6 percent since, returning to above the 50-day moving average. Over the past six months, the stock has underperformed the others featured here but outperformed the broader markets.
Juno Therapeutics
The short interest in this biopharmaceutical company rose about 16 percent to more than 4.83 million shares, or more than 7 percent of the total float. It would take less than three days to cover all short positions. The number of shares short has been on the rise since the initial public offering in December.
This maker of cell-based cancer immunotherapies is headquartered in Seattle and has a market cap of more than $4 billion. Disappointing data pressed on shares in late April. Analysts expect this company to report net losses both this year and the next. Its quiet period ends in June.
No consensus recommendation is listed yet, but four analysts had a mean price target that represents an expected gain of more than 28 percent for the shares, though that target is less than the post-IPO high. The highest individual price target is more than 38 percent higher than the current share price.
The shares pulled back more than 28 percent during the short interest period. However, they are down only marginally since. They are still up almost 30 percent since the IPO. In that time, the stock has outperformed the others featured here, as well as the Nasdaq and the S&P 500.
See also: Leerink Is Changing Targets At These 7 Biotechs
And Others
The number of shares short in Medivation had a modest bump, while in Seattle Genetics it was about the same at the beginning and end of the two-week period.
However, short sellers shied away from Acadia Pharmaceuticals, Alexion Pharmaceuticals, Amgen, BioMarin Pharmaceutical, Celgene, Gilead Sciences, Incyte and Vertex Pharmaceuticals in that time.
At the time of this writing, the author had no position in the mentioned equities.
Keep up with all the latest breaking news and trading ideas by following Benzinga on Twitter.
Posted-In: Biogen illumina Juno TherapeuticsShort Ideas Top Stories Trading Ideas Best of Benzinga
View Comments and Join the Discussion!