Short Sellers Get Choosy About Solar Stocks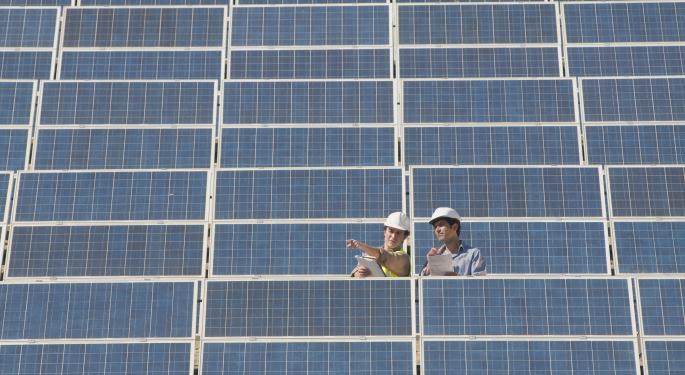 Short sellers shied away from many of the leading U.S. solar-related stocks between the February 27 and March 13 settlement dates.
The most significant swings in short interest happened to SunPower Corporation (NASDAQ: SPWR), TerraForm Power Inc (NASDAQ: TERP) and Vivint Solar Inc (NYSE: VSLR).
Below is a quick look at how these three stocks have fared recently and what analysts expect from them. That is followed by a glance at short interest moves in other leading solar stocks.
SunPower
The number of shares sold short in this integrated solar products and services company shrank more than 23 percent in early March to more than 7.27 million. That was the lowest level of short interest in the past year and came to about 14 percent of the float. The days to cover was more than three.
Headquartered in San Jose, California, this company has a market capitalization of more than $4 billion. It announced during the period that it would form a yieldco with First Solar. SunPower has a return on equity of more than 18 percent, and its operating margin is greater than the industry average.
The consensus recommendation of the 13 analysts surveyed by Thomson/First Call is to buy shares, with three of them rating the stock at Strong Buy. The mean price target, which is where analysts expect the share price to go, is more than 22 percent higher than the current share price, but less than the 52-week high.
Short sellers watched shares rise a bit but then drift lower in the first weeks of March. The share price had recovered somewhat, before Wednesday's sell-off. The stock's performance has been in line with that of competitor First Solar over the past six months, but they both underperformed the broader markets.
See also: Lululemon Short Interest: Borrowing Volumes Falling Steadily Since Mid-February
TerraForm Power
Short interest in this owner and operator of solar and wind generation assets fell about 9 percent to about 4.57 million shares, or more than 10 percent of the float. That decline mostly erased the increase in the previous period to a post-IPO high. It would take about six days to cover all short positions.
It was announced in the period that this spin-off of SunEdison would be joined by another yieldco formed by SunPower and First Solar. TerraForm has a market cap around $2 billion and a dividend yield of about 3.1 percent. Note that the return on equity is in negative territory.
All but one of the seven polled analysts recommended buying shares, with two of them rating the stock at Strong Buy. A move to the analysts' mean price target would be a more than 8 percent gain for the shares. That consensus target would be a new post-IPO high as well.
Despite a brief spike during the two-week period, shares ended up marginally lower. They have risen more than 4 percent since the settlement date, though. The stock outperformed the Nasdaq and the S&P 500 over the past six months, but also narrowly underperformed parent SunEdison.
Vivint Solar
On top of a 27 percent jump in the number of shares sold short in the previous period, they rose another 24 plus percent this month to more than 4.55 million. That was more than 22 percent of Vivint's float, and it was the highest level of short interest since the company came public last fall.
This Provo, Utah-based provider of residential solar energy systems posted better-than-expected earnings for the fourth quarter. Vivint has a market cap of more than $1 billion. Here too the return on equity is in the red. Analysts anticipate net losses in the current quarter, as well as for the full year and next year.
Yet, all but one of the five surveyed analysts recommend buying Vivint shares, with one of them rating the stock at Strong Buy. They see lots of room for shares to run, as their mean price target indicates about 40 percent potential upside. That consensus target would be a post-IPO high as well.
The share price surged about 42 percent during the period. However, after Wednesday's sell-off, it is up around 30 percent year to date. Since the IPO in October, though, the stock has underperformed the other two stocks featured here, as well as the S&P 500 and the Nasdaq.
See also: BlackBerry Short Interest Data: Borrowing Volumes Climbing Since Early March
And Others
Short sellers also retreated somewhat from Advanced Energy Industries, First Solar, SolarCity and SunEdison in the first two weeks of the month. However, RGSE Energy saw a modest bump in short interest.
Among foreign-based solar companies, the number of U.S.-listed shares (or ADSs) sold short of China Sunergy, JA Solar Holdings, ReneSola and Yingli Green Energy shrank during the period. However, Canadian Solar, Hanwha Q CELLS, JinkoSolar and Trina Solar saw gains in their short interest.
At the time of this writing, the author had no position in the mentioned equities.
Keep up with all the latest breaking news and trading ideas by following Benzinga on Twitter.
Posted-In: SunPower TerraForm Power Vivint SolarShort Ideas Top Stories Trading Ideas Best of Benzinga
View Comments and Join the Discussion!