Biogen Idec Inc's Stock Is Set To Drop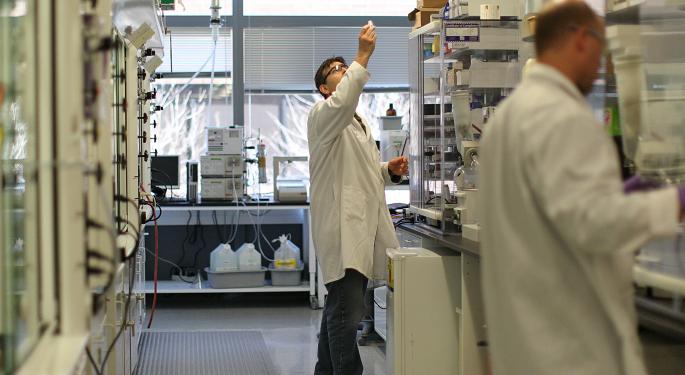 The stock market hasn't had the best couple of weeks. If you're in the market, this isn't a news flash.
Even more concerning for investors is the fact that the Russell 2000 small-cap index just hit new lows for the year.
How about those "hot" industries like biotechnology? How are they performing in this most recent downturn?
As far as biotech stocks go, they have tended to get hit whenever the Nasdaq and Russell 2000 get hit. However, the industry as a whole has held up relatively well until late.
A great way to gauge an industry is to see how some of the bigger names are doing. A big biotech name that may have just sent a very important signal is Biogen Idec.
The company: Biogen Idec, Inc.
Ticker Symbol: (NASDAQ: BIIB)
Sector: Health care
Industry: Biotechnology
The company discovers, develops, manufactures and markets therapies for the treatment of multiple sclerosis, neurodegenerative diseases, hemophilia and autoimmune disorders in the United States and internationally.
Biogen has collaboration agreements with Genentech, Inc.; Acorda Therapeutics, Inc.; Sangamo BioSciences; and Swedish Orphan Biovitrum AB.
Take a look at the one-year chart of Biogen Idec with added notations: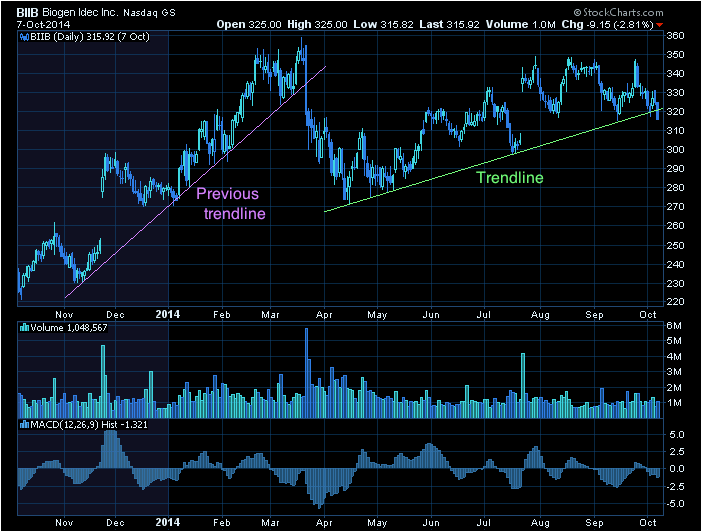 Since April, Biogen has recovered very well along with most biotech names. As a matter of fact, the stock actually tested its $350 resistance area multiple times over the last couple of months.
During Biogen's rise it had created a nicely defined trendline of support that the stock had tested several times. The concern for Biogen's investors now, and maybe for biotech investors as a whole, is that the stock broke its trendline support on Tuesday.
What might investors expect from a trendline break like Biogen's? All one needs to do is look back at the previous trendline Biogen had created, and if that trendline break is any indication, it's obvious what the expectation for the stock would be now.
The stock closed Wednesday at $324.59.
No matter what your strategy, or when you decide to enter, always remember to use protective stops and you'll be around for the next trade. Capital preservation is always key.
Related Links:
Posted in: Short Ideas Health Care Trading Ideas General Best of Benzinga