The 3 Biggest Challenges Facing Tesla's Future Growth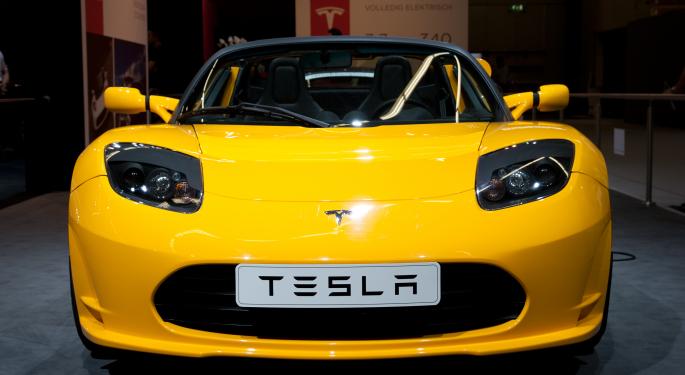 Tesla (NASDAQ: TSLA) is one of the hottest stocks on Wall Street, rising more than 68 percent this year alone.
But is it really the automaker of the future, as some have predicted?
John C. Thompson, founder and CEO of Vilas Capital Management, is skeptical. He has outlined three issues -- challenges, if you will -- that Tesla must overcome before the company can achieve the lofty goals that investors anticipate.
Challenge #1: Price of Lithium is Likely to Skyrocket
Tesla is expected to spend billions of dollars on a massive battery factory.
This may be a wise move, but it will not entirely solve Tesla's battery problem.
"If they succeeded in producing 500,000 cars (which is a big 'if') -- up from 35,000 -- they will have to double the amount of lithium ion batteries produced, [and will] have to double the amount of lithium mined out of the ground," Thompson told Benzinga.
Related: Tesla's Elon Musk: "There's Definitely Not Gonna Be A Recall"
"Lithium isn't silicon. Silicon is sand. Lithium is a complicated [thing]. There's a finite amount of it. I can't believe that the price of lithium will not respond to massive demand shock like we're talking about here. The United States went from putting zero percent of our corn crop into fuel to 30 percent and it tripled the price of corn. I think the price of lithium could triple or quadruple, and it's the key component. Plus, nearly half the world's supply of lithium is in Bolivia, whose president wants to create an OPEC out of the supply of lithium."
Challenge #2: Competitors Will Eventually Catch Up
Thompson said that even if the former issue isn't a problem, Tesla still has to deal with the reality that it will not dominate electric car sales forever.
"Who is to say that Tesla is the only electric car company that's ever gonna have a product people want?" Thompson questioned. "You've got some of the biggest, best capitalized companies in the world between Honda and Toyota and Nissan and Ford and GM and Chrysler and Fiat and BMW and Mercedes, all trying to get into the business."
In short, Thompson believes that the market is extrapolating on a "really cool car" that's hot right now, believing that the average man can and will eventually be able to buy one.
Challenge #3: $30,000 is Not "Mass-Market"
Tesla thinks that it can sell a more affordable, mass-market vehicle in the $30,000 to $40,000 range.
That might sound like a deal in comparison to the Model S, but it is still a very expensive vehicle.
"Mass-market is a $21,000 Honda Accord LX," said Thompson. "The average man needs that car not just to go to work and back, but they also gotta drive it to Traverse City, Michigan on vacation. Then their kids want to go down to Florida once in a while or go camping in the Upper Peninsula or whatever. You can't do that with a car that you've got to charge for four hours…every 200 miles.
A Great Fourth or Fifth Car
Thompson thinks that the Model S is a great vehicle, but he doubts it will ever serve as a full replacement for traditional, gas-powered automobiles.
"I think it's a great fourth or fifth car for wealthy [individuals]," he said. "That's what I think of with Tesla. And they found a great niche. And the niche is putting a $40,000 or $50,000 battery in a car and making it go 280 miles, and it's beautiful, and it's stylish and fashionable, and when you drive one around, supermodels look at you 'cause you're a rich guy.
Related: Panasonic May Not Source Tesla's Rumored Hybrid Battery
"But the meat of the market is a Honda Accord and a Subaru and a Toyota Camry. There's just no way…that they will be able to make the car, the battery price, go down. They can say all they want that lithium is only a small part of the price of the battery, but every time I've seen a key commodity, which is scarce, go through a huge demand shock like that, there's a massive price impact on that commodity. So if the price of lithium triples, how in the world is the price of a lithium ion battery gonna fall from $45,000 to $15,000 so that the average man can buy the car?"
Thompson also cautioned against the belief that battery power increases at the same rate as processing power in a PC or smartphone.
"I think people think of it as, 'Well gee, if the power of my iPhone doubles every 18 months…'" said Thompson. "But batteries aren't iPhones and they don't follow Moore's Law."
Disclosure: At the time of this writing, Louis Bedigian had no position in the equities mentioned in this report.
Posted-In: Accord Camry comments honda John ThompsonShort Ideas Tech Trading Ideas Best of Benzinga
View Comments and Join the Discussion!