Short Sellers Yield On Best Buy (BBY, RSH, SHLD)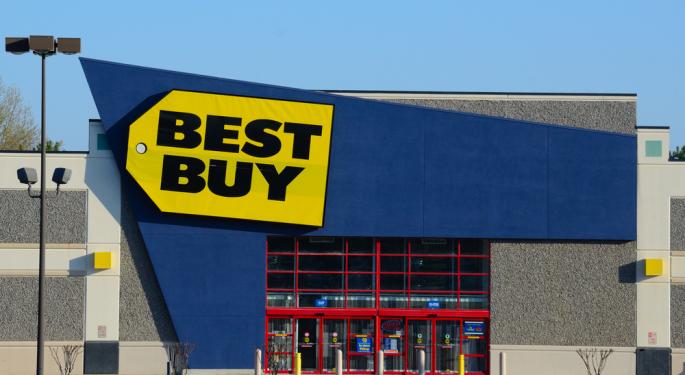 Judging by the share price, one would think Best Buy (NYSE: BBY) had turned itself around, though analysts' expectations for the most recent quarter are still very modest.
Best Buy has been hitting new highs since August, and it looks like short sellers decided to get out of the way.
Other struggling retailers that saw the number of their shares sold short shrink between the October 15 and October 31 settlement dates include Barnes & Noble (NYSE: BKS), Bebe Stores (NASDAQ: BEBE), Pacific Sunwear (NASDAQ: PSUN), Office Depot (NYSE: ODP) and Rite Aid (NYSE: RAD).
Short interest in GameStop (NYSE: GME) was essentially unchanged from the previous period.
RadioShack (NYSE: RSH) and Sears Holdings (NASDAQ: SHLD) seemed to pique the interest of short sellers in late October, given that these companies saw the largest upswings in short interest among the struggling retailers featured here.
The number of shares sold short in Avon Products (NYSE: AVP), Bon-Ton Stores (NASDAQ: BONT), J.C. Penney (NYSE: JCP) and SUPERVALU (NYSE: SVU) grew modestly during the period as well.
See also: U.S. Airways Sees Short Interest Swell
Below is a quick look at how Best Buy, RadioShack and Sears Holdings have fared and what analysts expect from them.
Best Buy
Short interest in this specialty retailer dropped more than 27 percent to around 18.60 million shares by the end of the month. That was the smallest number of shares sold short in at least a year, and it represents almost seven percent of the float. Days to cover was more than three.
Analysts expect to see strong EPS growth but a decline in sales in Best Buy's upcoming report. It has a market capitalization of more than $15 billion and a dividend yield near 1.6 percent. The long-term earnings per share (EPS) growth forecast is only about four percent.
Fourteen of the 23 analysts surveyed by Thomson/First Call recommend buying Best Buy shares. However, the mean price target, or where analysts expect the share price to go, is less than the current share price. That means that no further upside potential is indicated at this time.
Shares reached a new 52-week high on Wednesday. The share price is up more than 10 percent in the past month, as well as more than 270 percent higher year to date. Over the past six months, the stock has outperformed competitors Amazon.com (NASDAQ: AMZN) and Walmart (NYSE: WMT).
RadioShack
The number of shares sold short in this consumer electronics purveyor increased about nine percent in the period to more than 37.97 million. That is nearly 39 percent of the float, as well as the highest level of short interest since mid-August. The days to cover dropped from about 13 to less than nine.
This Fort Worth, Texas-based company reported a deeper-than-expected quarterly net loss during the period, its third such report in a row. RadioShack's market cap is less than $275 million. Its return on equity and operating margin are both in negative territory.
For the past three months, the consensus recommendation of analysts has been to hold shares, with none of them rating the stock at Buy. Their mean price target suggests that they see no upside potential at this time. Yet, the most optimistic analyst believes there may be 14 percent upside.
The share price has decreased about 17 percent in the past month, but it is still more than 21 percent higher year to date. The stock has underperformed the like of Best Buy, GameStop and Walmart over the past six months, and the broader markets as well.
See also: Solar Stocks Shine as Short Interest Surges
Sears Holdings
The number of shares sold short in this once-venerable retailer grew about seven percent to almost 14.00 million, or about 18 percent of the float. It would take more than 15 days to close out all of the short positions. Note, the year-to-date peak was more than 16.60 million shares short back in August.
This company operates more than 2,000 Sears and Kmart stores in the United States, and it reportedly is considering spinning off its Land's End business. Its market cap is more than $6 billion. Here too, the operating margin and return on equity are in the red.
None of the three analysts polled recommends buying shares, and that has been the case for at least three months. It is perhaps no surprise that the consensus price target is well below the current share price, and that seems unlikely to change any time soon.
The share price has risen more than 12 percent in the past month, despite pulling back more than three percent from a recent 52-week high. The stock has not only outperformed the S&P 500 over the past six months, but competitors Target (NYSE: TGT) and Walmart as well.
At the time of this writing, the author had no position in the mentioned equities.
Keep up with all the latest by following us on Twitter.
Posted-In: Amazon.com Avon Products Barnes & Noble bebe Stores best buy Bon-Ton StoresShort Ideas Trading Ideas Best of Benzinga
View Comments and Join the Discussion!