Fed: Dead Ahead!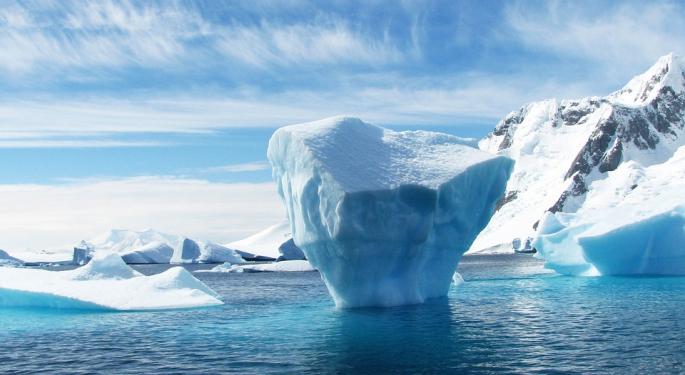 The US FOMC is expected to announce a steady policy decision tomorrow afternoon, but that doesn't mean it's smooth sailing ahead. In addition to its policy statement at 2 pm EDT, the Fed will also release its quarterly update of members' economic estimates (SEP-Summary of Economic Projections) and the infamous 'Dot-Plot'—the forecast of future interest rate moves.
Managing Expectations
The Fed is at a critical juncture in guiding market expectations on the course of future policy moves. In the Fed's last Dot-Plot from December (when it raised rates), members foresaw 4 rate hikes during 2016. Then came January and the market meltdown and subsequent concerns over a global recession. Markets quickly priced out any rate hikes for the rest of the year.
In the meantime, US data has held up quite solidly, while central banks elsewhere adopted additional easing measures to invigorate their economies. Fears of a global recession have ebbed, but not disappeared. Stock and commodity markets responded by recouping much of the loss from the start of the year, and interest rate markets have priced back in a 40% likelihood of a ¼% rate hike at the June 15 meeting, about where they were in the second half of 2015. Overall, markets are priced for about 1.25 Fed rate hikes this year.

Source: Bloomberg/DriveWealth
Over the past several months, the market has consistently discounted the number of Fed rate hikes, not even remotely buying into the Dec. forecast of 4 rate hikes in 2016. Now it's up to the Fed to revise their estimates, and I think the revised dot-plot and the Fed's current economic outlook will be the keys to how markets will react.
Walk The Line
The Fed is clearly flying into global headwinds, with much of the world economy still struggling and central banks still easing, some may say in desperation. It would be easy for the Fed to recognize global realities and drop the dot-plot down to 1 or 2 rate hikes this year. But no one ever said the Fed takes the easy route, and it's certainly not an impression they want to give markets.
Instead, I expect the Fed to stay on the high road, citing resilient US economic performance and nascent signs of inflation, and posit 3 rate hikes in the revised dot-plot. If so, market sentiment likely won't respond favorably to the Fed sticking to its guns. However, any negative market reaction is likely temporary, as markets either revert to ignoring the Fed's forecasts, or take the overall positive cue that US growth is expected to be sufficiently strong to weather 2 or 3 more rate increases.
Should the Fed come in with a more cautious US outlook and express heightened concern about global developments, and consequently a lower dot-plot, the adverse market reaction could be far sharper and more sustained, as in 'The Fed knows something we don't.' I don't expect such an outcome, and I don't think the market does either, which is why the reaction could be more volatile.
Navigational Adjustments
My own preference is to use any post-Fed pullback in risk assets (stock and commodities) as a medium-term buying opportunity. Markets have more or less rebounded in a straight line since lows were made on Feb 11 and some consolidation/retracement seems overdue. The market recovery still looks to have some room to run, though not much based on the double bottom pattern.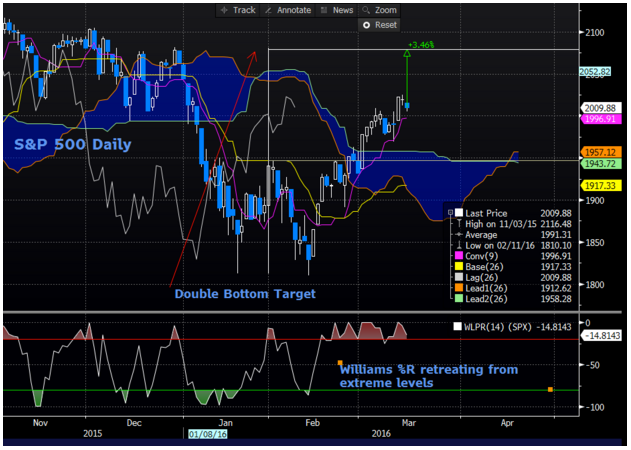 Source: Bloomberg/DriveWealth
I would be extremely protective of risk-long positions, tightening stops to the Tenkan line (purple) at 1996 in the S&P 500. A decline below opens up potential lower to the top of the cloud (green) at 1958 initially, and the Kijun/bottom of the cloud at 1912/17 (yellow/orange), my preferred entry zone.
Be alert for a post-Fed euphoric reaction that is quickly reversed, as the double-bottom pattern measured-move objective is only 3.0-3.5% higher from current levels, at around 2080. That's also the high from late December, just before the bottom fell out. Sustained strength beyond those levels means this bull rebound isn't over yet.
Posted-In: FOMC FOMC PreviewPreviews Federal Reserve Trading Ideas
View Comments and Join the Discussion!