Global Growth Temperature Likely Captured In Caterpillar, McDonald's And Under Armour Earnings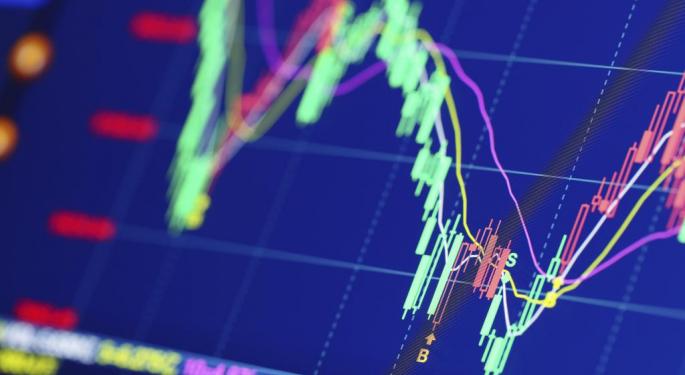 Long-time Dow component Caterpillar (NYSE: CAT) is expected to report a sales drop in Q3 earnings due out before Thursday's trading begins, but investors may care equally about what drives that sales drop. Is it the big-machine maker's well-documented restructuring, or a bigger problem: namely, the risk of a global slowdown that's potentially hitting most multinational giants, including CAT?
Analysts polled by Thomson Reuters believe that CAT's topline sales will tumble 17% to $11.25 billion with its profit diving 55% to $0.78 per share compared to year-ago results.
Industry analysts cite ongoing setbacks for the heavy-equipment maker and rivals because of waning infrastructure and construction spending in nearly every geographical area.
And then there is the foreign currency impact to deal with. Investors will likely be looking closely at the forecasts for international growth—or lack of—and whether CAT will reduce its year-end earnings calculation.
CAT options volume is running at its 90th percentile in the lead-up to the report. The short-term options market is pricing in the chance of a 4.5% move in either direction for this stock around its earnings release, according to the thinkorswim® platform's Market Maker Move indicator. Its stock has been in consolidation mode lately (figure 1).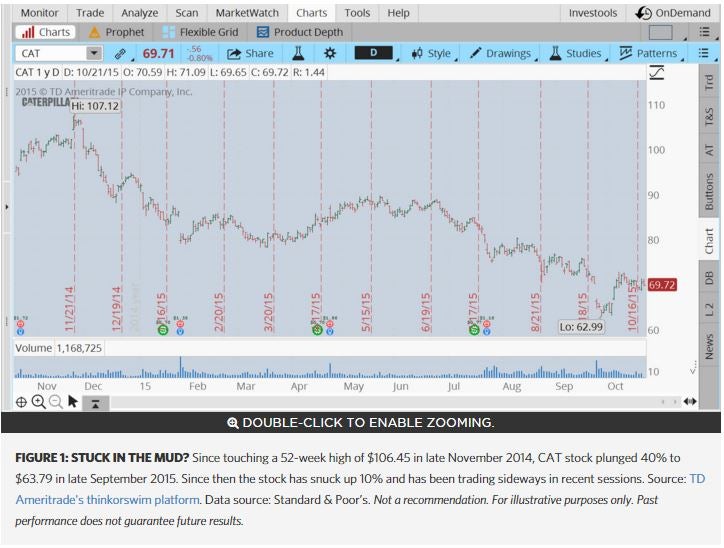 While they operate in slightly different businesses, fellow industrial General Motors Company (NYSE: GM) has raised a bar for earnings. GM gains after early Wednesday reporting Q3 earnings excluding non-recurring items were $1.50, well ahead of a Street forecast for $1.12. Revenue declined to $38.8 billion from $39.3 billion, but was above the Street consensus of $37 billion. GM is studied for a quick snapshot on the China impact, as slowing demand there risks stinging many multinationals; GM in particular has stressed its sensitivity to Chinese revenue where it makes some 53% of its total revenue. It leaves most investors wondering how China's impact could impact industrials, period.
Post-Pay Pal eBay
In other sectors, Wall Street is prepped for potentially disappointing results from eBay Inc (NASDAQ: EBAY) after the bell today. It's a report that could offer a better feel for how the e-commerce platform—in its first earnings report since splitting off PayPal Holding Inc (NASDAQ: PYPL)—aims to differentiate itself from its competitors.
Subtracting PYPL from the results mix could substantially drag down both sales and profits, say industry analysts. The Thomson Reuters survey forecasts a 52% drop in revenue to $2.10 billion. Those forecasters believe the revenue drop will translate into a 41% dip in earnings to $0.40 per share.
PYPL was the earnings driver for EBAY, according to past reports. Now, EBAY continues to face increased online competition from Amazon.com (AMZN), Google and Wal-Mart.
The currency theme repeats across sectors this earnings period, including for EBAY. In Q2, the online auctioneer's Marketplace gross merchandise volume tumbled 2%, mostly because of the hit from foreign currency fluctuation, according to company data. Without that, EBAY would've reported a 6% gain, the company said.
The short-term options market is pricing in the chance of less than a 1% move in either direction for this stock around its earnings release, according to the thinkorswim® platform's Market Maker Move indicator.
Not So Golden?
Despite a long string of slumping quarterly results, McDonald's Corporation (NYSE: MCD) stock has managed to hit an all-time high. Will the fast-food giant prove its turnaround efforts have traction in its Q3 earnings report ahead of the market bell Thursday?
Analysts reporting to Thomson Reuters are projecting a per-share profit of $1.27 on $6.42 billion in sales. A year ago, the blue chip reported sales that were 8% higher but a profit that was 16.5% lower per share as an unfavorable tax ruling and a supplier issue in China took a bite out of earnings.
Remember that McDonald's, among the largest multinational corporations out there, has also noted hits from any number of global issues ranging from fluctuations in foreign currency values to the dollar to the whims and economic states of consumers in China, Japan, Europe. This could be a valuable comparison to Chipotle's (CMG) earnings this week, which largely disappointed Wall Street.
The stock price has hung in the $90 to $100 range for much of the year before breaking out to peak at $104.82 late last week and is now up 13% on a year-over-year basis. On the options side, options volume is middling in the 53% percentile. That typically means the market is comfortable with the stock trading at those levels and the Market Maker Move indicator has priced in an expectation of only a 2.5% move in either direction after the earnings are released.
Busy Earnings Week Continues
Also on the docket: Under Armour Inc (NYSE: UA), which reports Q3 results after the market closes on Thursday is expected to have earned an average $0.44 per share on revenue of $1.17 billion, more than 26% higher in sales from the year-ago period, according to Thomson Reuters.
In the options space, UA has attracted twice as many put trades as calls and many of those puts purchased were the Oct 100 expiring on Friday. Since January, the stock is up better than 46%, but is down about 4% since hitting a 52-week high in mid-September. Note: Call options represent the right, but not the obligation, to buy the underlying security at a predetermined price and over a set period of time; the same applies to put options, which represent the right, but not the obligation, to sell the underlying security at a predetermined price over a set period of time.
Eli Lilly And Co (NYSE: LLY), the global drug maker, is in the earnings confessional ahead of the market open on Thursday. For the quarter, Thomson Reuters analysts are estimating earnings will climb 13.6% to $0.75 a share on topline sales of $4.98 billion. LLY has beat expectations in three of the last five quarters.
Though the stock has had increased movement recently, there hasn't been much options volatility and short-term traders have priced in a potential 2.5% earnings-related move in either direction.
Inclusion of specific security names in this commentary does not constitute a recommendation from TD Ameritrade to buy, sell, or hold.
Market volatility, volume, and system availability may delay account access and trade executions.
Past performance of a security or strategy does not guarantee future results or success.
Options are not suitable for all investors as the special risks inherent to options trading may expose investors to potentially rapid and substantial losses. Options trading subject to TD Ameritrade review and approval. Please read Characteristics and Risks of Standardized Options before investing in options.
Supporting documentation for any claims, comparisons, statistics, or other technical data will be supplied upon request.
The information is not intended to be investment advice or construed as a recommendation or endorsement of any particular investment or investment strategy, and is for illustrative purposes only. Be sure to understand all risks involved with each strategy, including commission costs, before attempting to place any trade. Clients must consider all relevant risk factors, including their own personal financial situations, before trading.
TD Ameritrade, Inc., member FINRA/SIPC. TD Ameritrade is a trademark jointly owned by TD Ameritrade IP Company, Inc. and The Toronto-Dominion Bank. © 2015 TD Ameritrade IP Company, Inc. All rights reserved. Used with permission.
Posted-In: Previews Markets Trading Ideas
View Comments and Join the Discussion!