Walmart And Home Depot Earnings Are On Deck...But Currency Headwinds, Wages Sting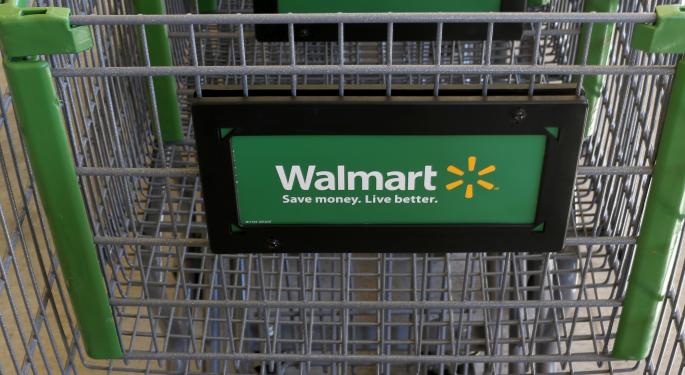 We'll get a better sense of just how wide the consumer has been willing to open her wallet when some of the nation's largest retailers open their books on quarterly earnings this week.
Wal-Mart Stores, Inc. (NYSE: WMT) and Home Depot Inc (NYSE: HD)—two of the biggest barometers of consumer spending and sentiment—are up ahead of the bell Tuesday. Walmart's earnings are expected to come in lower than last year's, thanks to spending on big investments and soft sales. Analysts in the Thomson Reuters survey are looking for a per-share profit of $1.15 on revenue of $119.78 million.
E-Commerce Bite Now, Payoff Later?
WMT has delivered positive year-over-year comparable-store sales in the last three quarters after a string of negative reports. Analysts are expecting the big-box chain to do so again. However, the bottom line results could be weak because of the company's own internal headwinds, which include huge investments in wages and e-commerce.
Want more earnings updates? Check them out here.
It has been speculated that wage hikes alone could suck as much as 4 cents a share from profit. And industry analysts have indicated that China's sales and currency fluctuations may be a problem as well, although WMT may feel some import tailwind from a weaker Chinese yuan moving forward.
Walmart shares have taken a beating in the last year, down 3 percent on a year-over-year basis and off 20 percent since closing at a 52-week high of $90.47 in early January (figure 1).
What's interesting about Walmart is that its current implied volatility (the estimated volatility of a security's price) is at the 100th percentile. There's a lot of interest in the stock overall, mainly because Walmart is considered to be microcosm of what's happening, not only in the U.S., but in many other countries, too. It takes into account many levels of spending, from clothing to grocery, to, well, basically everything. Because it sells everything, we get a real sense of where people are at financially.
In the options space pre-earnings, we've seen 4.5 times the amount of normal puts being created and a lot of them being sold. The Aug 67½ and the Aug 70 puts were sold Monday morning.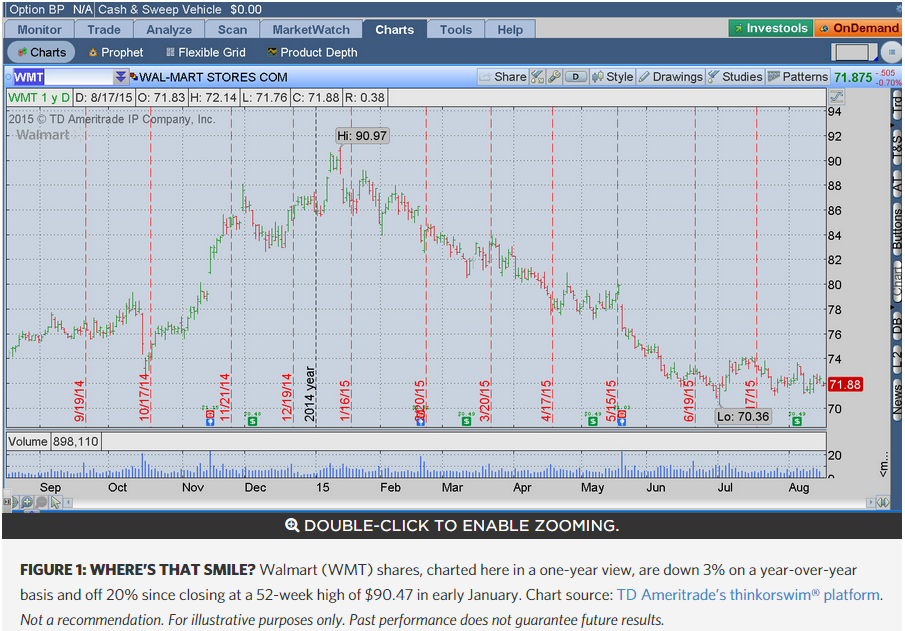 Nailed It?
Home Depot is a potentially more upbeat story because the largest home-improvement retailer has posted relatively strong results this past year and has had a number of analysts raise their estimates for the quarter—a good sign that improved housing-sector data is trickling down to the retailer.
ICYMI: Today's earnings update.
On average, analysts are looking for a profit of $1.17 a share, up a relatively strong 12.5 percent over last year. Sales should ring up at about $24.71, up 4.7 percent, according to the Thomson Reuters survey of analysts.
HD stock has been on a tear over the last year, jumping better than 43 percent (figure 1). However, a handful of analysts have lowered their recommendations to a "hold" and "sell" in recent weeks, which could mean the stock-appreciation party is coming to an end.
Home Depot's implied volatility is high at the 75th percentile on Monday morning.
Posted-In: earnings preview home depot WalmartPreviews Trading Ideas Best of Benzinga
View Comments and Join the Discussion!