Fly-On-The-Wall Fed Minutes, Housing Dominate Market's Week Ahead
Just how worried is the Federal Reserve that global currency gaps and falling crude oil prices could derail the central bank's course to wean the U.S. economy from ultra-low interest rates?
We could find out as Fed meeting minutes hit mid-week. Those minutes—like the many economic puzzle pieces filling in between now and the September interest rate meeting—are growing increasingly important to investors trying to crack the Fed code.
Specifically, Fed minutes hit Wednesday afternoon at 2 p.m. Eastern. As always, every if, and, or but will be scrutinized for any potential affirmation of a date for the Fed's first hike to interest rates since 2006. Many wonder, are we talking about September? December? 2016? Who knows?
With Fed uncertainty percolating, the broader stock market ended a volatile week with a whimper on Friday (figure 1). The broad S&P 500 (SPX) remains range-bound just above major support at 2034-55.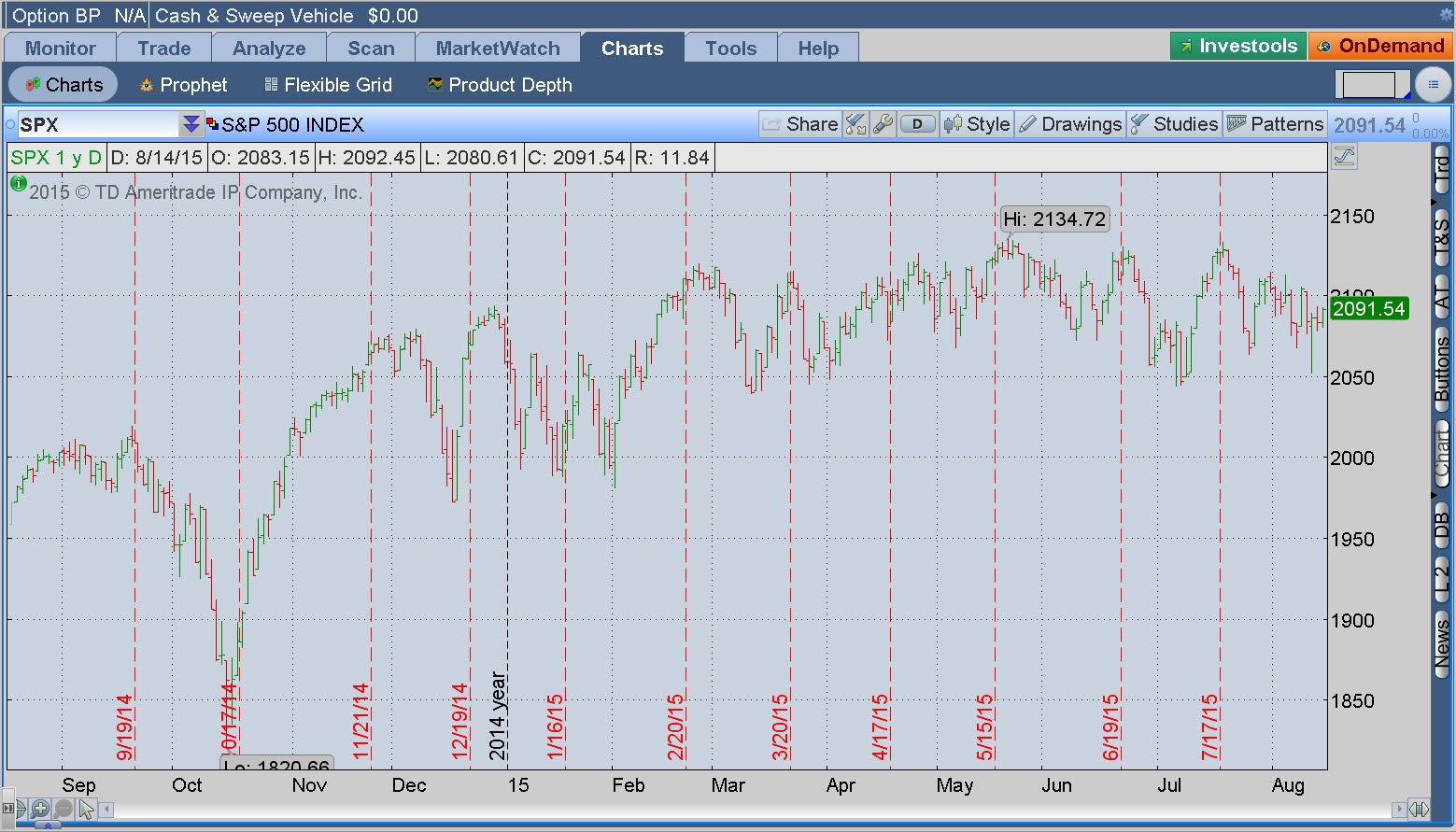 Interest Rate Watch
Some market watchers opt to track the performance gap between financial stocks and utilities stocks for one potential clue about the broader market's monetary policy expectations. Treasury yields typically rise in anticipation that the Fed will nudge its benchmark short-term rate higher, nudging rates higher along the yield curve. As Treasury yields change so do the stock sectors most impacted by those rates—utilities stocks tend to lose some demand to rising bond yields, while lending banks in particular draw investor interest based on an expected improved loan portfolio.
But, note this, the performance gap between financials and utilities was at its widest since May 2008 when the Fed met in July. This week, that gap narrowed to its tightest in a month, contracting at the same time that Chinese yuan devaluation became the latest driver behind a higher U.S. dollar and oil neared a retest of six-year lows.
Oil and currency moves of this nature may force the Fed (or at least some members) to entertain the increasing risk that low inflation turns into deflation, an extreme case of aggressively falling prices throughout the economy. Since the Fed last met on July 29, U.S.-traded crude is down some 12 percent.
Yuan's Stock Reach
Apple Inc. (NASDAQ: AAPL), which generates over 20 percent of its revenue by selling in China, last week traded at about seven-month lows.
Interestingly, three of this week's earnings reports are from companies that import plenty of goods from China. The boost from a weaker yuan/stronger dollar could prove beneficial to Target Corporation (NYSE: TGT), Wal-Mart Stores, Inc. (NYSE: WMT), or Home Depot Inc (NYSE: HD). Or will broader global economic growth concerns sap any currency boost? We'll find out.
While it's true that the earnings release list is shorter, the select company names could still be potent for stock investors. That's especially true because of the retail and housing-sensitive concentration in this week's offering.
Hammered With Housing Data
In addition to earnings, a housing data influx kicks off with a home builders' survey on Monday, continues with housing starts figures on Tuesday, and wraps with existing-home sales on Thursday (see the full release calendar in figure 2 below).
Economists surveyed for the Briefing.com survey expect housing starts to improve from a month ago, but for the rate of home resales to have slowed. Housing has improved but not without sporadic setbacks in the month-to-month data. Will this week's report trio offer confirmation that secure, better-paid workers are spending on homes?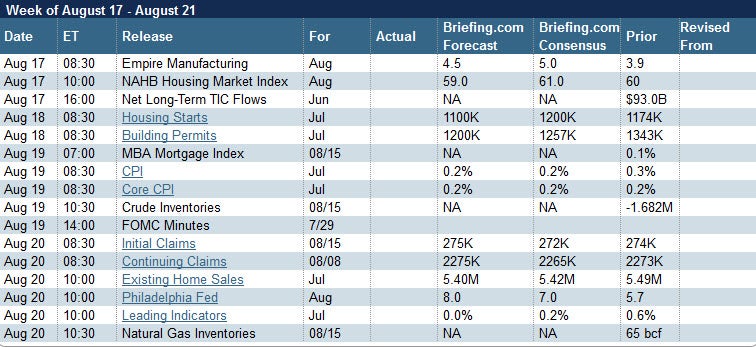 Posted-In: Fed Minutes HousingPreviews Trading Ideas Best of Benzinga
View Comments and Join the Discussion!