More Juice For Stock Market's Tech-Fueled Earnings Run?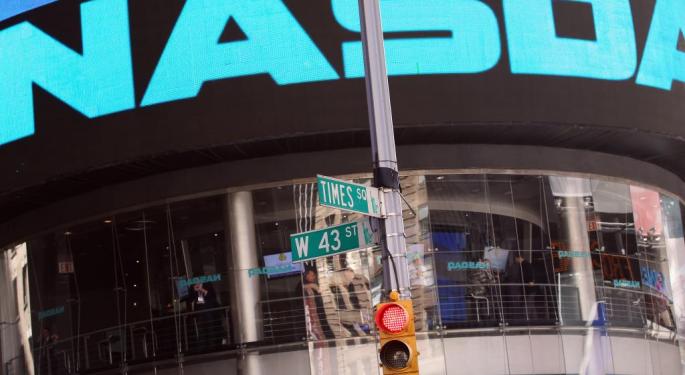 Greece who? Technology was last week's stock driver. Do tech-sector earnings—and the broader market—have the legs for more upside? A fresh all-time high in the tech-heavy NASDAQ Composite, up some 4 percent last week, set the stock market's tone on the back of upbeat earnings news. And now, the seemingly seismic shift in investor sentiment sets up an interesting backdrop heading into the busiest five-day stretch for Q2 earnings reports.
Last week, upbeat earnings news from Netflix, Inc. (NASDAQ: NFLX) and Google Inc (NASDAQ: GOOG) (NASDAQ: GOOGL) accounted for a big chunk of NASDAQ's advance. In fact, the Google share rally added $65 billion to its market cap, topping that of Ford Motor (NYSE: F) and General Motors Company (NYSE: GM) just to give a little perspective. Apple Inc. (NASDAQ: AAPL) and Intel Corporation (NASDAQ: INTC) helped lift the broader tech space, too.
The S&P 500 (SPX) also rallied significantly, landing this broad-market measure in the top end of its 2070-2135 trading range. The past week reminds us just how quickly markets can change. Many measures of volatility—which were setting multi-month highs through early July—plummeted to 2015 lows over the course of a few days.
Mood Swing
Market "fear gauge," the CBOE Volatility Index (VIX) finished below 12 on Friday. According to Bloomberg, a five-day, 39.4 percent drop in the volatility index through Thursday marked the largest decline since its inception in 1990. The index, which hit a 2015 low of 11.77 intraday Friday, is now a far cry from the multi-month high of 20.09 on July 9 (figure 1).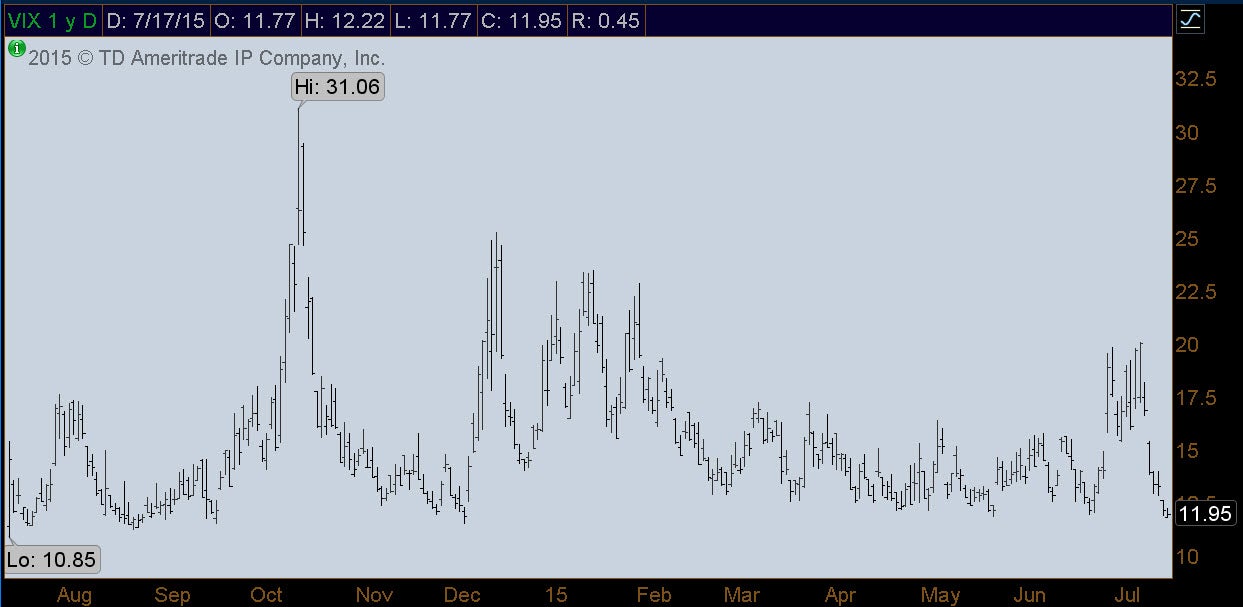 Figure 1: Back to 2015 Lows. The CBOE Volatility Index (VIX) flirted with the closely watched "20" line as recently as early July, before plummeting to below 12 during an earnings-driven stock rally last week. Data source: CBOE. Chart source: TD Ameritrade's thinkorswim® platform. For illustrative purposes only. Past performance does not guarantee future results.
Far Reaching
The sharp fall in volatility isn't limited to SPX stocks. The CBOE NASDAQ-100 Volatility Index (VXN) and the CBOE DJIA Volatility Index (VXD) are down nearly 30 percent in the past week as well.
In fact, the table below shows volatility is sharply lower across most asset classes in the past week, including small-cap stocks, emerging markets equities, and a measure of China's equities volatility—certainly one of the high-volatility stories to start July. So it seems that the macro fears that rattled investor nerves earlier this month, including uncertainty stemming from a Greek debt extension and China-sparked turbulence across some of Asia's equities markets, have receded for now. China's leading stock index has now recovered 13 percet since July 8, as policy makers there continue to introduce measures to bolster equities. In the latest development, regulators tightened control of online financing, saying all client funds must sit in established banks while internet finance firms will need approval from financial and cyberspace regulators.
Earnings Roll In
Looking forward, the domestic economic calendar is light this week, with housing numbers the only figures of significance on the docket in the days ahead. Focus next week turns to the Federal Reserve's July 29 monetary policy meeting. The Fed's not expected to produce a change to interest rates then but could lay additional groundwork for a rate hike later this year.
Until that meeting, Q2 earnings reports are likely to remain the main drivers for daily market action. And traders have plenty to pick from. More than 400 companies release results this week, including tech stronghold IBM (IBM), which will be closely watched for product evolution. Apple also leads the way this week, drawing investor attention on Apple Watch growth.
Financial heavy-hitter Morgan Stanley is due up to the plate. Its revenue figure may be of particular interest as top-line results have tripped up some financials. Microsoft, Yahoo, and Texas Instruments round out the tech slate, while Verizon, Coca-Cola, and American Express also report.
So Far, So Good?
To date, Q2 results have not been the disappointment that Wall Street braced for. According to Zacks Investment Research, of the first 10 percent of S&P 500 companies that have released Q2 results, total earnings are up 6.3 percent from last year on 2.2 percent higher revenues. Some 75 percent of firms that reported beat consensus earnings per share (EPS) estimates and nearly 35 percent posted better-than-expected revenues.
Yet, the majority of companies are still due to announce their results and overall numbers are expected to be down 4.7 percent from last year on 5.1 percent lower revenues. The cautionary crowd might argue that early results, which were heavily weighted toward financials, might not necessarily be indicative of the trend across all of Corporate America.
Still, judging by VIX's sub-12 readings, investors don't seem too fearful about the earnings reporting period. That mindset could leave the market exposed if upcoming numbers don't live up to expectations.
Good trading,
JJ
@TDAJJKinahan
TD Ameritrade, Inc., member FINRA/SIPC. Commentary provided for educational purposes only. Past performance of a security, strategy, or index is no guarantee of future results or investment success. Inclusion of specific security names in this commentary does not constitute a recommendation from TD Ameritrade to buy, sell, or hold.
Options involve risks and are not suitable for all investors. Please read Characteristics and Risks of Standardized Options before investing. Supporting documentation for any claims, comparison, statistics, or other technical data will be supplied upon request.
Zacks Investment Research is separate from and not affiliated with TD Ameritrade.
The information is not intended to be investment advice and is for illustrative purposes only. Be sure to understand all risks involved with each strategy, including commission costs, before attempting to place any trade. Clients must consider all relevant risk factors, including their own personal financial situations, before trading.
Posted-In: Previews Movers Trading Ideas Best of Benzinga
View Comments and Join the Discussion!