Will Greece Affect The Options Market This Week?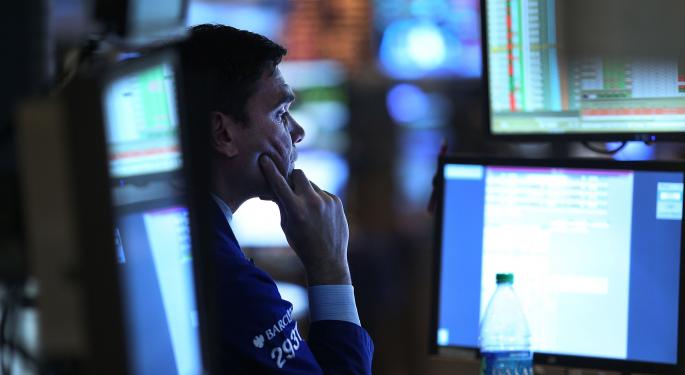 Check out the video below for a full recap of this week's options outlook:
Scoreboard: Last week ended red for indices, but Thursday was actually bullish. The indices were tested hard especially the small caps which were down almost 1 percent. But then the indices all recovered to close well off the lows. The weekly candles show that most indices are at prior bounce levels to provide support soon if left alone (Greek headlines aside).

So, headlines aside, market ranges continue to be the same for the last few weeks: A well established neutral zone, support below and resistance above. For the last few weeks we've been paying special attention to the battle in the small caps and this week this will be even more important. This week, the easier path for the small caps is lower. Caution is advised. The markets rallied off the jobs data as it was more negative than positive but then attention quickly returned to the possibility of a 'NO' vote in Greece over the weekend.
How will the Greek event / headlines impact U.S. trading?
This is a binary event that is almost completely irrelevant to the fundamentals of U.S. companies' earnings. So the direction of the move is a coin flip. A 'YES' vote would have likely been well received and caused a relief rally (short-able). Instead, the 'NO' vote is likely to cause confusion with usually initiated a sell-off in the Sunday futures. The depth of the sell-off depends on the follow-up media coverage. So far, the Monday reaction seems to be under control.
Sentiment last week noticeably shifted negative. so this can be a good thing. Why? When everyone in the car is watching out for an expected accident, we tend to put on seat belts & be more aware, so:
We either avoid the accident; or,
Even if we don't avoid it, the damage is minimal as precautions have been set in place.
Now that the referendum is behind us, there will need to be action from the parties involved. Both the eurozone needs to comment on what lies ahead, as does the Greek government.
Anything other than Greece?
Greece is not the only concern. Among other potential disasters are: China, Puerto Rico, major bond market or currency moves, negative Fed-speak about rate hikes, Ukraine and all the other usual suspects.
How to trade?
If traders get clarity as early as Monday then active trades may be able to continue trading the ranges at hand. But, if the uncertainty lingers then most traders should sit it out. These are once in a lifetime global event that are not to be taken lightly.
Recently it's been said that the potential for the blindside is to the downside and this continues to be true. The bulls need to consider the multitude of areas from which black swans can stem. Well balanced portfolios would be advised.
Focus points:
Apple (NASDAQ: AAPL) (market leader) hit the wall of resistance but its Thursday performance mid-day played a large role in saving the day. It will need to continue its leadership role into the volatile week at hand.
Small caps: They are vulnerable this week and losing them would mean losing the leader of the last few weeks.
Rates: After the Greek headline wanes, rising rates will weigh heavily on the bull thesis if the breakout continues. For now yields are under pressure due to investor rush into relative safety of the U.S. and German bonds.
Wild currency fluctuations can cause havoc in equity markets
Lack of conviction and follow through
China markets are under pressure but with still more potential downside
Ranges: Indices were recently tested hard, yet all the ranges played out within our expectations with regards to open interest AND trends. Traders are still in the neutral zone with support below and resistance above.
SPDR S&P 500 ETF Trust (NYSE: SPY): So far is holding at prior support but has work to do to retake the long-standing ascending trend (Green dashed line). This was a long standing ascending trend that is at least 2 years old. There is the danger that what was support now becomes resistance (Crayon "R").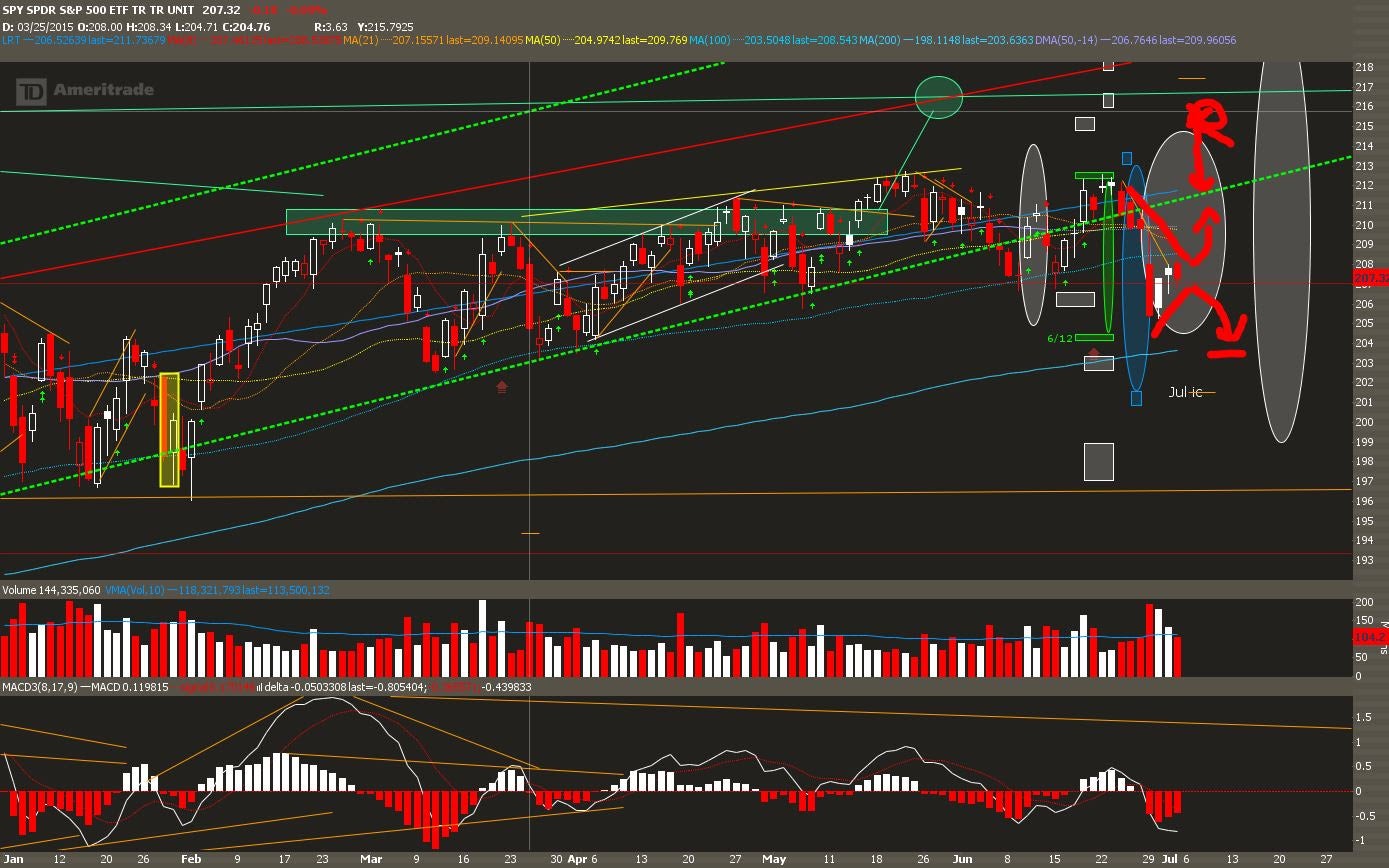 PowerShares QQQ Trust, Series 1 (ETF) (NASDAQ: QQQ): Although the Qs ended up with a red week, they closed on a three green day run. Now the range is tight and a move should be coming soon where direction is still unknown: Recover and retest the recent highs or revert lower towards the lower end of long-standing trend (white dashed line).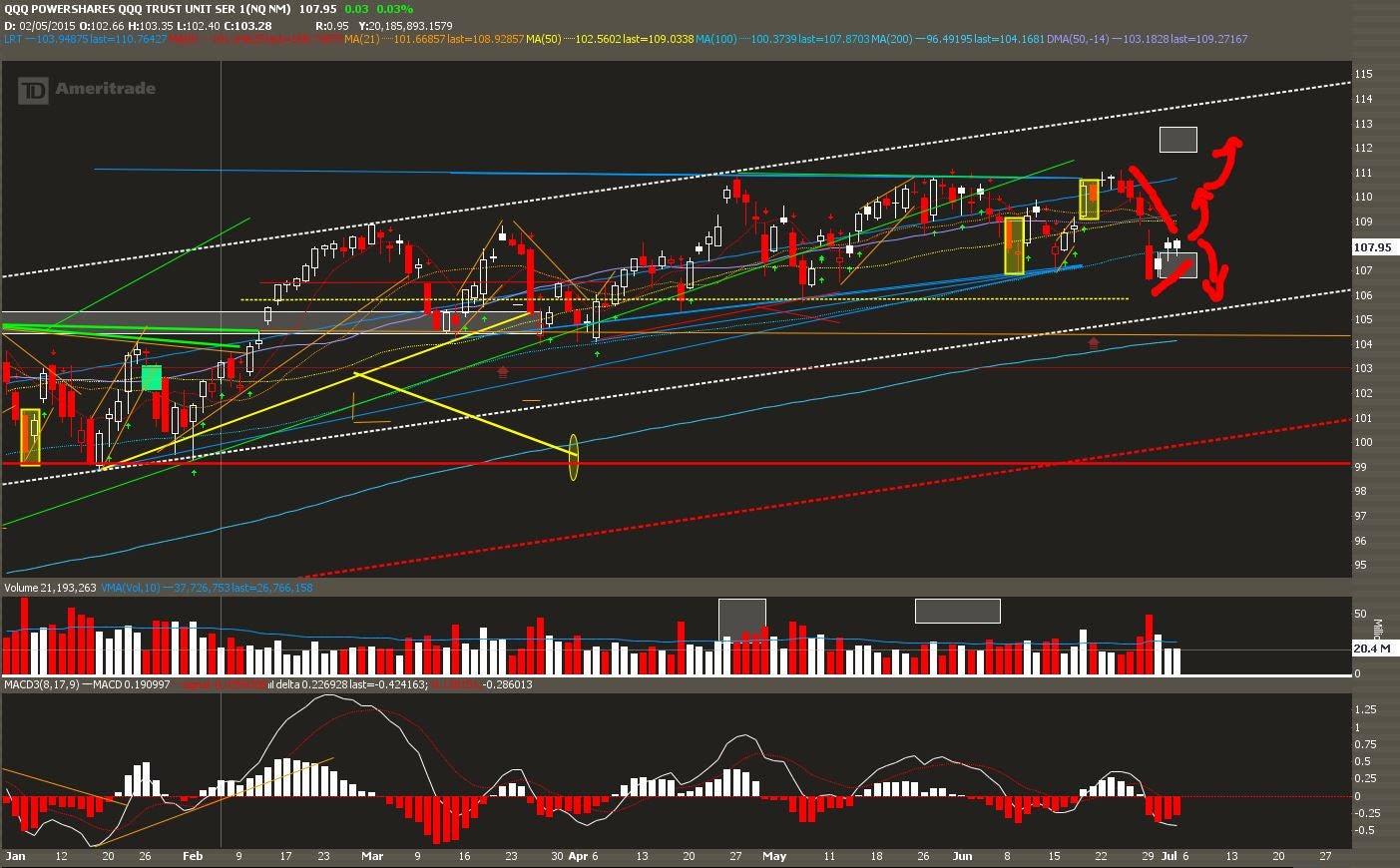 iShares Russell 2000 Index (ETF) (NYSE: IWM): The fight is really in the IWM breakout/upside moves. For that reason, how they behave in their downside move becomes important.
CBOE Interest Rate 10 Year T Note (TNX): Rates though ended the week red are still on track to fulfill the potential breakout (red dots). This eventually be Equity market negative. However, investors rushing into relative safety US and German bonds are likely to push yields lower. So, TNX will be under pressure until this changes.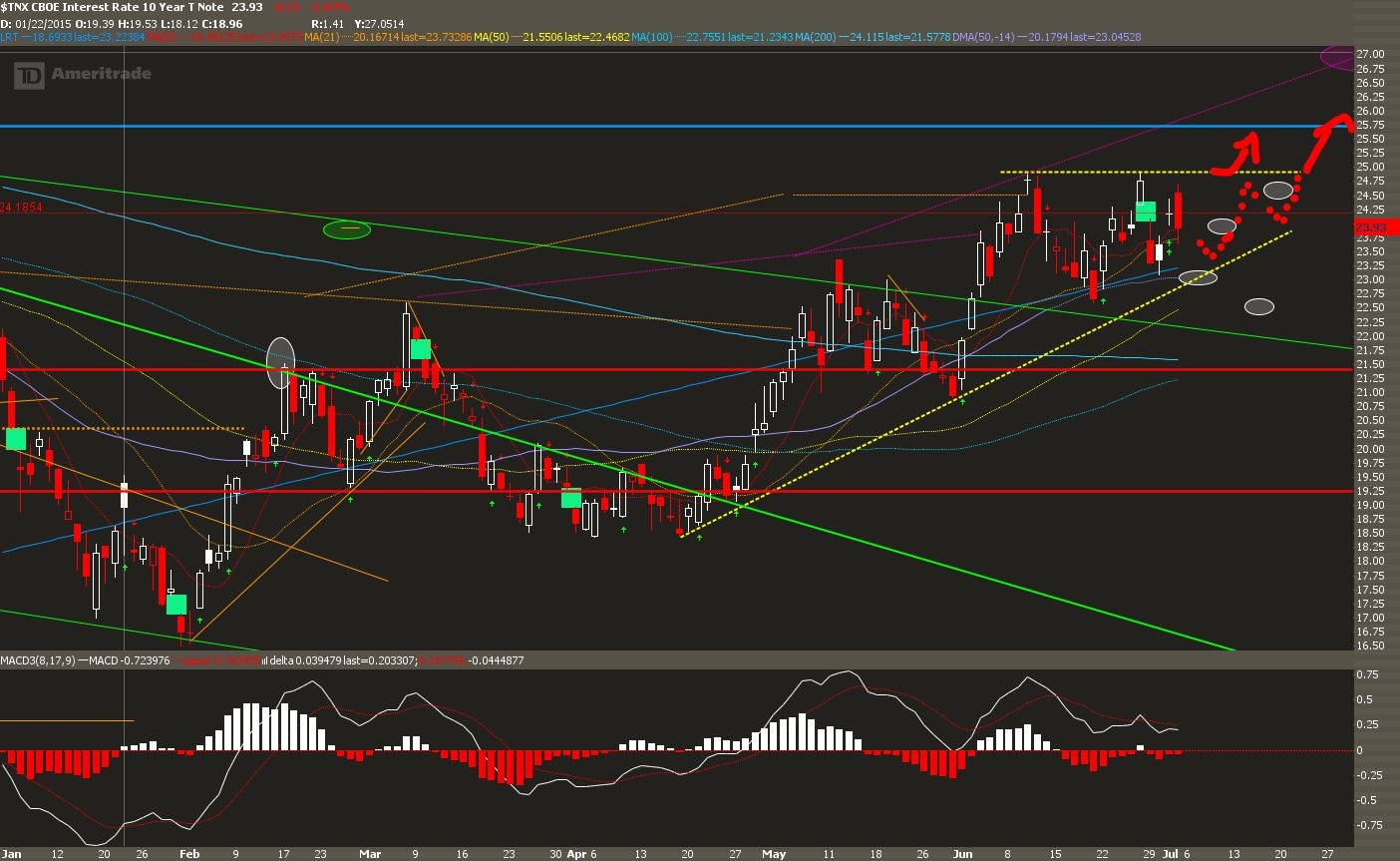 Tickers:
Tesla Motors (NASDAQ: TSLA): Made an impressive move on strong report. But there is the chance that share holders who have been stuck at 290 for a year decide to sell at "X."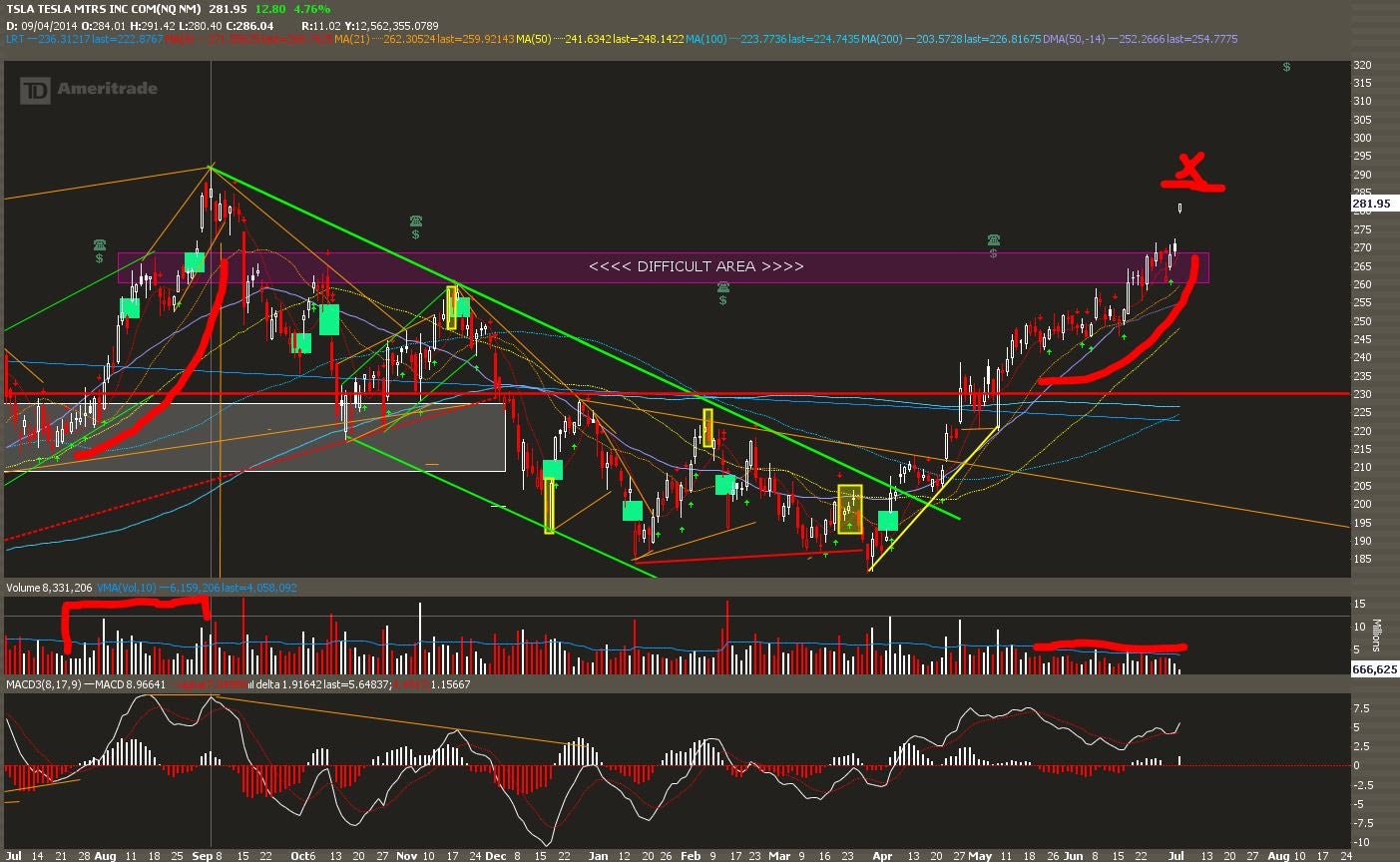 Yelp (NYSE: YELP): Sale process stalled... Is that why Google is >0?
Bulls getting killed -10 day on headline. Now reapproaching "zone 2" that we noted months ago. no touch for me. But would make for a nice lotto on other buyers rumors to come. Also notice the drawn historical line from a line months ago (thin orange). The recent candle sits on it. Volume is low, but halted for a while so not really good gauge.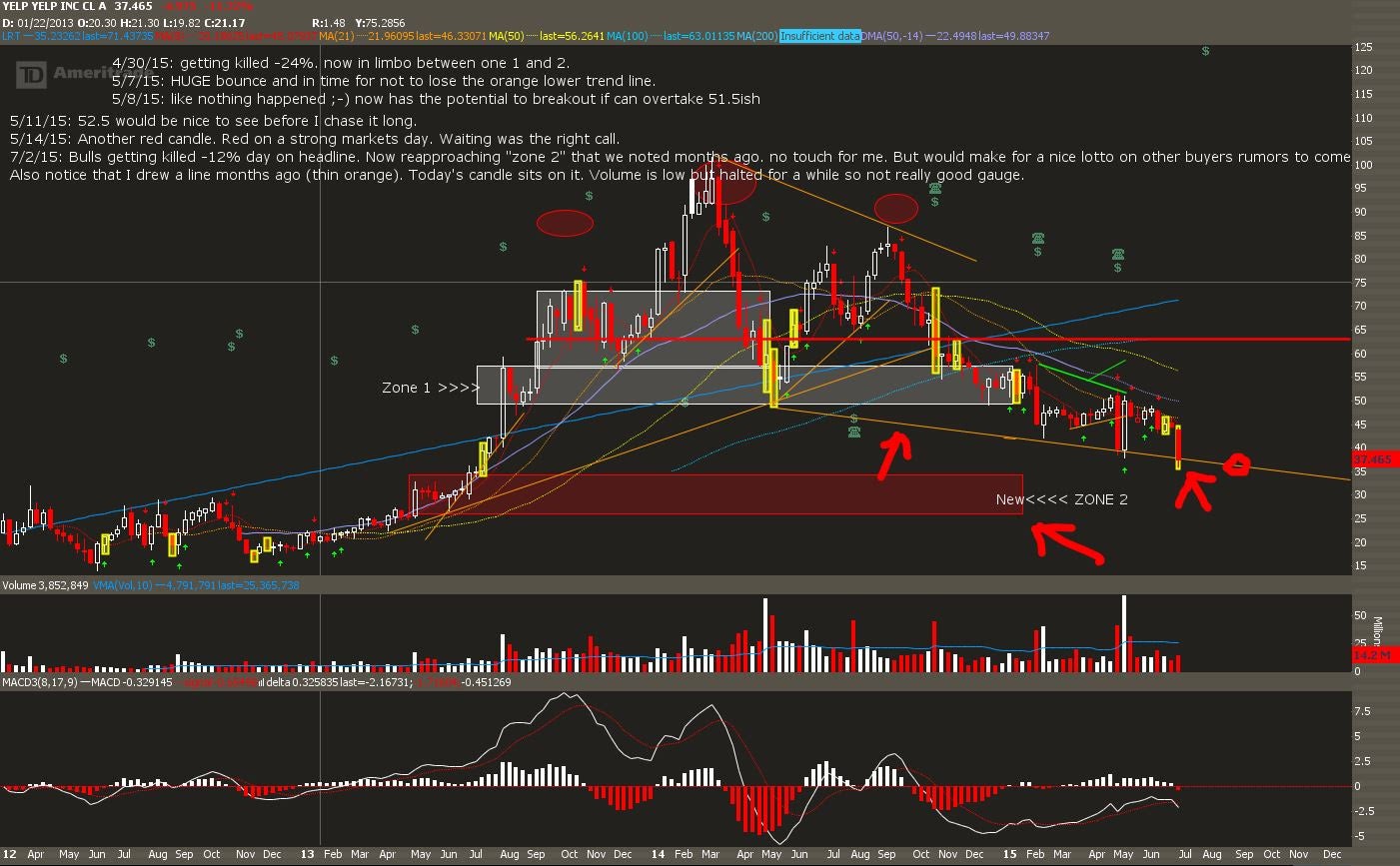 Tags: Greece
Posted in: Previews Options Pre-Market Outlook Markets Trading Ideas Best of Benzinga