5 Stocks To Keep An Eye On This Week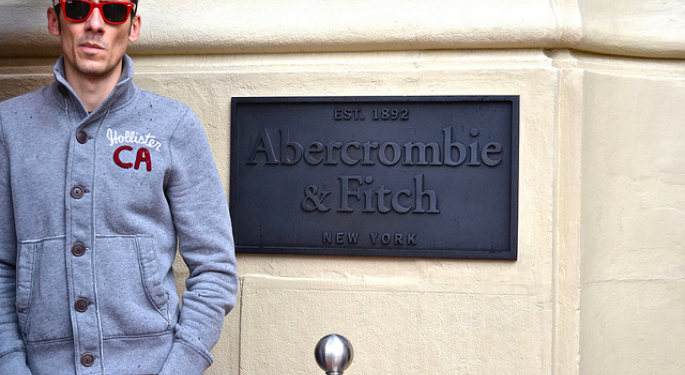 Wednesday - Abercrombie & Fitch
Revenue has slid at Abercrombie & Fitch Co. (NYSE: ANF) in 6 consecutive quarters and management is taking drastic action to get the brand back in gear. In August Abercrombie announced that it will be removing its logo from most clothing starting in Spring 2015.
The emblazoned Abercrombie and Fitch logo has been a key piece of the brand's identity which it has used to fetch premium pricing. Cheaper generically branded street style clothes from competitors like Swedish retail chain H&M have been taking a bite out of Abercrombie's marketshare and the company is taking aggressive action to reinvent its image.
Wednesday analysts on Estimize are predicting that Abercrombie will report 50 cents in earnings per share, easily topping the Wall Street consensus of 41 cents.
Despite the down trend in sales and a weak revenue figure last quarter the retailer has beaten or matched the Estimize consensus in the past 4 consecutive periods. The Estimize community is also looking for Abercrombie to beat the Wall Street sales figure by about $19 million, or 2.1 percent.
Wednesday - PVH
Fellow clothing company and the owner of the Tommy Hilfiger and Calvin Klein brands, PVH Corp (NYSE: PVH), is also set for a Wednesday report. In September PVH stock jumped 10 percent higher on a strong bottom line beat driven by an exceptional quarter from Tommy Hilfiger. Revenue in the Tommy Hilfiger brand climbed 9 percent higher compared to the same quarter of 1 year prior.
Although PVH reported a bottom line beat and solid numbers out of Tommy Hilfiger, the company's total sales came in slightly under estimates.
This quarter the Estimize community is predicting earnings of $2.53 per share, which is 4 cents ahead of the Street's view of $2.49. If the Estimize consensus is correct that would be a year over year (yoy) gain of 10 percent, slightly better than the surprising 9 percent yoy increase reported last quarter.
Although there is a modest discrepancy in earnings estimates, revenue projections are more similar. Contributors on Estimize are forecasting total sales of $2.282 billion which is $29 million or 1.3 percent higher than Wall Street.
Thursday - Ulta Salon
Beauty superstore chain Ulta Salon, Cosmetics & Fragrance, Inc. (NASDAQ: ULTA) stock has climbed 35 percent higher since a violent drop in early December of last year. In late 2013 Ulta reported disappointing third quarter earnings and set a weak outlook, sending shares 25 percent lower. Investors may not have been impressed by last December's earnings report, but the company still grew by 22 percent on the top and bottom line.
(Graph above from ChartIQ Visual Earnings)
Recently Ulta Salon's fundamentals have been on fire. Over the previous 4 quarters Ulta has averaged a 21 percent yoy increase to the bottom line and a 20 percent gain in sales. Last quarter the beauty shop defied expectations by delivering 94 cents in earnings per share compared to the Estimize consensus of 82 cents, recording 34 percent yoy growth. Ulta also reported revenue of $734.20 million, beating the Estimize community's forecast by 4 percent.
Thursday analysts on Estimize are expecting another strong report from Ulta. The Estimize consensus is 87 cents per share which is 4 cents ahead of the Street's estimate. On the revenue side Estimize contributors are forecasting $732 million which is about 3 percent above Wall Street's projection of $711 million.
Thursday - Barnes and Noble
Barnes & Noble, Inc. (NYSE: BKS) has been losing heaps of cash over the previous 8 quarters. The bookseller reported a loss in 6 of those quarters and in total the company has lost $3.46 per share.
Like many local bookstores Barnes and Noble is struggling due to pricing pressure brought on by e-books and Amazon.com, Inc. (NASDAQ: AMZN). The period to be reported Thursday is typically Barnes and Noble's second best quarter of the year, only out performed by the holiday period. Thursday Barnes and Noble is expected to increase its 2nd fiscal quarter profits by 2 cents per share and report a yoy revenue drop of 2.2 percent.
Thursday - Dollar General
While Ulta and Barnes and Noble are on opposite ends of the spectrum, Dollar General Corp. (NYSE: DG) has been in the middle going through a period of modest consistent growth. In each of the past 8 periods Dollar General has announced yoy gains to the top and bottom lines. This quarter the Estimize community expects the dollar store chain to report earnings of 80 cents per share and $4.754 billion in sales. That would represent an 11 percent hike in profits and an 8 percent bump to revenue.
Image credit: Zona Retiro, Flickr
The preceding article is from one of our external contributors. It does not represent the opinion of Benzinga and has not been edited.
Posted-In: Previews Trading Ideas Best of Benzinga
View Comments and Join the Discussion!