Options Outlook Amid Heavy Week Of Economic Events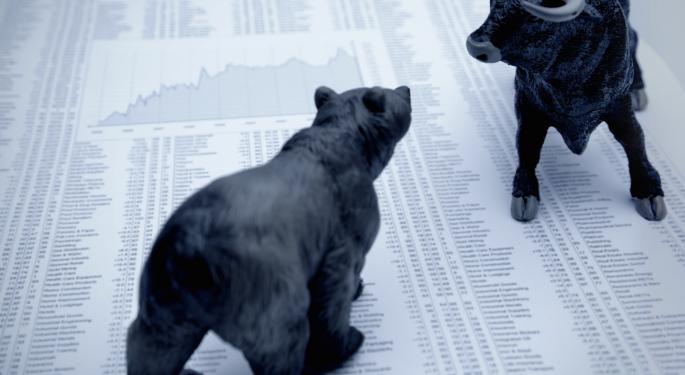 The scoreboard was somewhat bearish as last week came to a close, even though the Nasdaq 100 closed +0.46 percent, the Dow was flat and S&P 500 came in at -0.25 percent. Small caps were hit hardest at -1.46 percent. Crude oil's price crash was the focus of the day on Friday.
The exuberance in the retail trades led names like Wal-Mart Stores, Inc. (NYSE: WMT) to close higher.
Bystander victims of the drop in oil included stocks like Tesla Motors Inc (NASDAQ: TSLA) that benefit from higher oil. Conversely, airlines benefited from the prospect of low oil prices for longer.
The overall price action in S&P and Nasdaq was dome-shaped intraday Friday, which is not bullish (see charts below).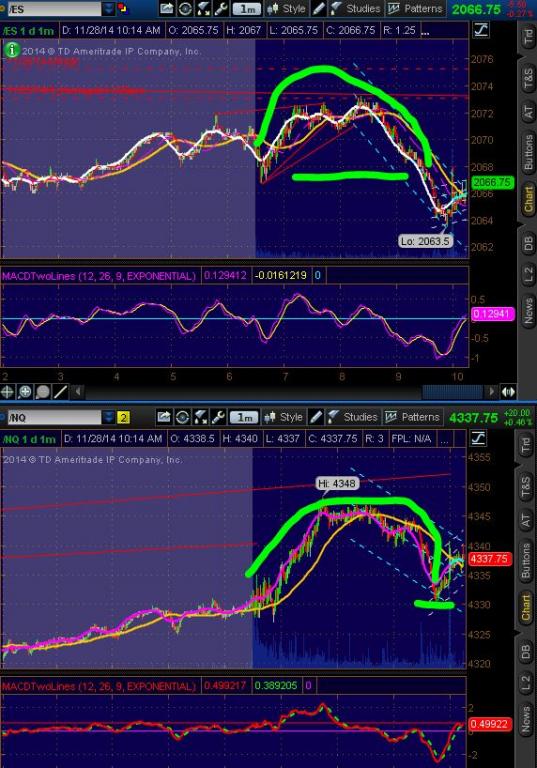 Apple Inc. (NASDAQ: AAPL) stood on the sidelines closing flattish. Google Inc (NASDAQ: GOOG) (NASDAQ: GOOGL) shrugged off the EU break-up decision.
A Note About Oil
A few weeks ago, the market chatter was that low oil prices was a result of a deal between Saudi Arabia and the United States to hurt Russia. It's looking now like it was more of an OPEC move to hurt United States; Russia was collateral damage.
NDX Note
At this recent run rate, the Nasdaq could soon approach a dotcom bubble, and with that, the level of conviction from new buyers here is fragile at best.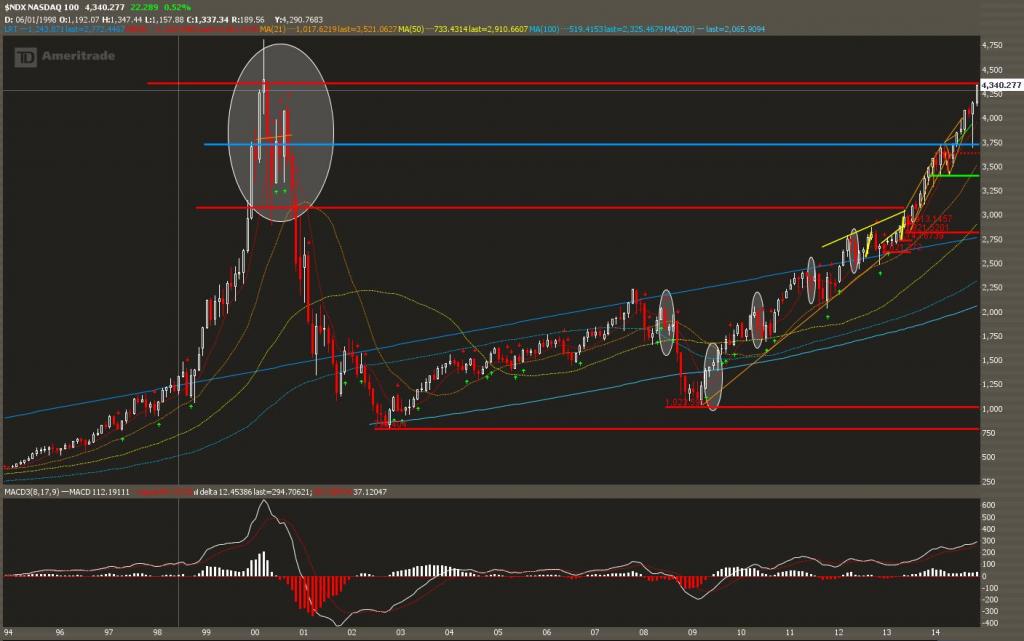 This week is heavy with economic events that are potential market movers, most notably on Thursday and Friday when traders will be looking for two things to move markets even higher.
These include economic reports from the United States to show continued strength and further fuel the theory that money will flow into U.S. equities as the dollar remains strong.
The eurozone to show continued weakness to further strengthen ECB President Mario Draghi's argument for QE sooner rather than later. Thursday markets will have the chance to decide on that front.
Looking Ahead
Traders should be on the lookout for continued bullish sentiment. The bears have not been as reliable in their efforts. Monday's open appeared a bit messy, which could be attributed to the murkiness from last week's oil and retail news.
Late in the day Friday, markets traded in stride with the falling oil, which could put iron condors in play. Credit call spreads ranges have been well defined.
Google has also shown nice behavior but is well-primed for a move, so debit spreads could pay. The direction is almost a coin flip; as always, individuals should trade their own bias.
Any serious drops in Alibaba could be opportunities for new longs via debit call spreads or credit put spreads to finance them.
GoPro being red on a day where retail is ripping higher could show weakness and debit put spreads could pay. There is still a possibility of prices for GoPro in the mid-$50s. The current triangle could break out in either direction.
Check out the video below for a full recap of this week's outlook:
Posted in: Previews Options Pre-Market Outlook Markets Trading Ideas Best of Benzinga