Options Outlook For The Week Of September 15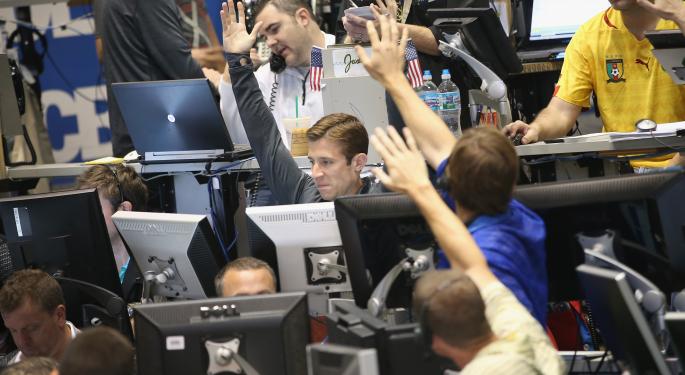 Red Friday capped a losing week across the board.
The bottom line, though, is that for the past two years, the bull thesis has been the Fed. Many traders bought the markets because they knew quantitative easing (QE) was here, and the Fed had the "safety net" on.
Now, tapering is almost done, which means QE could be gone and tightening could be around the corner.
This leaves markets searching for the next positive catalyst, and it's possible they will not find it. At best, there's reason to believe Fed Chairwoman Janet Yellen will only delay her rate hike decision.


Put simply, rates are back in focus. Friday markets tumbled as the 10-year rate spiked more than 3 percent.
Conversely, bonds sold off. This week, the TLT needed to hold 116, and it didn't.


Small caps are lagging in general, as they have been unable to revisit their all-time highs.
Meanwhile, perma-bulls were calling for SPX 2100 already when bears had not yet conceded the 2,000 line (open interest data).
Small caps are important as they often offer a better gauge of market sentiment.



A note on volumes: It is true that the SPY has been on a nice uptrend, but it's been on diminishing volumes. This can be a sign of waning conviction in the bull thesis, and quite possibly, makes up for the fact that sell offs have been brief and shallow. (The opposing argument would be that the pops have been ones of relief and on frothy volumes, not strong conviction.)
This Week: What's Next?
Three main events look to dominate this week: CPI, Yellen and the Alibaba IPO.
Regarding CPI, inflation is key to the timing of rate hikes. Yellen, additionally, will be the effector of those hikes, and markets will be parsing her choice of words. Traders and investors will want to see if the Fed is turning hawkish (bearish), or not. The IPO of Alibaba (NYSE: BABA), though, can be a spoiler.
Thus, there appear to be four possible scenarios:
1. High inflation and the markets sell off. In this scenario, the Yellen statement would be positive. The net effect will be a meander.
2. Low inflation and markets pop. The Yellen statement would be taken as bearish. The two will -- again -- cancel each other out, and the net effect will also be a meander.
3. Low inflation and markets pop. Yellen is perceived as bullish and the markets respond. The net effect would likely be a positive week.
4. Last but definitely the most disruptive: High inflation and markets drop. In this scenario, Yellen would deliver a bearish message, which could cause the markets to have a "freak out" moment of decent size.
Also Pay Attention To
It's also worth watching Tesla, as it could be vulnerable to more downside.
Chipotle Mexican Grill is also looking especially vulnerable this week.
Lessons From Last Week
Apple, for one, demonstrated how quickly markets can switch from bullish to panic selling in seconds.
Also, beware of consensus. When everyone is of the same opinion, take precautions.
Tags: options Options Outlook
Posted in: Options Markets Best of Benzinga