Weekly Options Preview: 4 Factors To Watch And 5 Trading Ideas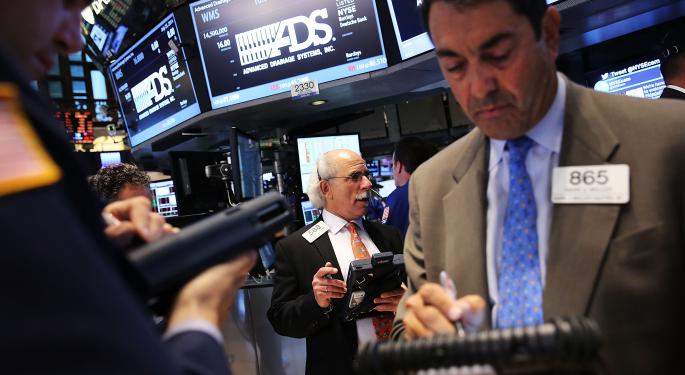 Recap: After such promise earlier in the week, the markets finished on a sour note.
If you listen to CNBC you would think it was mostly Visa's and Amazon's fault, but the weakness was widespread and most evident in the small caps, down one percent on the day. Overall, the indices split over the week ended July 25.
The small caps told a grim with a third red weekly candle in a row.
Related Link: 2 Option Plays During Market Stalemate
The S&P was flattish, but it too is continuing a cusping trend.
The NASDAQ showed continued strength and appears to be still looking to breakout because of a few good earnings reactions to mega stocks like Apple, Facebook and Baidu, for example.
Variables To Watch
This coming week is filled with heavy economic events, most notably the Federal Reserve rate decision and employment data. These two are market movers and could trigger fireworks.
Other than the usual worry over Asian financial debacles and/or waiting for another unforeseen shoe to drop, these geopolitical situations, the Federal Reserve and earnings reports are important to track:
Gaza: The longer it takes, the messier the outcome for everyone involved.
Ukraine: The rhetoric is getting worse. Now there is talk that Putin has little influence over the fighters, adding to the talk of additional sanctions. Because the West (especially Europe) has much to lose from sanctions, watch Germany for clues.
Janet Yellen: What will she say? Will she give clarity on what to watch for rate tightening triggers?
Earnings: Somehow companies are managing their P&Ls and stock prices.
Trading Ideas
This coming week is an event-filled week, which makes it almost a binary outcome.
Given the likely fireworks, weekly options for indices are unlikely to be a good bet. Trading weeklies for specific stocks that have no events and using a specific thesis that is likely to hold up the headlines could work well.
If taking positions in indices, consider giving a yourself a few weeks to be proven right, and consider leaning bearish as the whoosh down can be much worse than the leap up.
Since no one is fool proof, avoid full-sized trades immediately in the face of risk; consider using options.
If no fresh geopolitical headline hits this morning, then the markets may get a relief pop. Chasing relief pops is generally unwise, though a few bearish plays via credit call spreads may work.
Inflammatory statement of the month: If Apple fails to break 100 next week, that may signal coming weakness in the stock. Yes, it has everything on its side: 1) it's back, loved by all; 2) it has momentum; and 3) it's technically bullish via a cup-and-handle (102ish).

This week it defied the open interest and stayed above 96, but may not be able to maintain that without a new jolt/headline. The longer it waits here, the more vulnerable it is to down whooshes, especially if markets in general slide down. Here it is in pictures:
We again had so much happen yet nothing has changed. Stick with your macro thesis and trade the ranges at play.
Check out the video below for a recap of this week's outlook:
Tags: Federal Reserve Gaza Janet Yellen
Posted in: Previews Options Pre-Market Outlook Markets Trading Ideas Best of Benzinga