Benzinga Weekly Preview: Eurozone Takes Center Stage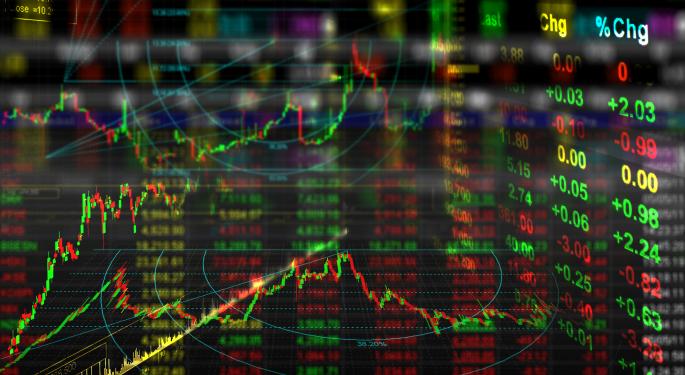 The European central bank is set to meet next week, but most aren't expecting to see any major policy changes. However, most will be paying close attention to the press conference following the meeting for clues about whether or not a policy change is lurking in the pipeline for the following months' meetings. Most are expecting to see the bank take non-standard measures at some point to help boost the region's economy.
Key Earnings Reports
Next week investors will be waiting for several key earnings reports including Family Dollar Stores (NYSE: FDO), Micron Technology (NASDAQ: MU), Constellation Brands (NYSE: STZ), IHS (NYSE: IHS), and Sonic (NASDAQ: SONC).
Family Dollar Stores
Family Dollar Stores is expected to report first quarter EPS of $0.69 on revenue of $2.51 billion, compared to last year's EPS of $0.69 on revenue of $2.42 billion.
Merrill Lynch gave Family Dollar Stores an underperform rating with a $58.00 price target on October 9th, saying that the issues pressuring FDO's shares were company specific and that the long term outlook for the dollar store space was positive.
"We reiterate our Underperform on FDO, as we believe shares will remain pressured on the disappointing 4Q results and weak outlook. While FY EPS guidance is wide, we believe we could see downward revisions in earnings estimates. The weak comp results and outlook for 2014 provide evidence that FDO's comp-driving initiatives have not performed as planned. We continue to think comps will remain pressured at FDO and will lag peers. We remain positive on the long-term fundamentals on the dollar space and view issues at FDO as company-specific. Our top dollar store pick remains DLTR, which has had the most consistent execution, is less dependent on consumables, and is expected to see strong comp acceleration in 2H13."
On December 6, Sterne Agee also downgraded their rating for Family Dollar Stores to underperform with a $56.00 price target, citing the company's structural issues.
"We are downgrading shares of FDO to Underperform with a new $56 PT. With a DG-led takeout unlikely near-term, we think fundamentals will return into focus, which given today's ultra-competitive retail backdrop could expose both 1) EPS to the downside (both SSS and GPM) and 2) the company's structural issues. As a result, at $68 and ~17x, both the "P" and the "E" look extended, particularly relative to Buy-Rated DG (15x, EPS intact). Net, we'd use the stock as a source...Point #1: Guidance & Street EPS Look Too High As Competitive Backdrop Stiffens. With the low/middle-end consumer under duress, the promotional backdrop has intensified since October (see DG's comments yesterday; 12/5) and discretionary purchases are likely to remain compressed into '14. Both developments bode poorly for FDO, which has outlined improving SSS/GPM as FY14 progresses. Two points: 1) we've observed a more intense price position from FDO (see 11/4 $ store pricing study) suggesting that any GPM upside from private brands/sourcing, etc. could be exposed, particularly if discretionary markdowns increase. 2) While we don't see much risk to 1Q SSS guidance (down LSD), the implied acceleration in 2Q-4Q looks aggressive (+~250 bps on the stack). Net, when we layer in these factors, we see an unfavorable EPS set-up."
Micron Technology
Micron Technology is expected to report first quarter EPS of $2.18 on revenue of $9.31 billion, compared to last year's EPS of $2.05 on revenue of $9.35 billion.
Merrill Lynch downgraded Micron Technology from a buy rating to a neutral rating with a $20.50 price objective on November 22nd, citing a limited upside.
"We downgrade Micron from Buy to Neutral without changing either our estimate or price objective ($20.50). In fact, the share price has already tripled YTD, reaching a 10-year high. Of course this is consistent with the 3x higher EPS we expect in FY14 vs FY12 (from minus $1.0 to plus $2.0). Our model still shows a decent increase in FY15-16E EPS, but not as strong as in FY13-14E. Thus, we apply about mid- to upcycle fair value, or 30-40% higher than the historical average PBR (1.8x vs 1.3x), to derive our PO. Since we still worry about the cyclical risk, our revaluation (2x fair PBR or higher) would be exercised when FY14-15E EPS exceeds $2.5. Our EPS appears slightly below consensus now (15 Buys, 13 Holds, 3 Sells - Bloomberg)."
On December 9, Morgan Stanley gave Micron an equal weight rating, saying the company's shares will likely go up in the near term but are fully valued.
"We expected DRAM frothiness to fade following a strong run, however the uncertain supply impacts of the Hynix fire will tighten up the market substantially. With the stock up ~170% YTD,~2x tangible book value, 7x our estimate for peak EPS we are looking for a better entry point. We continue to believe that memory stocks have a relatively well defined earnings cycle despite acknowledging some secular positives; still, we expect earnings to remain relatively high in 2014"
Constellation Brands
Constellation Brands is expected to report third quarter EPS of $0.91 on revenue of $1.38 billion, compared to last year's EPS of $0.63 on revenue of $766.90 million.
Merrill Lynch upgraded its rating for Constellation Brands to Buy from Neutral with a $70.00 price objective on September 6. The analyst team at Merrill Lynch said the stock's current price was not commensurate with the company's earnings potential.
"We are upgrading STZ from Neutral to Buy and establishing a $70 PO (vs. $55 previously). In our view the current stock price doesn't fully reflect the full earnings and cash flow potential of this business once the company has completed its brewery expansion and reduced its current debt load. Market place fundamentals are solid for imported beer, wine and spirits, which should support solid performance for STZ as it fully integrates Crown. We expect the market to gain more confidence in management's ability to execute its plans and strategy as results are reported over the next 12 months. As we rebalance ratings across our coverage universe we see STZ as having more risk to the upside than downside."
On October 28, Stifel gave Constellation Brands a buy rating with a $69.00 price target after meeting with the company's CFO Bob Ryder and VP of Investor Relations Patty Yahn-Urlaub.
"Mr. Ryder continues expecting that Crown's operating margin will lift from 30% to low-to-mid 30% by FY17, after all production shifts to the Nava brewery. We think the minimum amount of increase over this period is 500 basis points, based on our analysis of the shift's potential (Upgrading to Buy, $64 Target Price) and our sense of management's underlying optimism. This is better than our prior estimate and, assuming no revenue growth, the equivalent of $129 mil in annual incremental EBITDA (5% * FY13 Crown revenue of $2,588 mil) (FY14E EBITDA for all of Constellation $1,383 mil). We remind that this improvement is based solely on the production shift from Anheuser-Busch InBev breweries to Nava and excludes any packaging-related procurement savings (annual glass costs are approximately $500-$600 mil). Between June 2013 and June 2016, Crown continues to have guaranteed glass supply and terms from Modelo's former owners, with the potential for improving unit costs from competitive bids any time before or after June 2016."
IHS
IHS is expected to report fourth quarter EPS of $1.30 on revenue of $534.84 million, compared to last year's EPS of $1.21 on revenue of $414.36 million.
Stifel gave IHS a hold rating on December 17 and said the stock was currently fairly valued.
"We are initiating coverage of IHS Inc. with a Hold, or neutral, rating on the shares based on valuation in the context of expected growth. We are enthusiastic about the company's market position, strategic vision, and product portfolio, but returning to historical organic growth rates will likely be a long slog (if it happens) and prior baseline level expectations for upper-single-digit growth seem to now be three-year goals."
Sonic
Sonic is expected to report first quarter EPS of $0.14 on revenue of $127.98 million, compared to last year's EPS of $0.11 on revenue of $126.01 million.
Merrill Lynch gave Sonic a buy rating with a $22.00 price objective on October 21, citing strong fundamentals for the firm's optimism.
"We continue to rate SONC shares Buy and are raising our price objective from $21 to $22 based on a modestly higher valuation as we expect Sonic's strong fundamentals to close the valuation gap to the average for quick service restaurant (QSR) stocks. In addition to expectations of sales and earnings growth, we note that SONC plans to repurchase $40 million or about 4% of its shares in FY 2014. Share repurchases could become more significant starting in FY 2015 as free cash flow grows after a spike in capital spending this year related to the new point of sales (POS) and point of purchase service (POPS) rollout at company-operated drive-ins."
Economic Releases
European data will be the star of next week's economic calendar as retail sales, unemployment and inflation pressure data will all be released. Recently, eurozone data has been picking up although both unemployment and inflation figures have been stubbornly disappointing.
Daily Schedule
Monday
Earnings Releases Expected: Sonic Corp (NASDAQ: SONC), Calavo Growers, Inc. (NASDAQ: CVGW), Zep Inc. (NYSE: ZEP)
Economic Releases Expected:  Spanish services PMI, Italian services PMI, French services PMI, German services PMI, eurozone services PMI, British services PMI, eurozone investor confidence, German CPI, Australian trade balance
Tuesday
Earnings Expected: IHS Inc. (NYSE: IHS), Commercial Metals Company (NYSE: CMC), Franklin Covey Company (NYSE: FC), Micron Technology, Inc. (NASDAQ: MU), Apollo Group, Inc. (NASDAQ: APOL)
Economic Releases Expected: French consumer confidence, German unemployment rate, Brazilian CPI, Canadian trade balance
Wednesday
Earnings Expected From: Uniferst (NYSE: UNF), Constellation Brands (NYSE: STZ), RPM International (NYSE: RPM), Global Payments (NYSE: GPN)
Economic Releases Expected: German trade balance, German factory orders, Australian retail sales
Thursday
Earnings Expected From: Family Dollar Stores (NYSE: FDO), Acuity Brands (NYSE: AYI), PriceSmart (NASDAQ: PSMT)
Economic Releases Expected: French trade balance, British trade balance, eurozone consumer confidence, eurozone business confidence, BoE interest rate decision, Canadian housing starts
Friday
Earnings Expected From:  No notable earnings expected
Economic Releases Expected:  French industrial production, Spanish industrial production, Swiss CPI, Norwegian CPI, British industrial production, British manufacturing production, Canadian unemployment rate.
Posted-In: European Central Bank Mario DraghiPreviews Economics Federal Reserve Pre-Market Outlook Markets Trading Ideas Best of Benzinga
View Comments and Join the Discussion!