3 ETFs To Order Out With If Uber Buys GrubHub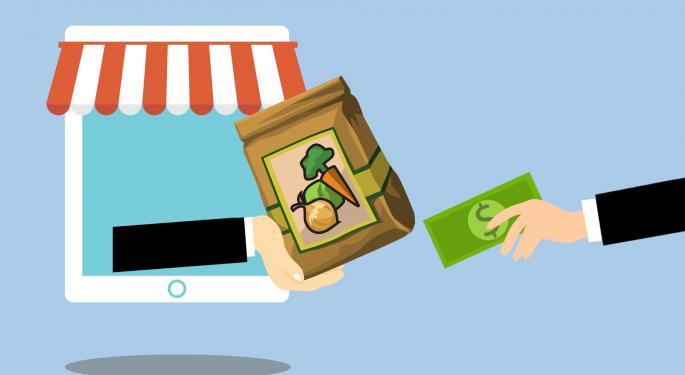 As is now widely known, shares of food delivery outfit GrubHub (NYSE: GRUB) jumped nearly 29% on Tuesday amid rumors that ride-hailing giant Uber (NYSE: UBER) is making a move on the company.
While analysts see obvious synergies between GrubHub and Uber Eats, it was reported Tuesday afternoon that the latter is balking out the former's request for 2.15 shares of stock for each of its own in the deal.
With the potential for a food delivery takeover saga looming, investors may want to look at some of 91 exchange traded funds with decent exposure to GrubHub. Here are a few to consider.
See Also: Uber, GrubHub Analysts Dish Opinions On Reported M&A Talks: 'Not Surprising'
Proshares Online Retail ETF (ONLN)
The Proshares Online Retail ETF (NYSE: ONLN) is known for some other things, namely its massive weights to Amazon (NASDAQ: AMZN) and Alibaba (NYSE: BABA), but the fund stands out as the ETF with the largest GrubHub weight at nearly 5%.
The takeover rumor barely budged ONLN, but that was more a symptom of a late day market selloff than anything else. ONLN finished the day modestly higher on its way to another all-time high.
The benefit with this ETF is a play on the Uber/GrubHub marriage is that talks could collapse and ONLN can keep thriving.
ProShares Long Online/Short Stores ETF (CLIX)
The ProShares Long Online/Short Stores ETF (NYSE: CLIX) makes for interesting ETF residence for GrubHub as this fund is structured to be a play on the e-commerce boom at the expense of brick-and-mortar retail. Arguably, food delivery doesn't fit in either niche, but here CLIX is with a GrubHub weight approaching 5%.
That puts the fund second behind stablemate ONLN in terms of exposure to the food delivery name. Many of the same sentiments that apply to ONLN apply to CLIX as well, meaning Uber could abandon its GrubHub aspirations immediately and that wouldn't dent this ETF's underlying thesis.
Like ONLN, CLIX also hit another record high on Tuesday.
Amplify Online Retail ETF (IBUY)
The Amplify Online Retail ETF (NASDAQ: IBUY) allocates over 5% of its combined weight to GrubHub and Uber and its 2.74% allocation to the former puts it just below Amazon and ahead of Shopify (NYSE: SHOP) on its roster.
None of IBUY's components exceed weights of 5.47%, but that isn't preventing the fund from participating in the online shopping ETF boom. IBUY is up 17.47% year to date and also hit a record high on Tuesday.
View Comments and Join the Discussion!
Posted-In: Long Ideas M&A News Sector ETFs Rumors Top Stories Tech Trading Ideas Best of Benzinga