4 Stocks Predicted To Move Higher This Week
The following stoks are currently in the midst of notable trends according to VantagePoint ai, a charting platform that uses intermarket analysis and artificial intelligence to predict future price action 1-3 days in advance. For a more detailed look at VantagePoint's charts, click here.
Cintas
Shares of Cintas Corporation (NASDAQ: CTAS) have struggled the last two months. Since hitting an all-time high of $217.34 on Sept. 7 shares of the business services company have fallen 16 percent. But the bottom appears to be in, according to VantagePoint's two predictive indicators. The first, a blue 72-hour predicted moving average, as steadily bounced higher than the stock's 10-day moving average, shown as a black line on the chart below. Each crossover of the blue line over the black is a bullish signal.
In addition, the red-green bar at the bottom of the chart—a predicted neural index that forecasts whether a stock will close higher or lower in the next 48 hours—has also been mostly green in November, indicating that the stock has been wanting to move higher.
JetBlue Airways
Shares of JetBlue Airways Corporation (NASDAQ:JBLU) had a bullish crossover on Oct. 30 when the stock opened at $16.36. Since then, shares of JBLU are up 16 percent as the stock has regained nearly all it's losses from September. Despite some weakness in early November, it was able to rebound off the $17 level. Since then VantagePoint's predictive indicators have both turned positive, indicating the stock is likely to go higher.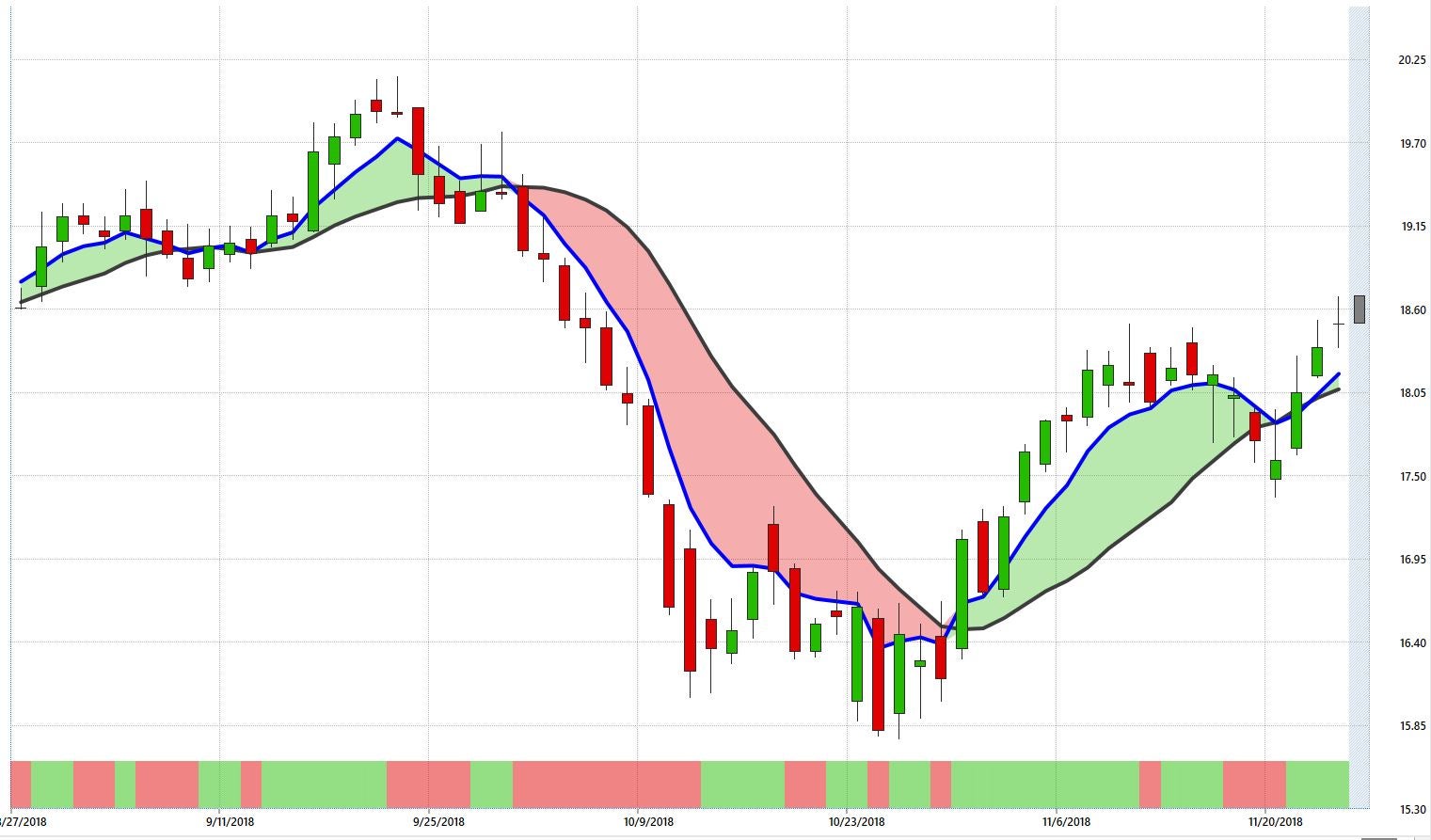 D.R. Horton
D.R. Horton Inc (NYSE:DHI) has gotten hammered in 2018, as have the rest of the homebuilders. But the stock has been on a bit of an uptrend of late. DHI has now traded higher in six of the last seven trading days, including Tuesday. Since bottoming out on Nov. 15, the stock is up 12 percent. And according to VantagePoint, that uptrend is expected to continue this week as both the neural index and predicted moving average are forecasting continued upside.
PulteGroup
PulteGroup, Inc. (NYSE:PHM) has a similar story to DHI, the only difference is that this one has been rallying since reporting strong earnings on Oct. 23. PHM hit a low that day of $20.64, and it has since rallied nearly 30 percent. Despite some periods of weakness over the last 5 weeks, the predicted moving average on VantagePoint has largely stayed above the simple 10-day moving average. As long as that remains the case, this stock is in an uptrend.
VantagePoint ai is a content partner of Benzinga. To see what their indicators say about other stocks, futures, commodities or ETFs, or to get a free demo, click here.
© 2020 Benzinga.com. Benzinga does not provide investment advice. All rights reserved.
---