Why This Dividend ETF Tops Active Rivals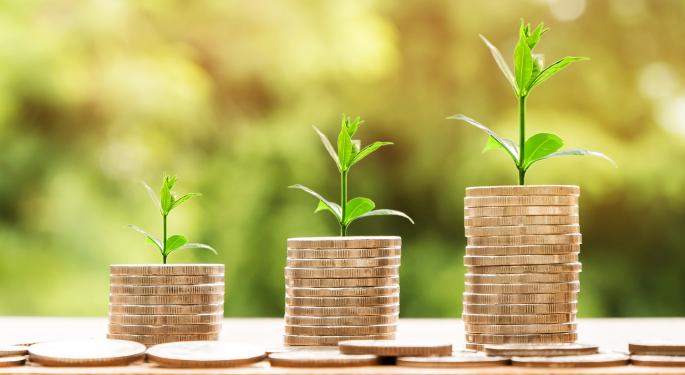 Scores of data points and research confirm that actively managed funds have difficult beating their benchmarks and those that do are often unable to sustain that outperformance for significant periods of times.
That's true of active dividend and income funds, in part explaining why dividend exchange-traded funds are popular with advisors and investors.
What Happened
The $2.4-billion WisdomTree U.S. Quality Dividend Growth Fund (NASDAQ: DGRW) fits the bill as a popular dividend ETF. More importantly, DGRW is a passively managed dividend ETF that beats many of its rivals, including actively managed mutual funds.
"The largest dividend-focused managers in the space haven't stacked up well to traditional benchmarks over the last few years," said WisdomTree in a recent note. "This is partly due to the rise in interest rates since mid-2016 and the fact that equity income-focused managers typically allocate to more defensive and interest rate-sensitive stocks that have struggled to keep up with the S&P 500 Index."
Why It's Important
Some active managers of dividend strategies heavily allocate to sectors such as utilities and real estate, which are historically inversely correlated to Treasury yields. Those are the two smallest sector weights in DGRW, combining for barely more than 1 percent of the fund's weight. Small or no weights to technology stocks are also hindering active dividend managers, a problem DGRW doesn't have.
"In our view, income-oriented strategies have underperformed due to their persistent under-weights to the technology sector," said WisdomTree. "Historically, tech has a short track record of paying dividends in comparatively small amounts. However, what may surprise people is that, on average, the largest income-focused money managers are currently yielding less than what an investor could get from broad market exposure alone."
DGRW devotes 22.18 percent of its weight to tech stocks, its largest sector weight and one of the largest tech exposure among U.S. dividend ETFs.
What's Next
Data also indicate that even with large weights to defensive sectors, actively managed dividend funds can leave yield-starved investors hungry.
"DGRW has a trailing 12-month yield of 2.22%, which surpasses both the average (and weighted average) of the 10 largest Equity U.S. Income Lipper funds and the S&P 500," said WisdomTree.
DGRW also pays a monthly dividend.
Disclosure: The author owns shares of DGRW.
Related Links:
Posted-In: Long Ideas Broad U.S. Equity ETFs Dividends Top Stories Trading Ideas ETFs Best of Benzinga
View Comments and Join the Discussion!