Why This Popular Equal-Weight ETF Could Outperform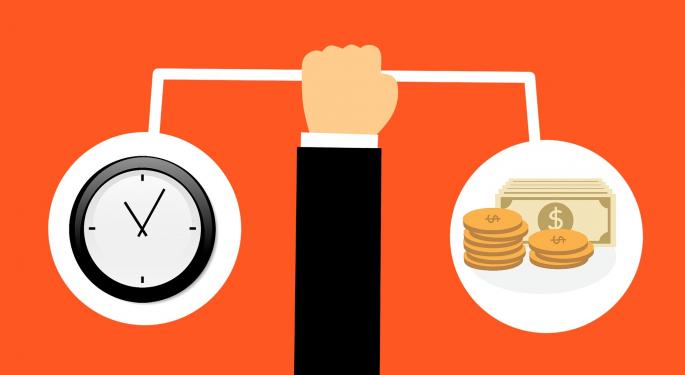 The Invesco S&P 500 Equal Weight ETF (NYSE: RSP), the largest equal-weight exchange-traded fund, has a tradition of outperforming the cap-weighted S&P 500. From 2012 through 2016, RSP topped cap-weighted S&P 500 ETFs on an annual basis in four of those five years.
With mega-cap stocks, such as Apple Inc. (NASDAQ: AAPL), Amazon.com Inc. (NASDAQ: AMZN) and Berkshire Hathaway Inc. (NYSE: BRK-B) becoming increasingly important drivers of the S&P 500's returns, equal-weight strategies are lagging cap-weighted rivals.
What Happened
Last year, RSP trailed the cap-weighted S&P 500 by 320 basis points. Barring a significant turn of fortune in the fourth quarter, RSP will again trail the traditional S&P 500 this year. As of Sept. 24, the equal-weight ETF is trailing the SPDR S&P 500 ETF (NYSE: SPY) by 290 basis points year-to-date.
Some market observers believe that as the likes of Apple, Amazon, Berkshire Hathaway, Alphabet Inc. (NASDAQ: GOOGL) and Microsoft Corp. (NASDAQ: MSFT) take on larger importance in the S&P 500, increased market concentration could actually benefit equal-weight strategies.
Why It's Important
"At 15.3% of total market capitalisation, the largest five companies (currently Apple, Microsoft, Amazon, Alphabet and Berkshire Hathaway) represent a larger share of the S&P 500 today than at any year-end since the turn of the century," said S&P Dow Jones Indices in a recent note.
None of those stocks are even top 10 holdings in the $16.11 billion RSP and none of the ETF's holdings command weights of more than 0.22 percent. The average market value of RSP's holdings is $48.93 billion compared to a weighted average market cap of $243.96 billion on SPY.
"Changes in market concentration levels have a natural impact on the performance of equal-weight indices," said S&P Dow Jones. "As the largest stocks outperform, the market becomes more concentrated in those names and (all else being equal), cap-weighted indices will outperform equal-weight indices. And as we have previously examined in some detail, the overall performance of equal weight indices seems to be closely tied to trends in concentration, particularly at the sector level."
What's Next
The cap-weighted S&P 500 had a 26.03 percent weight to technology as of Sept. 24 compared to 14.43 percent in RSP. In fact, technology isn't RSP's largest sector allocation. Consumer discretionary is at a weight of 15.15%.
"If the current low-correlation environment continues, equal weight indices may also offer an effective way to benefit from the greater diversification potential of putting fewer large eggs in your U.S. equity basket," said S&P Dow Jones.
Related Links:
Posted-In: Long Ideas Broad U.S. Equity ETFs Top Stories Trading Ideas ETFs Best of Benzinga
View Comments and Join the Discussion!