Where Value Can Spring Back To Life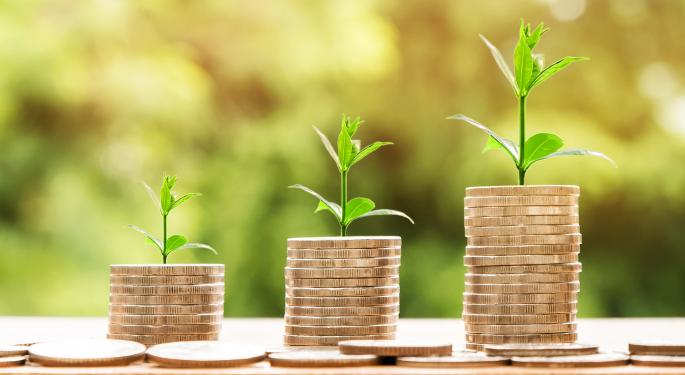 The laggard status of the value factor against its growth rival isn't new. That phenomenon is now about a decade old and continuing in 2018. Year-to-date, the S&P 500 Value Index is trailing the traditional S&P 500 by nearly 700 basis points.
Assuming that trend holds through the end of this year, 2018 will mark the fourth time in the past five years the S&P 500 Value Index lagged the broader market.
What Happened
While those statistics may make it difficult for investors to embrace value stocks and the related exchange traded funds, there are some market segments where value may be poised to snap out of its doldrums. Smaller stocks, including mid-caps, could lead a value resurgence.
On that note, the WisdomTree U.S. MidCap Earnings Fund (NYSE: EZM) is an idea to consider. Year-to-date, EZM is trailing the S&P MidCap 400 Index, but the WisdomTree fund is higher by nearly 4 percent, which easily tops some well-known large-cap value indexes.
Why It's Important
EZM, which debuted more than 11 years ago, tracks the WisdomTree U.S. MidCap Earnings Index. That index is weighted by components' earnings, meaning the most profitable companies usually command larger weights. The strategy can help steer investors away from richly valued, unprofitable growth companies.
Data suggest EZM's index often has larger exposure to mid-caps with lower price-to-earnings ratios and less exposure to expensive stocks relative to broader mid-cap benchmarks.
"The WisdomTree Index had an active weight of 10.75% in this quintile, which was also the best performing in the benchmark quintile," said WisdomTree in a recent note. "This quintile was the biggest contributor to outperformance, adding 112 of the total 266 bps of outperformance."
EZM holds over 560 stocks. The consumer discretionary, industrial and financial services sectors combine for about 58 percent of the fund's weight.
What's Next
Importantly, EZM's underlying index is significantly discounted to the Russell Midcap Index with a higher return on equity.
"While one would expect an index that has outperformed its benchmark by 266 bps over 10 years should have stretched valuations, the design of WisdomTree's Index instills a selling discipline to mitigate any such valuation risk—an important consideration for investors in this aging bull market," said WisdomTree.
Related Links:
Posted-In: Long Ideas Broad U.S. Equity ETFs Top Stories Trading Ideas ETFs Best of Benzinga
View Comments and Join the Discussion!