Airlines, Not Boeing, Take The Heat For Recent Airplane Malfunctions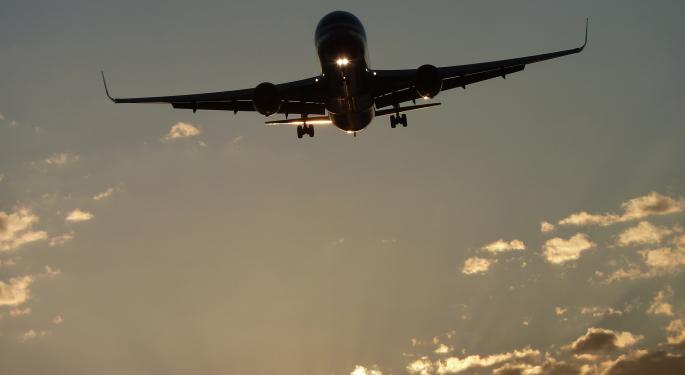 At least for the moment, American Airlines Group Inc (NASDAQ: AAL) can hide from the spotlight and refresh. The market's caught wind of industry problems far bigger than rude attendants and binned pups.
Recent fatalities on Southwest Airlines Co (NYSE: LUV) and Delta Air Lines, Inc. (NYSE: DAL) flights have drawn attention to airline safety, and flight operators have — perhaps not entirely fairly — shouldered the blame.
What Happened
Here are the most prominent incidents:
April 17: Southwest Airlines Boeing Co (NYSE: BA) 737-700. The plane made an emergency landing after a loose engine fan blade shattered a window, killing one passenger.
April 18: Delta MD-90. The plane made a safe landing after a tire blew post-takeoff.
April 18: Delta Airbus A333. The plane returned to its point of origin when an engine began smoking after takeoff.
May 2: Southwest Airlines Boeing 737. The plane made an emergency landing after a window cracked midflight.
May 8: Delta MD-90. Passengers evacuated onto the wings when smoke filled the cabin after landing.
May 15: Sichuan Airlines Airbus A319. The plane made an emergency landing after the cockpit windshield shattered, sucking a co-pilot halfway out of the plane and causing minor injuries.
May 18: Cubana de Aviación Boeing 737-200. A crash shortly after takeoff killed 111 passengers and crew members.
To be sure, these are just a sample of recent flight incidents. Since mid-April, a number of Boeing 737s, Airbuses and MDs have experienced cockpit smoke, electrical problems or engine issues, according to AeroInside, but, as their problems ultimately proved uneventful, they received little to no media coverage.
Who The Market Blames
The first Southwest incident, which drove an estimated $50-to-$100-million loss in ticket sales, catalyzed a 1-percent drop in stock price that has since extended to 7.4 percent. Delta fell 6.5 percent between its April 18 and May 8 incidents.
Boeing hasn't flinched. Despite its involvement in five of the publicized events — MD-90s are Boeing aircraft — the manufacturer has enjoyed a 5.4-percent rise in stock value since April 17.
The European Airbus has similarly risen 6.4 percent.
The market appears to be attributing the incidents to user, rather than manufacturer, error.
Related Links:
3 Airlines Bank of America Expects To Fly Higher In 2018
The Airline Sector: American, United Have Earned An Upgrade, Bernstein Says
View Comments and Join the Discussion!
Posted-In: Long Ideas Travel Trading Ideas General Best of Benzinga