Foreign Real Estate ETF Dodges Rising US Interest Rates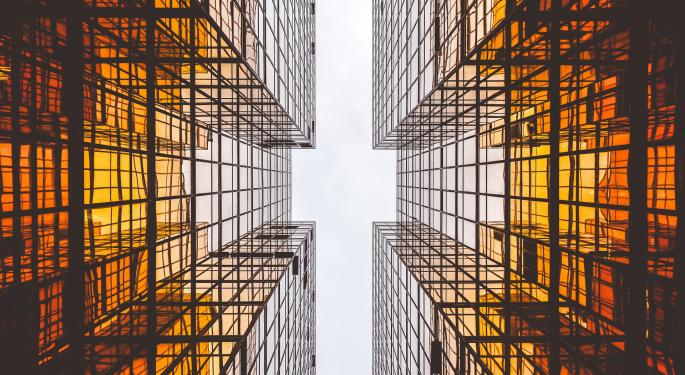 Amid surging Treasury yields, U.S. real estate stocks sagged last year. The largest exchange traded fund tracking real estate investment trusts gained just 4.9 percent in 2017, well behind the 21.7 percent returned by the S&P 500.
The real estate ETF was significantly more volatile than the S&P 500, implying investors were not adequately compensated for the risk they incurred with U.S. REITs.
International real estate equities and the corresponding ETFs told different, more positive stories in 2017. For example, the WisdomTree Global ex-U.S. Real Estate Fund (NYSE: DRW) surged 37.7 percent last year, including dividends paid.
As its name implies, the WisdomTree Global ex-U.S. Real Estate Fund features no exposure to U.S. real estate investments. The ETF managed to be slightly less volatile than the largest U.S. REIT ETF, indicating the WisdomTree fund delivered superior risk-adjusted returns.
DRW's Geographic Story
DRW features exposure to 32 countries with weights ranging from 0.03 percent at the bottom (Indonesia) to 24.4 percent at the top (Hong Kong). Lumping Hong Kong in with China means 13 of DRW's country weights are emerging markets. Of those 13, only Mexico is expected to raise interest rates this year, and Latin America's second-largest economy is just 1.6 percent of DRW's weight.
"Now, we recognize that we can't write about real estate as an asset class without addressing the 800-pound gorilla in the room — the fact that interest rates have been very low for an extended period and that they may be headed higher," said WisdomTree.
With Japan and the Eurozone figuring prominently into DRW's developed markets exposure, a significant portion of the ETF's country weights are unlikely to raise interest rates this year, leaving only a small percentage of the ETF's geographic exposures as potentially vulnerable to higher borrowing costs.
Yield And Performance
Until recently, U.S. REITs and the relevant ETFs have been popular with investors due to the higher yields associated with the asset class. DRW is over 10 years old and U.S. interest rates have been in decline for much of the ETF's existence, boosting the case and returns for U.S. REITs.
DRW has managed solid performance over its decade-plus on the market. The ETF, which tracks the dividend-weighted WisdomTree Global ex-U.S. Real Estate Index, has not trailed U.S. REITs by a wide margin.
"The WisdomTree Global ex-U.S. Real Estate Index wasn't that far behind, especially considering that dollar appreciation tends to be a direct headwind," said WisdomTree. "If we enter into a period where rates tend to rise and the dollar tends to be flat to even a bit weaker, that could shift conditions more in favor of non-U.S. real estate."
DRW's index had a dividend yield of 4.11 percent at the end of January.
Related Links:
View Comments and Join the Discussion!
Posted-In: Long Ideas REIT Sector ETFs Dividends Top Stories Trading Ideas ETFs Real Estate Best of Benzinga