This Goldman ETF Is Quietly Growing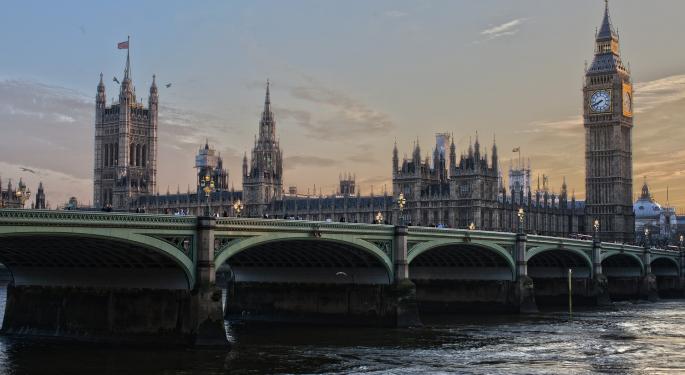 Plenty of exchange traded funds tracking stocks in developed markets outside the U.S. are getting ample attention this year, but most of those are plain vanilla cap-weighted funds. A smart beta option in the group that is registering impressive growth is the Goldman Sachs ActiveBeta International Equity ETF (NYSE: GSIE).
GSIE, which turned two years old earlier this month, tracks the Goldman Sachs ActiveBeta International Equity Index. That index is a multifactor benchmark that emphasizes low volatility, momentum, quality and value. Combining multiple investment factors under the umbrella of one ETF is a strategy that's proving increasingly popular with investors and fund issuers. Factor performance varies from year-to-year, making timing individual factors difficult.
For example, the momentum factor is leading this year while value is lagging. But GSIE is up more than 22 percent and residing near all-time highs.
More Details On GSIE
GSIE can be seen as an alternative to traditional MSCI EAFE Index ETFs and index funds due to comparable geographic and sector exposures. Japan and the U.K. combine for 36.6 percent of GSIE's lineup while Europe ex-UK accounts for 43.2 percent of the fund's weight. GSIE's Japan and European exposure give the fund that is attractively valued relative to U.S. stocks.
Since coming to market just over two years ago, GSIE is up 22.5 percent with annualized volatility of 14.4 percent. Over that span, GSIE's maximum drawdown is 13.1 percent compared with 15.4 percent for the MSCI EAFE Index.
GSIE's top 10 holdings combine for just 7.5 percent of the ETF's roster. Financials are the largest sector weight at 19.6 percent while consumer discretionary and consumer staples names combine for 28.6 percent. The industrial sector is the fourth-largest sector exposure at 13.5 percent.
A Familiar Recipe
While Goldman Sachs Group Inc. (NYSE: GS) was late to the ETF game, it has followed a familiar recipe to success with many of its ETFs: a combination of low fees and robust seeding before the ETF comes to market.
Indeed, GSIE is favorably priced. The ETF's annual fee is just 0.25 percent, or $25 on a $10,000 investment, which is cheap relative to other international smart beta offerings. Investors are responding as evidenced by GSIE's stealthy growth since inception.
Sure, year-to-date inflows to some cap-weighted developed markets ETFs can be measured in the billions, but GSIE has nearly $673 million in assets under management in just over two years on the market. Impressively, $255.1 million of that sum has arrived just this year.
Related Links:
View Comments and Join the Discussion!
Posted-In: Goldman SachsLong Ideas News Specialty ETFs Markets Trading Ideas ETFs Best of Benzinga