Benzinga's Bulls And Bears For The Past Week: Disney, GE, Tesla And More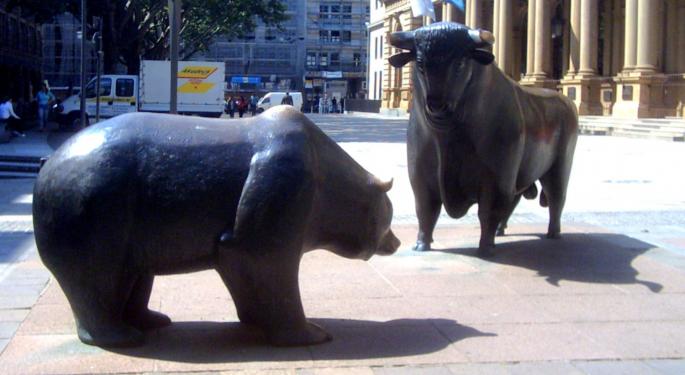 Benzinga has featured a look at many investor favorite stocks over the past week.
Bearish calls included an iconic industrial and a popular consumer products maker.
Bullish calls featured a media giant and the leading EV producer.
From the holiday last week to the hurricanes, forest fires and earthquakes, there was plenty to distract investors. But Benzinga continued to feature looks at the prospects for many investor favorite stocks. Here are just a few of the more bearish and bullish calls from this past week.
Bears
"IS GE The Most Hated Stock On The Street?" by Wayne Duggan suggests that investors who have been waiting patiently for more than 15 years for General Electric Company (NYSE: GE), once a bellwether of the U.S. economy, to get its act together have not been rewarded. No wonder it is one of the worst-performing stocks on Wall Street.
In "Wells Fargo Downgrades Marathon Petroleum And Poses A Long-Term Question To Investors," Shanthi Rexaline points out that the analyst's rating cut on Marathon Petroleum Corp (NYSE: MPC) was due in part to the company's decision to retain its retail operations. But what is the long-term question for investors?
Jayson Derrick's "Here's Why Procter & Gamble Is Wrong In Pushing Peltz Away" offers a look at the current struggle between Procter & Gamble Co (NYSE: PG) and billionaire Nelson Peltz. Is the consumer goods giant making a mistake, given this activist investor's solid track record of returns? Are his demands that radical?
For another bearish call, check out "Cowen Cuts Chipotle To Sell, Consumer Perception Still Low."
Bulls
Unsurprisingly, Walt Disney Co (NYSE: DIS) has seen cancellations in Orlando and has had to cancel cruises due to the extreme weather in Florida and the Caribbean, according to "Storms, Streaming And 'Star Wars': An Updated Disney Outlook" by Brett Hershman. But how are its longer-term prospects shaping up?
In Shanthi Rexaline's "Breaking Down Barclays' New Bullish Calls On Biotech," see why bluebird bio Inc (NASDAQ: BLUE), Juno Therapeutics Inc (NASDAQ: JUNO) and others are expected to continue to outperform the S&P 500 in the next 12 to 18 months. See which is the analyst's top pick in the industry.
"Deutsche Bank: The Street Is Lowballing Tesla's Electric Truck" by Dustin Blitchok examines whether the latest offering from Tesla Inc (NASDAQ: TSLA) will be more competitive than widely perceived. See why autonomous vehicles may be deployed "sooner than expected," according to this key analyst.
Also see "Oracle And Splunk: 2 Cloud Opportunities Floating Under Most Investors' Radar" for another bullish call.
View Comments and Join the Discussion!
Posted-In: Bluebird Bio disney GE General ElectricLong Ideas Short Ideas Top Stories Trading Ideas Best of Benzinga