5 Value Stocks To Own As Volatility Increases
The following originally appeared on finbox.io
Stocks Relaxing At Record Highs
U.S. stocks reached record highs on Monday pushed by an increase in crude oil prices as well as technology companies such as Apple (NASDAQ:AAPL) reaching its own all-time high. An important observation is the seemingly relaxed climb the market has taken into record territory.
The VIX index, a measure that tracks expectations of volatility on the S&P 500 for the coming 30 days, has reached its lowest level in 10 years. In addition, the S&P 500 3-month realized volatility index has also reached its lowest level since 1995. While stocks have reached record highs, volatility has reached record lows.
So what does this mean for investors?
---
Stocks May Be Reaching An Inflection Point
Investment Week recently highlighted how periods of low risk aversion tend to be followed by higher volatilities and that when volatility rises, it can rise rapidly. So investors may want to prepare for a period of higher volatility following the low volatility currently being observed in the market. Generally, the more volatile a market is, the more sharply it moves up or down over a given period of time.
It's also important to note that U.S. stocks are near the same level they were in early March which implies an inflection point ahead. Traders typically like to follow this type of technical market behavior since the market has struggled to break through its current level. From here, stocks could either "break through" and jump higher or sharply pull back.
Either way, investors will want to prepare for a more volatile market ahead.
---
5 Value Stocks To Own As Volatility Increases
The following value stocks could all trade significantly higher in a bull market as well as be able to weather the storm of a sharp pull-back: DST Systems (NYSE:DST), Foot Locker (NYSE:FL), Fresh Del Monte Produce (NYSE:FDP), Twenty-First Century Fox (NASDAQ:FOXA) and Hormel Foods (NYSE:HRL).
The names above were found using this stock screen which searched for companies with a Piotroski F-Score greater than 8. This filter helps find stocks with strong liquid balance sheets, profitability, and operating efficiency which could weather a significant down market. We also set a filter to include stocks with at least 10 percent upside based on our own finbox.io fair value estimates and average Wall Street price targets.
DST Systems provides technology-based information processing and servicing solutions worldwide. The company has a Piotroski score of 8 and also appears 20 percent undervalued when applying Wall Street estimates to nine separate valuation analyses.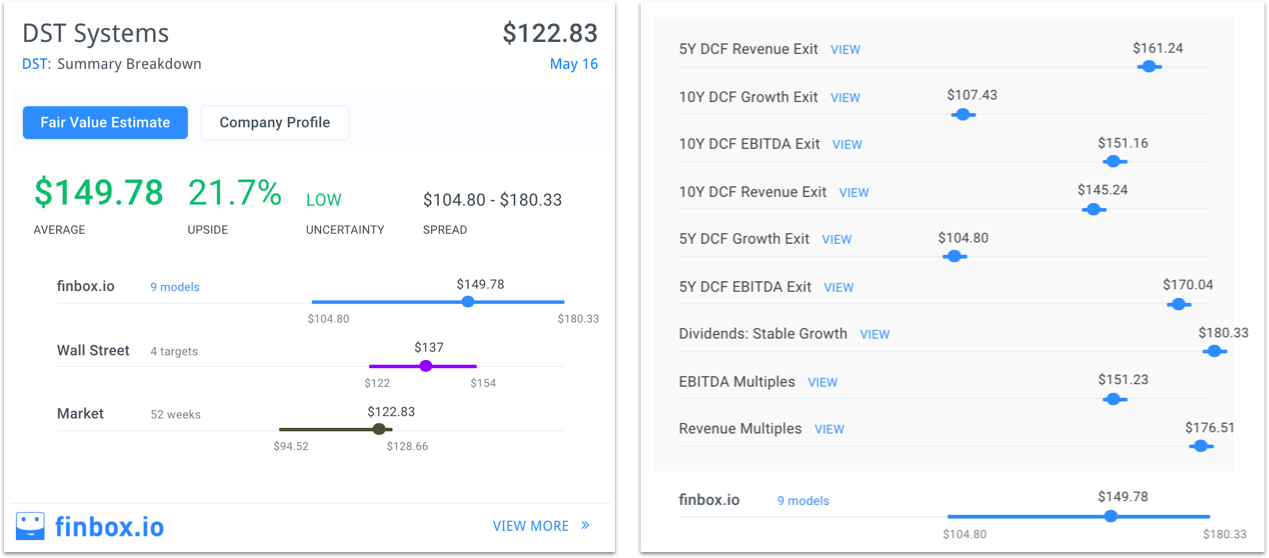 Foot Locker is an athletic shoes and apparel retailer and currently has a perfect Piotroski score of 9. Although shares are trading near their 52-week high, the stock still has nearly 15 percent upside purely on a fundamental basis.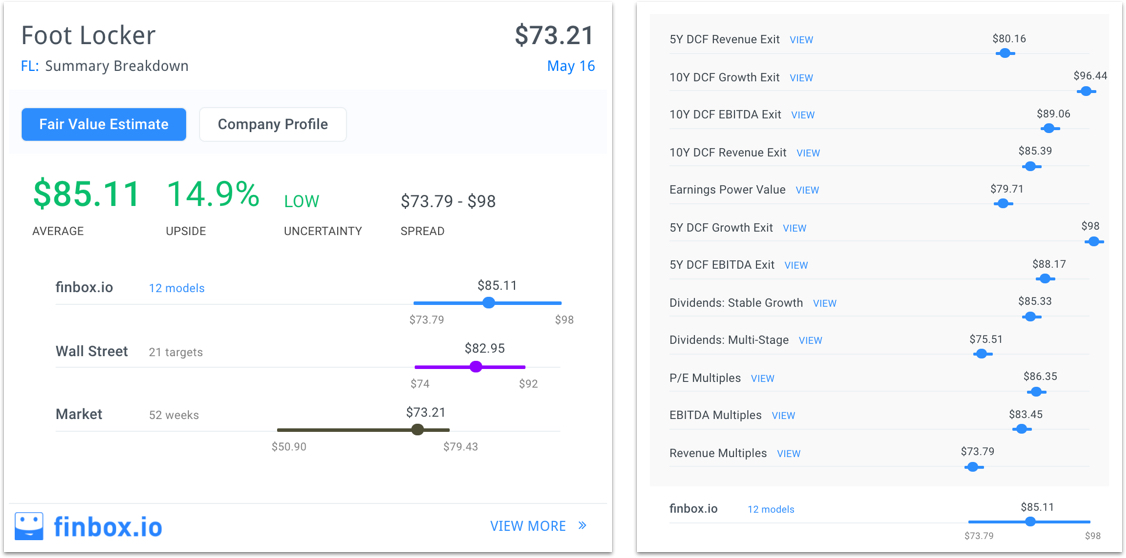 Fresh Del Monte Produce distributes fresh fruit and vegetables worldwide and also has a perfect Piotroski score of 9. In addition, nine separate valuation models imply approximately 15 percent upside while Wall Street's $72.33 average price target implies over 30 percent upside.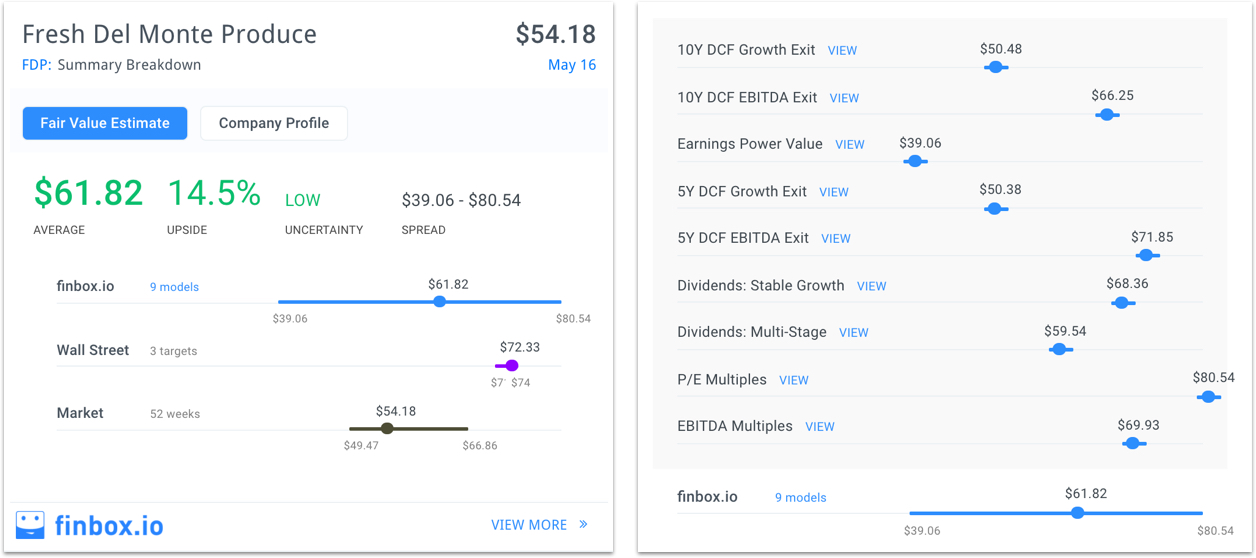 Twenty-First Century Fox operates as a diversified media and entertainment company and recently entered into an agreement to acquire Sky plc (LSE:SKY). The deal is expected to close before the end of 2017. However on a standalone basis, the stock still appears approximately 10 percent undervalued and passes 8 of 9 Piotroski tests.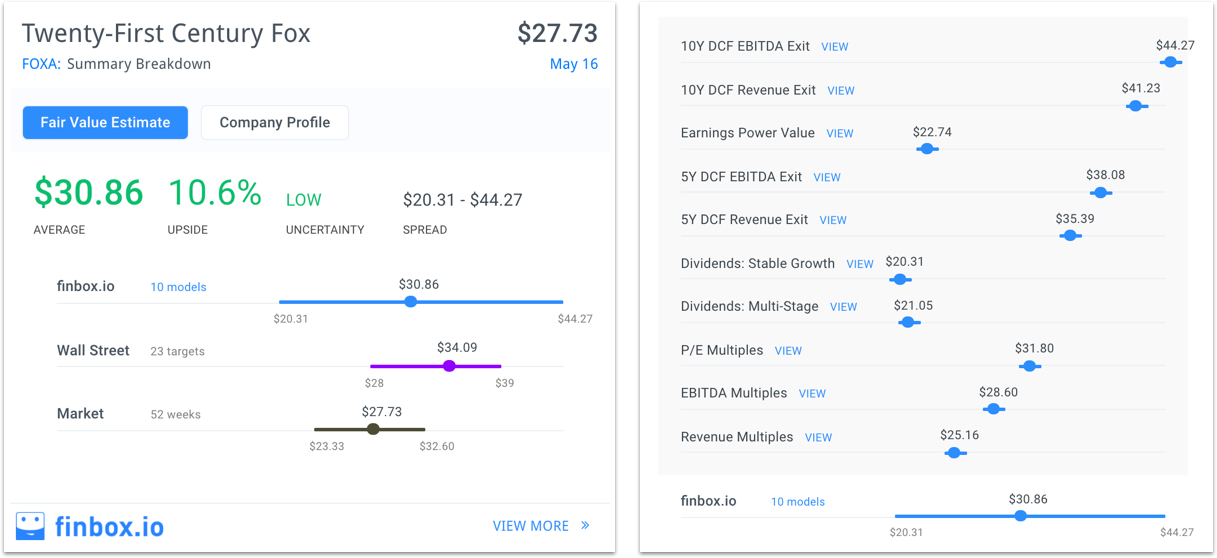 Hormel Foods produces various meat and food products worldwide and also passes 8 of 9 Piotroski tests. Finbox.io's intrinsic value estimate of $37.98 is right in line with Wall Street's $38.00 price target which implies that shares are currently 10 percent undervalued.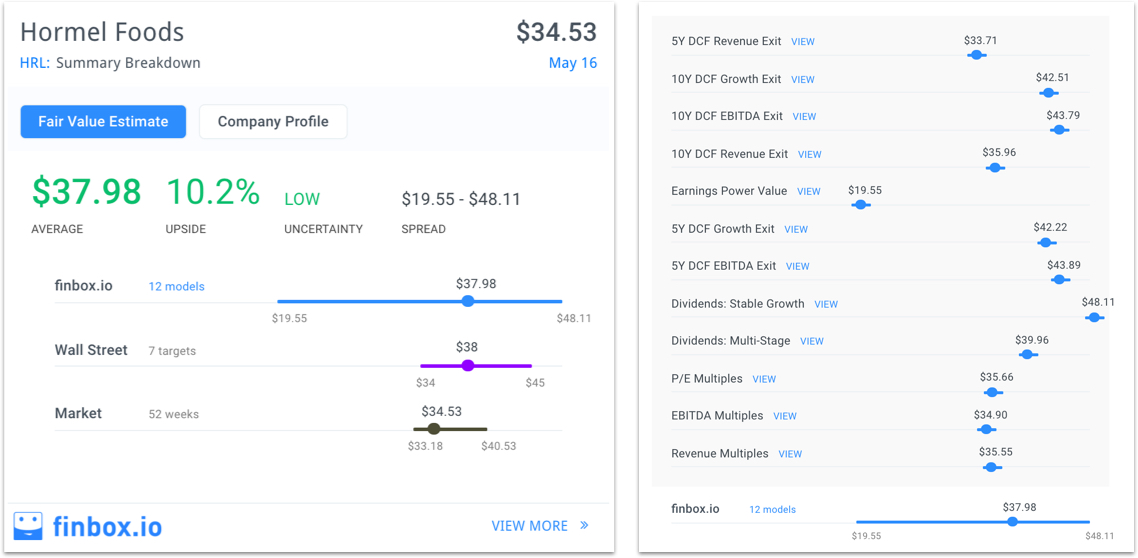 ---
Catalysts That Could Increase Volatility
So what could take us out of this low volatility environment? A Trump failure to pass any significant tax reform, US/Russia tensions, Fed rate hikes or a North Korea stalemate could potentially do the trick. All these events could disrupt the current calm being observed in the market.
Either way, these five value stocks all have strong fundamentals and should trade higher as well as be able to weather a sharp pull-back when volatility picks up. Investors may want to take a closer look at the names above.
---
Get Started Now!
photo credit: GuruFocus
Note this is not a buy or sell recommendation on any company mentioned.
© 2020 Benzinga.com. Benzinga does not provide investment advice. All rights reserved.
---