Mobile Payments ETF Charges Higher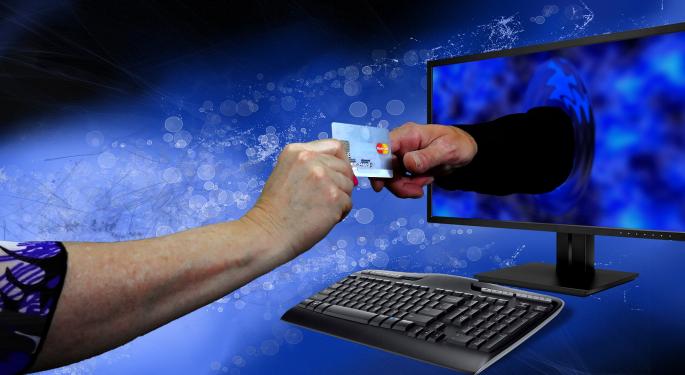 Some exchange-traded funds are labeled as "niche" products as soon as they come to market. Some of those funds never gain traction with investors while others become success stories.
The PureFunds ISE Mobile Payments ETF (NYSE: IPAY) is showing it could ultimately reside in the latter category. Given the data pertaining to the growth of the global mobile payments industry, it is almost impossible to say IPAY, which turns two in July, is not a valid concept.
Mobile Payments Sector
"The industry is expanding, though, and it could grow at a 20 percent annual rate in the U.S. for the next five years. Research firm Forrester sees digital payments hitting $283 billion by 2021, up from an estimated $112 billion at the end of 2016," according to Barron's.
IPAY follows the ISE Mobile Payments Index. That index "tracks companies at the forefront of the mobile, electronic, and digital payments industry," according to a statement from PureFunds.
"The recent shift in the payments industry has been the transition away from the traditional payments methods and into mobile methods. It is commonly held that consumer spending accounts for approximately two thirds of U.S. Gross Domestic Product (GDP) which in real terms equates to roughly $11.5 trillion," according to PureFunds.
Related Link: Mobile Payments To Increase Tenfold By 2021; Who Benefits?
IPAY Profile
IPAY holds 31 stocks, including Dow components Visa Inc (NYSE: V) and American Express Company (NYSE: AXP). Of course, PayPal Holdings Inc (NASDAQ: PYPL) is also a member of the ETF's top 10 lineup. Those three stocks combine for over 16 percent of IPAY's weight.
Sheer performance validates the IPAY concept. The ETF is up 26.5 percent over the past year, 9.4 percent year-to-date and has regularly been hitting a series of record highs. On Monday, IPAY was one just 118 ETFs to hit an all-time high, bringing its one-month gain to 4.5 percent.
IPAY is gradually establishing a following. At almost 20 months hold, IPAY has $72.6 million in assets under management. Granted, that is not a massive sum, but does indicate there is an audience, and a potentially growing one at that, for the mobile payments theme in the ETF wrapper.
Posted-In: Long Ideas News Sector ETFs Markets Tech Media Trading Ideas ETFs Best of Benzinga
View Comments and Join the Discussion!